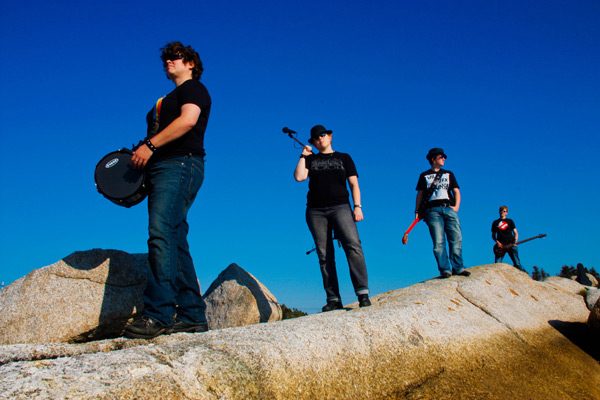 The lesbian Canadian rock band reflects on their origins and wonder, Are we famous yet?
How can you tell when you're a real rock star? Is it when you sell out your first live show? When did you cut your first studio album? When you're finally able to quit your day job? Or is it just when you finally get a line-up that clicks? That was the key moment for the Nova Scotian lesbian rockers of Perpetual Detour: The first time they all sat down to play together, they realized that it would work, setting them on the road from the basement of that purple house in Halifax to their debut studio album What if it Was You?
It all started humbly enough. "We met playing softball," says vocalist Meagan Lanchbery, recalling the four women's initial meeting on a gay softball league team four years ago.
"We just had a casual talk about having a jam session," recalls vocalist and guitarist AJ Leblanc. All four women—Lanchbery, Leblanc, bassist Jennifer Stewart and drummer Ro Gionet—were longtime musicians who had each entertained the idea of playing professionally but, amazingly, had never been in a real band before they met. They had private dreams, private talents and private pursuits, and learning to open up about these private pursuits was the band's first big challenge.
That inaugural basement jam session was a huge step for the ladies who would become Perpetual Detour. Like awkward teens at their first high school dance, they slowly came out of their shells, anxious and excited at the same time, taking more and more risks until, inevitably, with time, they began to think of themselves not just as four women who played instruments but as a band.
The quartet found they had significant musical chemistry. "We'd all just run downstairs because it was time to practice," says Stewart. Lanchbery and Leblanc soon began to collaborate on songwriting, and Stewart took up the bass to even out the lineup. Eventually, they progressed from the initial jamming into what could rightly be called practising.
Though the band members say that the name Perpetual Detour has no particular significance beyond being pleasing to the ear ("We were just throwing out words here and there and 'Perpetual Detour' seemed to catch on," says Gionet), it's hard not to interpret it as a comment on how long each of them spent doing anything but pursuing their musical dreams in earnest. "I wanted to be a rock star for sure," Stewart says of her childhood. "You always envision yourself playing before people and all the accolades—it's a dream. But I got sidetracked, as happens." At her day job, Stewart works for a bank. "The farthest possible thing from music."
"I did at some point want to have a band, but that fizzled when I was a kid," says Leblanc. "I wanted to be the badass drummer with a kit that just goes on forever. But we never had the money. That went to the wayside." Instead, she became a leather smith ("I make guitar straps, knife cases, wallets,").
"I never thought of it as being a rockstar," says Gionet, "but I always enjoyed the thought of entertaining. I used to sing in the choir and I played multiple instruments." Gionet has worked at a supermarket for the last sixteen years.
Of the four, only Lanchbery, who writes software documentation to pay the bills, ever really pursued music, recording a solo album when she was younger, and it was Lanchbery who eventually moved Perpetual Detour into the limelight—or at least the halo of it. "Meagan turned to us and said, We really need to take this out of the basement," Leblanc says.
Lanchbery recalls the band's first real show together: "It was 2010 and we played at a gay pride event. It was like a leather contest, that was our first real show, just playing a few songs before the leather contest." Their first open mics were in coffeehouses so small that the entire band couldn't fit on stage at one time, meaning members had to tag in and out of each new piece, with at least one woman always taking a seat offstage. Even so, it was another big step and a whole new experience.
"Jamming is all warm and fuzzy and cuddly, but once you're performing, it's just a completely different experience," Stewart says.
At this stage, the ladies were still thinking small, or perhaps, thinking personally. They all resurrected their dreams of maybe one day quitting their day jobs and being full-time musicians, but the childhood notions of fame, fortune and all-out rockstardom stayed in the closet for the time being. But over the course of 2010, bigger things happened for Perpetual Detour: The venues got a little larger, and then the band began to get radio play, an experience both exhilarating and surreal. Their single "Ran Away" spent eight weeks on indie station The Radio Café's new music countdown. Sometime between the first real shows and the radio run, the writing was on the wall: If they were going to keep this up, then it was time to record a real album.
What was it like working in the studio for the first time?
"Nerve-racking," says Gionet.
"Nerve-racking," says Stewart.
"Nerve-racking," says Leblanc.
"It's nerve-racking, absolutely," says producer Scott Ferguson, who shepherded Perpetual Detour through their first studio experience. "There's always nerves. Part of my job is to hold their hand and get to the point where they realize it's important to come in and find their zone and feel comfortable."
The ladies had more than just studio jitters to contend with: What if it Was You? represented a huge financial investment. "It was a professionally recorded album, it's not cheap," says Lanchbery, who estimates that the ten-track LP put them back ten grand altogether. Where'd the money come from? "Our personal pockets," she says.
Once everyone committed to the studio project, Leblanc budgeted it out; they paid for the album one session at a time, one song at a time, over a course of several years, all the while still jamming, still playing live, still writing songs and still all working day jobs. "We recorded a song every three or four months," Leblanc says. "The hardest part was waiting." And recording was just the beginning. "Once you have that album in your hand, it snowballs for all these things you have to do with it," Leblanc says, recounting the expense of manufacturing, releasing and promoting What if it Was You?
The stress and expense of it all turned out to be worth it, though, as the studio experience showed Perpetual Detour depths and degrees of their own music they never knew were there. "'A Hundred Footsteps' was the first song we recorded," explains Leblanc. "When I started writing it and playing it by myself [I didn't think] that it could get bigger, but when we took it to the studio the harmony got bigger, it grew so much. It was the first song I ever wrote, so I couldn't see beyond that. It was an eye-opener."
With their first full-length album under their collective belts and a second one in the works, not to mention their first real music video done and more on the way, could it be that the women of Perpetual Detour might finally be able to lose those day jobs and drink from the cup of the independent, self-supporting, touring musician? Do they have what it takes? Are fame and fortune on the horizon? Producer Scott Ferguson, a 15-year veteran of the recording studio, weighs in:
"As far as talent, their performance was on par with a lot of the younger rock bands. But the combination of their songwriting and the depth of their perspective was heads above most of the groups that come in here," he says. "Perpetual Detour does have some potential, there's some magic there." He even compares Lanchbery and Leblanc's songwriting collaborations to a McCartney/Lennon dynamic…which might not be an entirely comforting prospect but at least bodes well for their future success.
The band is at it again, writing their second album and raising more funds to record. It's a long hard road from the office, the bank, or the supermarket to the biggest stages in the world. How many stops are on the way? Time will tell. (perpetualdetour.com)