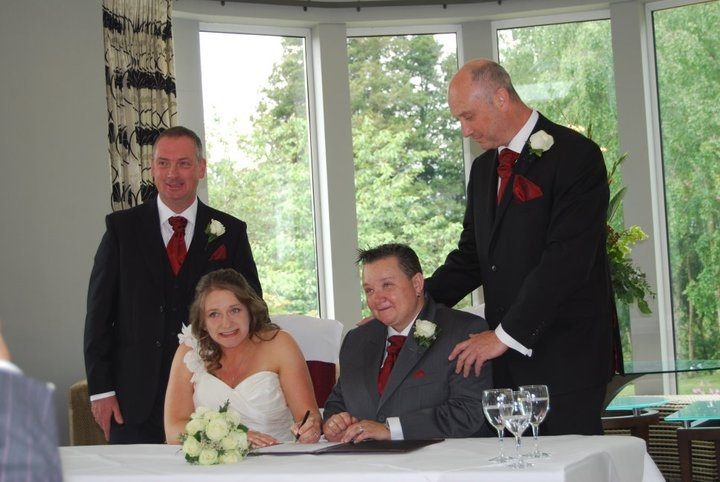 Be the best-dressed butch at your wedding.
Traditionally, it would seem that May to September is wedding season, certainly in the Western world. In the U.K., gay marriage was legalised in 2005. However, 2011 has been the busiest year to date, at least from my vantage point as director of The Butch Clothing Company.
I have many clients, most of whom are marrying between now and next February. This begs the question, Is wedding season now all year round? Let's hope so; let's make it so!
In so many parts of the world, gay marriage is legal; if not legal, then same-sex couples' coming together to declare their love and commitment seems seldom frowned upon. So we have paved the way for marriage, marriage in many forms, many styles, many places.
I indulged in the art of marriage when I married the stunningly beautiful Mrs Riley on May 14. The sun shone, my bride wore the most beautiful ivory dress, all the guests showed up, and the seven tiny bridesmaids all behaved.
Mrs R and I went for a traditional wedding in a lovely Spa hotel in Tunbridge Wells, a quaint Kentish Town, complete with ceremony, Pimms reception, wedding breakfast with a fantastic wedding singer, and an evening full of magic, music, swing and the first dance (10 weeks of lessons to produce a nerve-wracking social foxtrot to "Fly Me to the Moon").
Our wedding was very personal to us; we chose tradition because we could, Sue chose a gorgeous dress and I, of course, chose a 3-piece suit, more on that later. However, I meet many couples on the eve of marriage who all see their day differently.
I have clients that want the top hat and tails, morning suits/dinner suits or 3-piece suits; they want velvet or linen, or the "Ellen" wedding outfit with a crisp white shirt, cream vest, and matching cream pants. They sometimes want to dress all members of the wedding party female/male/ butch/femme/best men/worst women—it's as unique as the wedding itself.
I went for a charcoal grey herringbone 3-piece, with a textured burgundy striped lining, a traditional peaked collar, three buttons and contrast stitch detail to match the lining on the buttonholes on the collar, cuff and trouser pockets. I even indulged in excellent silver piping on the inside of the suit lining, which complemented the burgundy stripe to perfection. I matched my case with a white shirt, stylish cuff links, an engraved money clip, a white cloth, a silk burgundy cravat and a matching burgundy pocket square for my top pocket in my jacket. My buttonhole was filled with a white Avalanche rose. The theme colour for our wedding was burgundy and white, so my best man, my brother, and Sue's brother complimented the bridesmaids, the flowers and even the room decoration. It was masterfully planned and looked fantastic.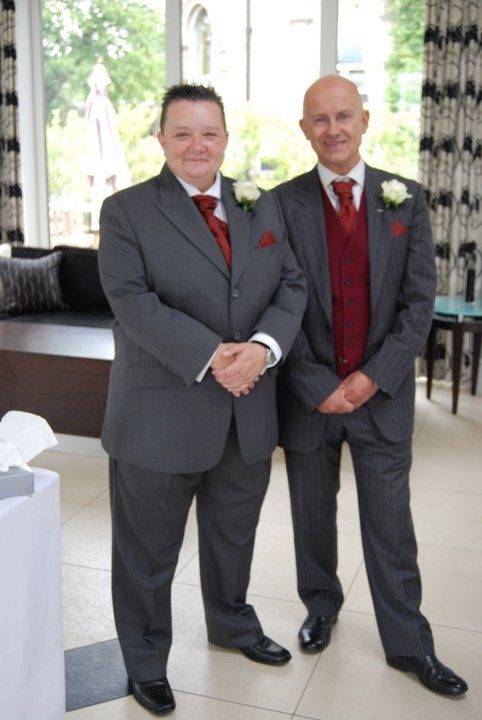 But all couples are different. When choosing our wedding attire, let's not look at what's been before or what should be; let's look at what we want.
What's right for you? Maybe no one wants a dress; perhaps no one wants a suit. But if a claim or vest and pants is suitable for one or both of you, I urge you to consider all the elements that will make your day complete and then naturally; you will find the answers. I mean, if you're carrying on a beach or in a romantic field, you may want light linen you can wear with sandals. Suppose you are making a commitment or a blessing in a church. In that case, you may want a formal, dashing suit or imagine a sophisticated evening affair at a high-end venue—you may consider a delightfully stylish satin, shawl collar black dinner suit.
But it is equally important to remember that no two people have to look the same at any wedding—not even the two people getting married, just as neither has to take the other's name or become Mrs., as I have chosen not to do. Being legally married doesn't mean there are any wedding rules to adhere to.
Weddings are as individual as our personalities. Mrs Riley and I are attending three weddings over the next three weekends; as none of the guests will be at all three marriages, I have opted to wear my fantastic suit to all three weddings. While my wife chose a most magnificent dress, this dress was not inexpensive and is "a one day wear only" frock! Unless we attend a Miss Haversham party (Dickens fans will get that reference), she is unlikely ever to show the beautifully constructed dress the light of day again. However, when buying your wedding suit, you know for sure, it's going to have hundreds of outings.
Our suits aren't cheap; the nature of bespoke tailoring isn't greedy. But I tell all my clients to think about the suit's versatility after your big day when investing in a case, particularly for your wedding. Choose colours and fabrics you love, choose linings and detailing that will work with many different shirts, shorts, even shoes. Think about how your wedding vest, for example, would look great with your favourite pair of jeans. Just because a suit is formal, you can't dress it down post-wedding. T-shirts with intelligent pants, jackets with shorts—the list are endless.
But also remember, the main thing for anyone on their wedding day is to feel incredible, to feel on top of the world. What you wear and how you accessorise your wedding outfit is a significant part of the day for both of you. This is one of the most important days of your life. Trust me, it's worth every penny, but I ask you, if you invest in a suit, invest wisely, support for your future.