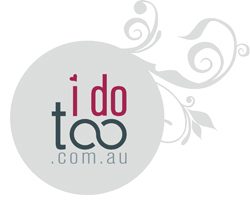 idotoo.com.au set to blow the tafetta out from under Aussie weddings.
While the government goes round in circles over the gay marriage debate, idotoo.com.au is set to celebrate what we know is already happening Australia wide.
idotoo.com.au is not your average wedding website. It's a vibrant community of couples planning their wedding day their own way. Gay or straight, goth, geek, green or just a little bit non-traditional, our couples are blowing the taffeta out from under the wedding dress as we know it and infusing their wedding day with stuff that makes their love burn bright.
The site will be filled with real wedding interviews & pics from alternative couples (You Too), a place to chat (idotoo crew), all of Australia's best alternative wedding suppliers (Get Decked), as well as advice, DIY ideas, articles and even the odd celebrity interview. Yes indeed, there won't be a frill in sight.
The concept came as Michelle Dunn – one-half of the founders of idotoo.com.au – was planning her own wedding. Michelle and her partner Ali were two gals who thought they'd stopped believing in getting hitched until they met, and they did. Determined everyone should have such an awesome time at their own wedding, but bummed at how difficult it was to find cool 'non-wedding-y' stuff, Michelle approached friend and I.T. geek and guru Giusep Cosentino and before you could say 'gay marriage' idotoo.com.au was born.
So if you've got half a romantic bone in your body get on board idotoo.com.au, get ready to celebrate and show Australia how to rock a wedding day.