San Francisco opens its Golden Gate
San Francisco is always an oasis for LGBT travelers (and locals), but during summer it's even more welcoming to all, offering events and festivals such as Frameline41, the San Francisco International LGBTQ Film Festival.
Then there's San Francisco Pride, "A Celebration of Diversity," which takes place in June  with a celebration at Civic Center Plaza, the vibrant Annual SF Pride Parade  and a Party at City Hall.
Where to stay
San Francisco's vibrant cultural diversity is reflected in its accommodations. I bounced around for several days in different neighborhoods, and each hotel offered something unique, from high-end luxury to gorgeous grunge.
Hilton San Francisco Union Square may look like a big, corporate, businessman's hotel, but this stunning property is at its heart very gay.
As the exclusive hotel sponsor for the Frameline Film Festival, and a host hotel for Pride festivities, the Hilton also has a dedicated LGBT ambassador and a mission to serve the LGBT traveler with style and grace. With a Hilton property, you know you're getting a certain standard—whether that's a perfectly mixed martini in the gleaming lobby bar, or a perfect score on the HRC Corporate Equality Index. The chic modern rooms, many with city and bay views, provide an uncluttered environment for the urban sophisticate.
Head to the Cityscape viewing lounge on the 46th floor for appetizers and cocktails and 180-degree views.
An easy choice for dinner is Urban Tavern, right next door and part of the hotel. This modern gastropub and bar serves excellent small and large plates, such as the signature Spiced Cucumbers or Braised Spanish Octopus.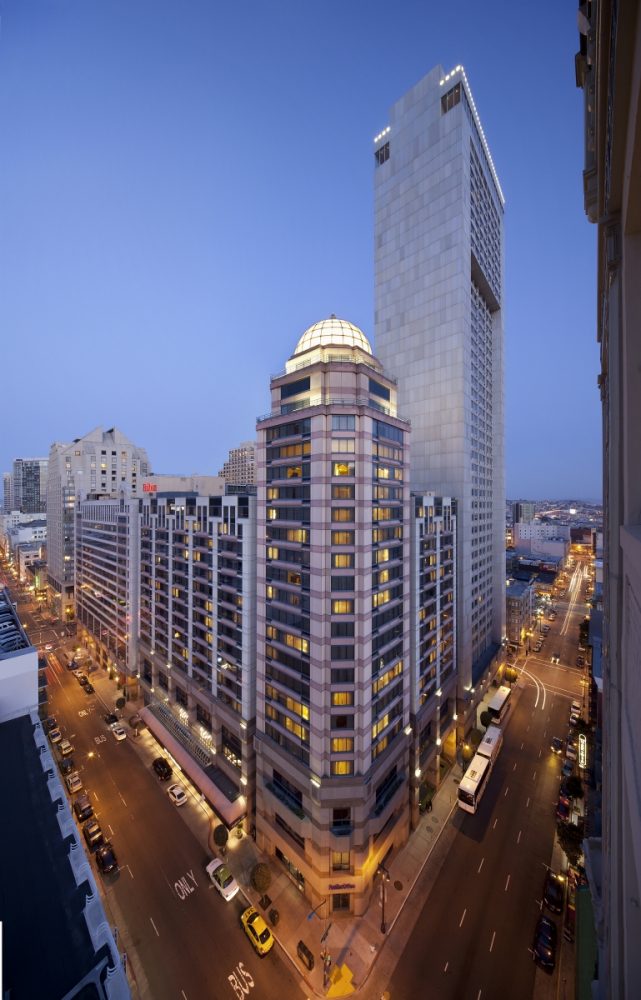 The InterContinental San Francisco is a 32-story luxury landmark in the heart of the city's premium shopping center and a short stroll to the Financial District, entertainment, and dining. Perfect for romance, it's currently offering a "Summer of Love" package including Club lounge access for two, parking, tickets to the DeYoung Museum, and a chocolate box.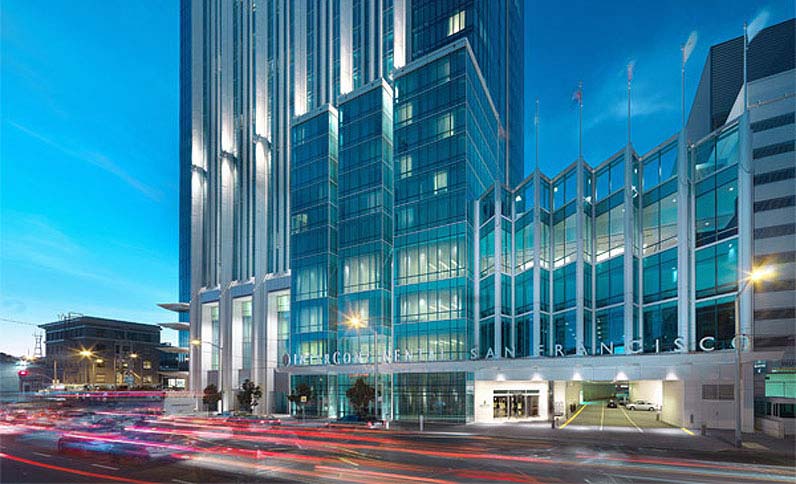 Many suites boast luxury work spaces, bathrooms, and floor-to-ceiling windows with city views that sparkle. Onsite is the Michelin-starred LUCE restaurant, and a grappa bar, but there are many more casual restaurants within easy distance.
The sophisticated Club lounge serves breakfast and luscious snacks throughout the day, and the Spa offers romantic and indulgent couples' treatments, plus there's an indoor swimming pool and a fitness center, should you want to focus on health and wellness. It's also a certified "green" building, and I was pleased to end my trip here, on a high-end but very Californian note of sustainability.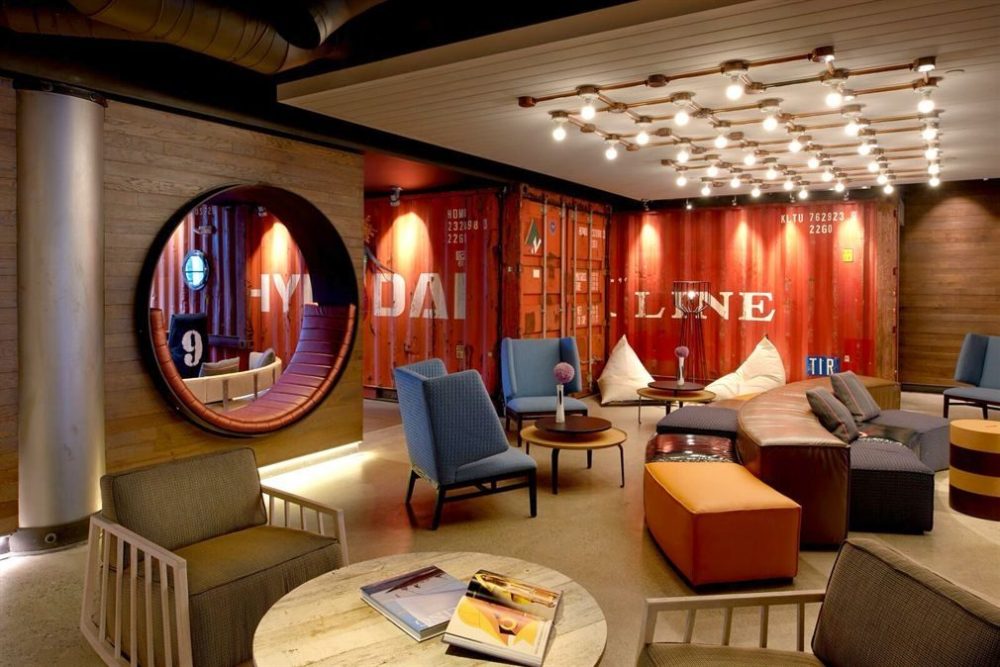 Hotel Zephyr puts you a block from all the action on Fisherman's Wharf and Pier 39. This is a stylish and relaxing property with a contemporary nautical vibe—which is appropriate because many rooms have balconies with views of the Golden Gate Bridge, Alcatraz, Coit Tower, and the Bay Bridge.
The rooms feature funky and cheerful accent decor, and that vibe spills over into the creative and communal "yard"—a huge outdoor courtyard and recreational area for guests, featuring a trailer selling wine and snacks, outdoor furniture and fire pits, and giant games to enjoy.
This Conde Nast Traveler Readers' Choice Awards Winner is the perfect base for accessing waterfront seafood dining and the ferries and Bay Area cruises.
The Phoenix is the place to fantasize that you are part of a rock 'n' roll band or its entourage.
I kept expecting to see Johnny Depp (or insert your favorite bad boy / bad girl into this hallucination) having a cigarette by the tropical courtyard's heated swimming pool. This is a fun place, with quirky retro-vintage chic decor, a hip and friendly staff, and a chill vibe—think creative, not corporate.
This is a place where I could see myself staying up all night to see live bands and waking up with a tattoo that I hopefully wouldn't regret!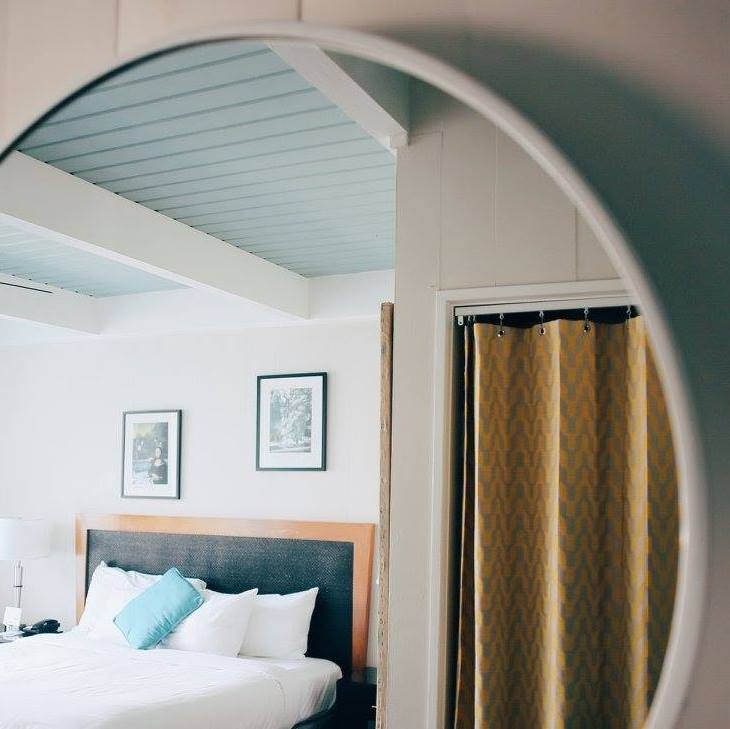 Chambers Eat + Drink, and a room a the Phoenix Hotel
Another attraction to staying at the Phoenix is the excellent Chambers eat + drink restaurant right next door.
This trendy noshery is romantic, artistic, and a magnet for sexy millennials. During my dinner there, my gaze was was torn between the vintage records and books, my craft cocktail, my Fried Oyster Bao Bun, and two gorgeous goth girls seated nearby—and clearly on a date. Reservations a must, and best of all, it's only a stumble across the courtyard to your digs at The Phoenix!
Where to eat and drink
If you love food—the freshest produce, beautifully prepared and boldly presented—San Francisco is paradise. Here's a list of my absolute favorite meals this trip.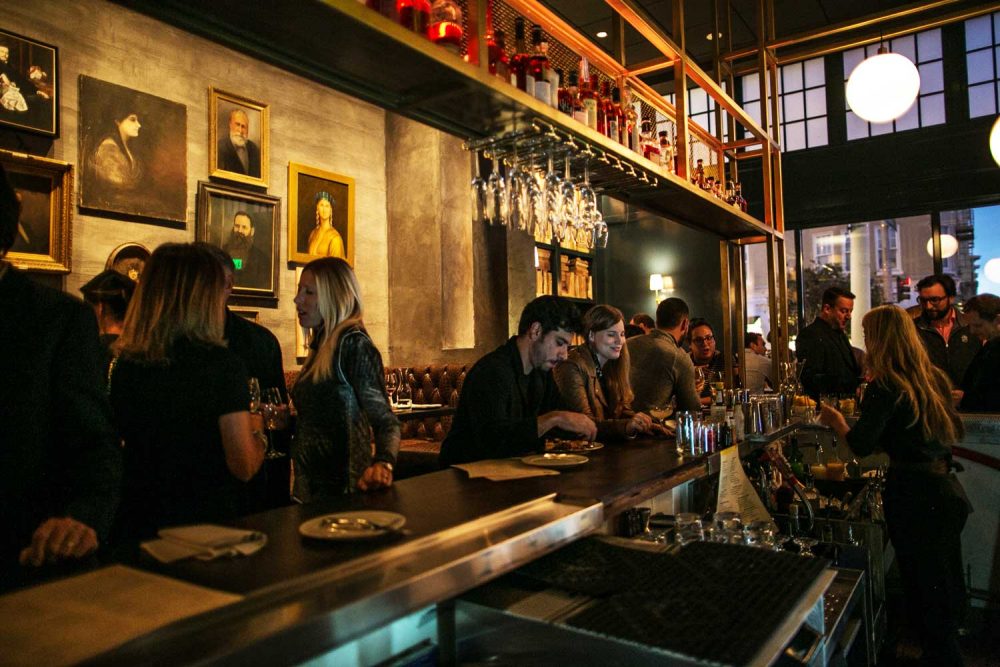 Cocktails at Palm House; and The Dorian
For a casual brunch with booze and a polyamorous island vibe (the menu has hearty Caribbean, Polynesian, and Pacific Rim influences), tarry at Palm House.
This relaxed and funky spot is unbeatable for value and fun. Everything is good, but make sure you try the signature Puerto Rican Smashed Avocado with pineapple-glazed bacon and chips.
The cocktails are earthy and exotic; the El Crudo—tequila, fresh jalapeno, strawberry, and lime—gave me the  kick start I needed for a big day of sightseeing. Just down the road is sister restaurant The Dorian, a good choice for a sceney lunch, libation, or dinner.
This hipster pub is big on whisky, but also has fine wine and classic cocktails. Its provisions are fresh, healthy, and Mediterranean inspired—except for its Royal Dorian burger, an orgy of beef, brioche, foie gras, truffle cheese, fancy sauce, and little gem lettuce.
A utilitarian lunch can be enjoyed at TAP 415, a great place to stop and fuel up for a day of retail therapy or walking tours. Located in the Westfield San Francisco Centre on Market Street, and right next door to Nordstrom, this friendly eatery serves excellent and hefty soups, salads, sandwiches, and innovative beer bites such as the addictive Bavarian Pretzel Nuggets served with cheese fondue.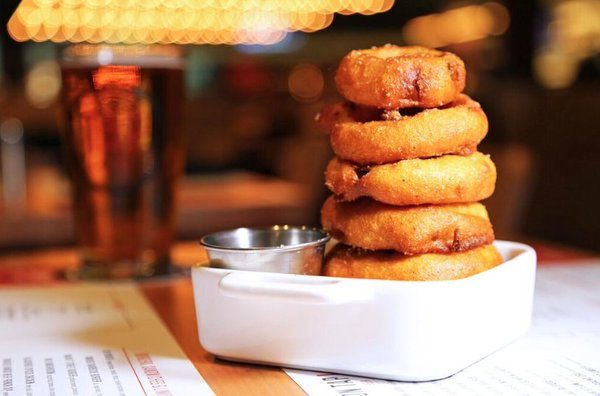 Fog Harbor Fish House, and TAP 415
To sample the bounty of the sea, book a 100 percent sustainable seafood feast at Fog Harbor Fish House on Pier 39. This old-school and romantic waterfront restaurant is hard to beat for location, views, service. Try its famous, award-winning clam chowder served in a crusty sourdough bread bowl, a whole roasted Dungeness crab or a spectacular shellfish platter. Fog Harbor feels like San Francisco on the half shell.
San Francisco is also known for its Asian flair, which also extends to fine dining, and for an elegant innercity French-Vietnamese meal, think Le Colonial, near Union Square. It's housed in a beautiful building on a hidden laneway, and the atmospheric setting only enhances the exotic collection of prix-fixe menus and cocktails.
If you're a night owl, check out Bergerac with its Brooklynesque vibe and queer appeal (on my visit, the excellent DJ and talented mixologist were queer women). Bergerac is part gentleman's club, part opium den—with innovative craft cocktails such as Mother of Dragons (Thai chili infused Mezcal!). Lounge around on chesterfields, snack on Bon Mi Chicken Sliders and Truffle Fries, then head upstairs to Audio, the newly renovated club space, open until the wee small hours.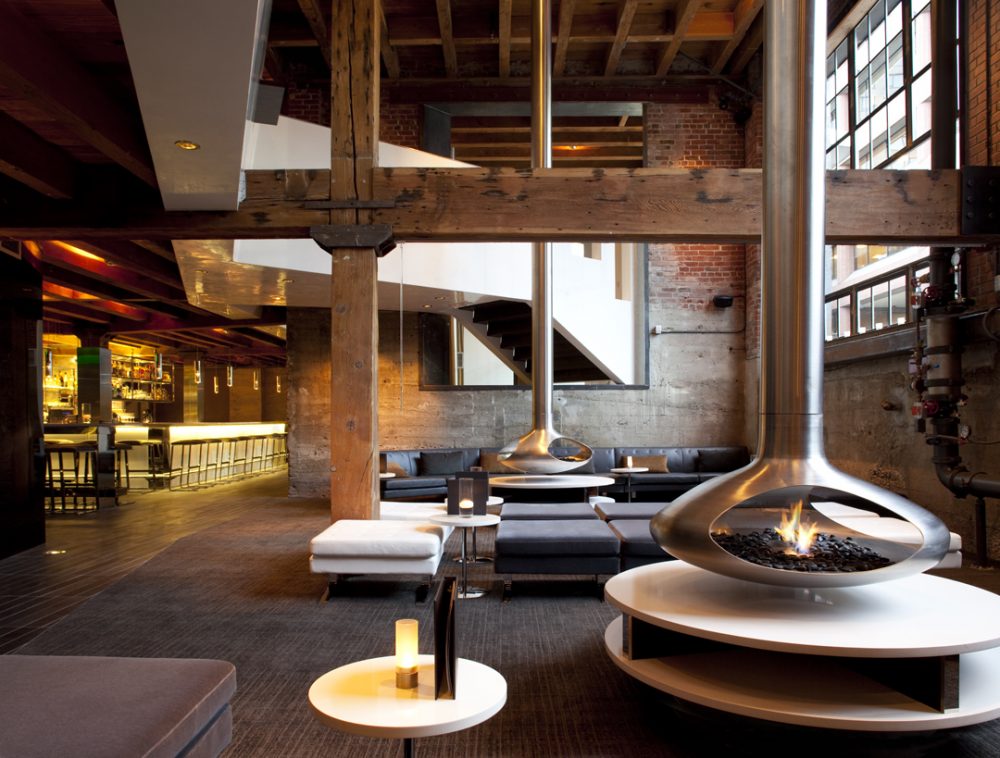 John's Grill, and the downstairs lounge at Twenty Five Lusk
Take a trip back in time at John's Grill, which serves nostalgia and noir nightly. Nothing about this place seems to have changed in decades—from its iconic neon sign to its menu. A favorite haunt of 1940s detective fiction writer Dashiell Hammett, the signature cocktail, The Bloody Brigid, is named after the femme fatale of Hammett's The Maltese Falcon. Tuck into Sam Spade's Lamb Chops and be sure to view the copy of the Maltese Falcon statuette and all the memorabilia, including photos of satisfied diners Lauren Bacall to Hillary Clinton. San Francisco is a city undergoing waves of gentrification. I hope John's Grill never changes a thing.
With more restaurants per capita than any other American city, you have choice. But save a night for fine dining at Twenty Five Lusk. Located in a beautifully restored, post-and-beam warehouse in the SOMA District, this is cutting-edge modern American cuisine. There's nothing like ordering freshly-shucked, creamy Kumamoto Oysters with cucumber juice, chervil, and hackleback caviar to signal date night! Pork Belly Confit with satsuma, baby turnip, pickled pear, and crispy dandelion greens or fresh Arctic Char with green onion marmalade and black rice…decadent and delicious!
The vision of savvy restaurant veteran Chad Bourdon and brilliant chef Matthew Dolan, everything to meet your eyes and pass your lips at Twenty Five Lusk is impressive. Finish your meal with Lime Posset kiwi with champagne granite and a glass of Moscato d'Asti and you'll simply float out the door on a culinary Cloud 9 into the City of Love.
Get hip to the Summer of Love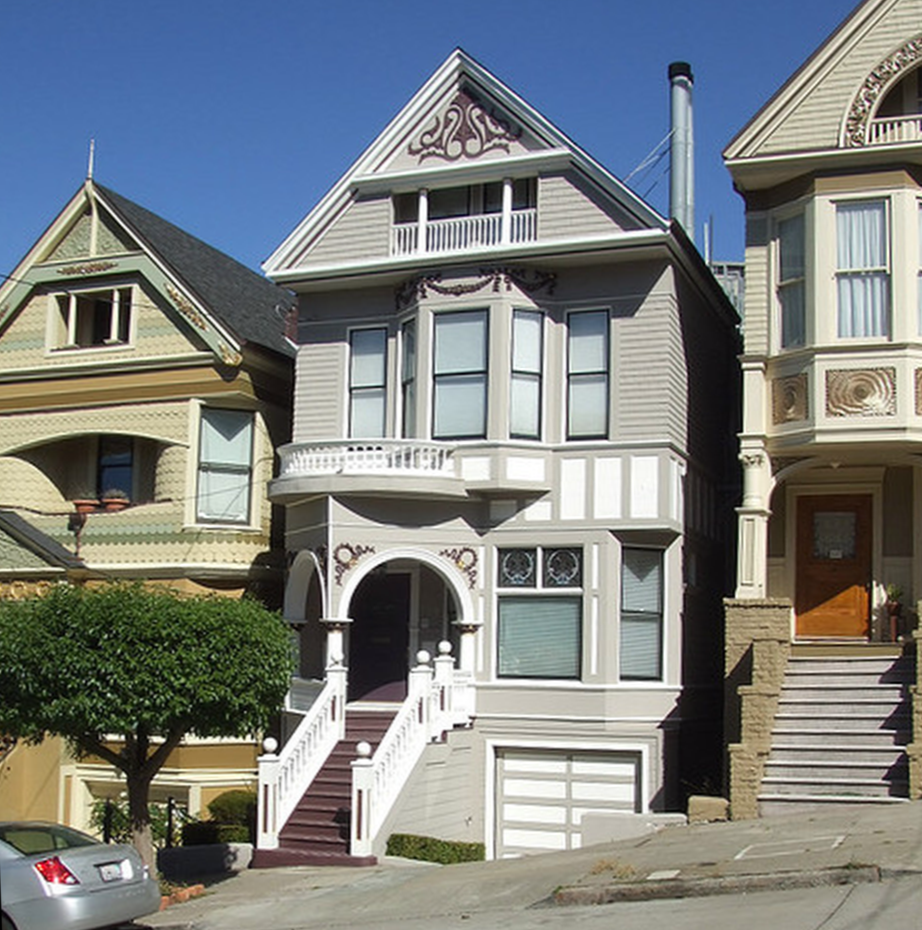 Janis Joplin, and her house in Haight-Ashbury
Originating at the intersection of Haight and Ashbury streets in 1967, the Summer of Love protested war and led to a nationwide countercultural movement. That one pivotal summer attracted over 100,000 people, embodiments of free love and hippie-dom.
Art, fashion and music expressed a psychedelic view of life, and while fashion has changed, the music lives on! Experience the free spirit of San Francisco during the Summer of Love 50th Anniversary Celebration, with music events, tours, and exhibitions in June and July.
There's no bigger icon for queer women from this period than Janis Joplin, a key figure in the Haight-Ashbury, where she lived. Experience her neighborhood as she did, by taking a tour of her favorite coffee haunts and music venues. More info at: sftravel.com/janis-joplins-san-francisco.
---
Support your LGBTQI Media