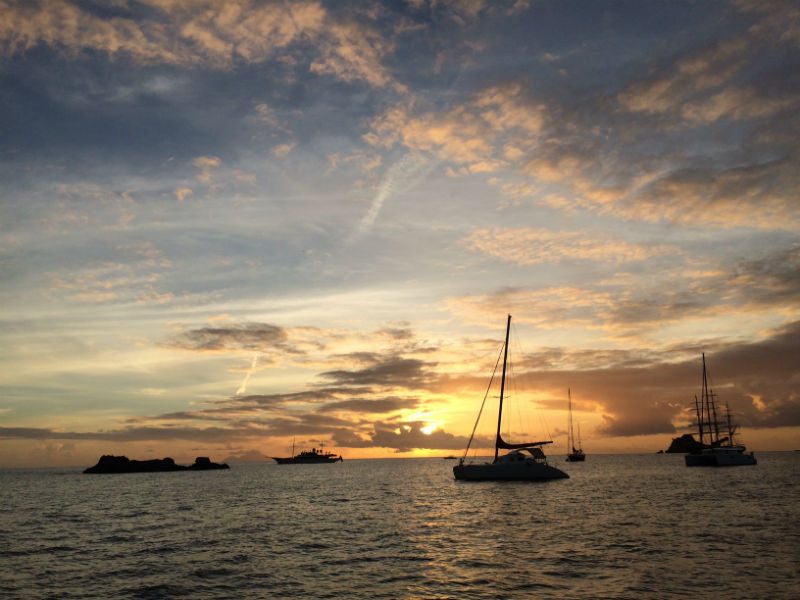 Make sure you do this at least once in your life!
To celebrate her 40th birthday this year, my sister, Rebecca, chartered a catamaran on St. Martin. She and her partner, as well as another lesbian couple, and a mutual friend and I joined her to spend a week cruising the Caribbean sea.
Because I like to take as much worry out of travel as possible, I flew in a day early with my friend so as to avoid the rush on launch day. We stayed at Sonesta Great Bay and had a blast eating too much pizza and drinking too many tropical drinks to celebrate our upcoming trip.
I am not always a fan of the all-inclusive resort. But this one was well-staffed and nicely appointed and the perfect respite prior to our sailing adventure.
The rest of the gang arrived the next day and I was very glad I had come in 24 hours before! They were happy but spent, having flown all the way from the west coast. Our skipper met us at the dock and we all grabbed a drink as the staff prepared our vessel.
Things were a little behind schedule. So we settled in at a bar on the docks at the marina in Oyster Pond. I was eating the simplest fried fish sandwich.
But it tasted like heaven and I'm sure it was because I was eating it on a Caribbean Island in view of the sailboat I was about to disappear on for a week.
The next morning we set sail and my childhood came racing back. As a kid, we used to spend every summer sailing on the Chesapeake Bay.
My parents didn't have very much money. But they saved and saved to buy a small boat that the four of us could run away on for all of our summer holidays.
And here I was, laying out on the bow with my sister at the helm and although this was a massive catamaran compared to the modest monohull my sister and I grew up on, it felt like home to me.
The water and the waves. The sounds of the rigging, ringing softly at night. The rocking with the never-ending sea.
Each day, our skipper treated us to a new locale, the beaches of Anguilla, the night festival of Grand Case, the chic shops and restaurants of St. Barth, the sands of the tiny and aptly named, Sandy Island. Each night we ate dinner ashore, the freshest seafood, local fare off freshly wiped picnic tables in the "lolos," tapas just steps from the sand, delicious Vietnamese food, crepes on St. Barth. Heavenly.
We even had a visit from Mojito Woman (who is partners with Mojito Man, naturally!). Yes, you read that right. She literally swam up to our boat and asked if we would like a mojito. How could we resist? She climbed aboard and mixed up the freshest, most delicious mojitos any of us have ever tasted. Where else in the world…
It was interesting how one little nook of the Caribbean had so much to offer. One-stop for hiking, one for "cliff" diving, another for walking empty expanses of wide, white beaches.
There are lots of ways to sail this area. Here's how our Skipper navigated it.
Day 1 – St. Martin (Oyster Pond) to Anguilla
Day 2 – Sandy Island, Shoal Bay, Little Bay (cliff jumping), and Crocus Bay.
Day 3 – St. Martin with a stop in Marigot and an overnight off Grand Case
Day 4 – St. Barth and Isle Fourchere
Day 5 – Colombier and Gustavia
Day 6 – Pinel
Day 7 – Return to Oyster Pond
And just like that. It was over. I don't think a week has ever gone by faster.
Everyone else headed home on day seven. But I couldn't bear to go just yet. So I hid out for a night at Ocean Point, and I was so glad I did.
The food and service were heavenly and I don't remember the last time I was so sad to leave a hotel room behind. It was perfectly appointed and like an oasis away from the tourist hustle, the bustle of so much of the Caribbean.
It's an adults-only, upscale property that was designed for romance. Next time, I will be sure to bring my girlfriend in tow.
There is little more romantic than rocking in their hammocks beneath the palms and strolling to a nearby lookout to watch the sun sink into the sea.
I fell in love with sailing when I was a kid. But this trip made me fall in love with it all over again. No question in mind, if I could choose any way to travel, it's a sailor's life for me…