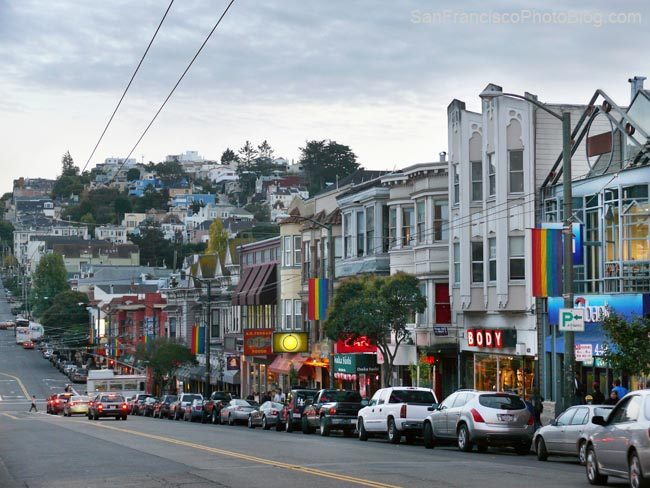 Keeping track of the lesbian nightlife in San Francisco is a full-time job even for the locals and can carry the steep trick of high cover prices and watered-down drinks.
If you are a San Francisco traveller on a budget, the cab fares alone can leave you broke, sober and waiting 40 minutes in line on a street corner no lesbian would want to be after dark. The Mission District is well-known for its ample population of lesbians, but for those who thought the Castro was just for the boys, let it be known that most clubs and bars have a ladies night at least once a week, frequent and worthwhile happy hours and a mixed crowd of men, bois and gals. Here are some tips to help you skip the lines and still have cash left over to grab late-night snacks or an early breakfast.
Getting to the Café early not only ensures a daily 2 for 1 drink special until 9 p.m. but gives you prime seating on the second floor, a split level dance club for optimal lady spotting on the streets below. Once a month the place is packed wall to wall for the all-girl dance party, Delicious. If you hit the Café on a night when it is filled with too much testosterone, take advantage of the drink specials and then stroll the infamous Castro Street, stopping at the Bar on Church. Tuesday is Ladies Night featuring hip-hop, a more intimate party space than the Café and sexy women behind the bar serving ladies half-price drinks all night. If you are not in town on a Tuesday you can still party your pants off. A moderate walk or quick cab ride away is the only full-time lesbian bar in the city, The Lexington. A dive joint, whose mostly 20-something crowd changes like the rotating art on the wall, featuring a free pool and $1 Pabst Blue Ribbon on Mondays and tequila and margarita specials on Fridays. Drawing a crowd the streets can't even hold during Pride week, "the Lex" has a mood as inconsistent as the women it serves, but with the motto "always a party never a cover," you would be missing out not to stop by at least once.
If casual lounges and quiet bars are more your scenes, the lesbian breeding ground, otherwise known as Bernal Heights, offers some of the coziness that comes with the maternal neighbourhood in which Stray Bar and Wild Side West are situated. With these bars just walking distance apart, the cab fare home is bound to be the most expensive part of the night. Wild Side West is a neighbourhood dive-sports bar with one of the best outdoor patios that is literally reminiscent of a lesbian Never-Never-Land. Exotic plants and antique knick-knacks smatter the garden and create a maze of nooks perfect for cozying up to your special lady or chatting with newfound friends. If you prefer your beer with a side of meat- or garden burger- head to the Mission district's notorious biker bar, Zeitgeist, where motorcyclists, bicyclists and pedestrians alike crowd along the long wooden picnic tables to sip pitchers of microbrews, nosh on burgers and wash it all down with what is perhaps the best Bloody Mary in the city. A daytime San Francisco favourite for those who prefer their crowd eclectic and their stiff drink cheap.
The trick to sticking to a budget is being able to live like you are not on one. So be savvy, not hungry and book some reservations at places that are friendly, cozy and filling. Home tops most places with its home-style cooking, full bar and central location. Do not leave without trying the mac-and-cheese, and at brunch help yourself to the make-your-own Bloody Mary bar. Across the street, Chow dishes up more home-style favourites and sits next door to the Pilsner sports bar which draws a mixed crowd of athletics fans. Lime tops out on the brunch list not so much for its food but because it offers unlimited mimosas for $6. If gourmet American grub is your thing, then hit up 2223 for $12 entrée Tuesdays. All within steps from Church Street, you can take multiple trains and buses to your food feast of choice in the gay abundant and friendly neighbourhood that is the Upper Market.
Hopeless romantics on a budget, fret not. If you and your sweetie were hoping to feel like the princesses you both can be, there are a few restaurants that cater to lovers, hedonists and epicureans alike. Charanga, a women-owned and operated tapas restaurant, serves up generous portions of Cuban and Caribbean food for those on a budget bigger than a burrito but smaller than a bottle of Veuve Cliquot. Blocks from Charanga, tucked into the heart of the Mission Dolores neighbourhood is Esperpento, which serves a significant two-person portion of the paella of your choice starting at $18. Compliment your cozy Spanish supper with a smooth glass of Rioja for just $6. Blocks away from Esperanto, in the South Mission is El Rio, a neighbourhood bar with a split level back deck, where stiff margaritas are served up to the sounds of a live salsa band every Sunday afternoon. The clientele is mostly gay men, but if you salsa you should endure the line and find that you are bound to bump hips with other Sapphic sisters swinging to the beats. Not to mention El Rio hosts Mango, a lady dance fest, on the multi-colour illuminated patio that fills with the energy of a diverse crowd of dancing divas on the fourth Saturday of the month.
We all know budget sushi is an oxymoron, but Crazy Sushi lends its hand by owning up to its namesake just blocks from Dolores Park, and also offers free delivery for those of you too hungry to leave the hotel room. Vegetarians and vegans can fetch fresh, local, organic cuisine from Herbivore (on Valencia, two blocks from Dolores Park) and Ananda Fuara (planted in the downtown district that can get seedy at night, so beware). Both have extensive menus and get gourmet without heavy prices. EOS in Cole Valley offers quasi-fine dining in a romantic wine bar, conveniently located on the N Judah MUNI line, and serves Asian fusion fare with an aphrodisiac happy hour from 5:30 to 7:00 p.m., Sunday–Thursday of $1 oysters and $5 per glass sake and wine specials.
Java junkies can get their fix at Dolores Park Café, and even grab an organic sandwich for a picnic across the street at Dolores Park, also known as "Dolores Beach" for the frequent Frisbee throwing and common sight of sunbathers. Take in the view of baby dykes with dogs, mama Sapphos at the playground, athletic lesbos playing tennis, or the spectacular view of the city skyline from the top of the hill. If you prefer matte to lattes, Samovar Tea Lounge sits three blocks from the park and offers light snacks like wasabi dressed greens and almost any kind of tea in the Zen-like comfort of a coffeehouse alternative. For some cheap eats, Irish coffee, or daily brunch, Café Flore is a greenhouse inspired coffee shop with heated outdoor seating surrounded by exotic wildlife and is a little piece of heaven in the heart of the Castro.
San Francisco is an über bike-friendly city, and at $8 per hour (or $30 per day) for a rental, the woman-owned bike shop, Avenue Cyclery, makes cruising on two wheels budget-friendly as well. Located on the edge of Golden Gate Park, you can pedal at ease through less-trafficked streets all the way to Ocean Beach, where if you are feeling thirsty you can grab a microbrew with an ocean view at nearby Beach Chalet, or some iced chai at the Java Beach Café which sits at the last stop of the N-Judah MUNI line, facing the beach dunes.
If you would rather cruise an art collection than broads at the bar, most museums like the de Young, SFMOMA, Asian Art Museum and Legion of Honor offer free admission the first Tuesday or Wednesday of each month and SFMOMA and the Asian Art Museum offer discounts on Thursday evenings. And for those whose artistic endeavours include new media, queer artists and less conventional spaces, Femina Potens, a woman and trans artist gallery in the Castro, and the ATA Gallery, an experimental media art gallery in the Mission, both offer some free exhibits and shows at sliding scales. Plus, it is an amazing way to support much-needed forums for queer women artists.
The grandmother of gay Pride, the biggest and, by some accounts, the best, is just around the corner in San Francisco. In this town, there's a place for every budget and lifestyle (after all, you're going to need someplace to sleep after partying your pants off). We've got the skinny on where to stay when the purse strings are tight, and where you can rest your head if you've got little more money to burn. But you'll want to make reservations now. — Diane Anderson-Minshall
WHERE TO STAY IF YOU ARE ON A BUDGET:
At Elements Hotel, a rare boutique hostel, you can sleep above and next to two of the city's hottest restaurants for as low as $29. Enjoy cocktails and a 360-degree view of the city on the sky terrace and free breakfast at the attached lesbian hotspot Medjool.
WANT TO PARTY WITH THE  GIRLS:
There's little wonder why the Kabuki Hotel has been the official CURVE gay Pride women's host hotel in the past. From tea service to cultural services (sake tasting) to the hot in-house restaurant O (an American take on the classic Japanese Izakaya house), Kabuki has it all and an incredible queer-friendly communal bath (with women-only Sundays, Wednesdays and Fridays).
WANT TO PRETEND YOU'RE ILENE CHAIKEN:
At Outbyowner.com, the LGBT-friendly, DIY-travel website, you can find an amazing house atop Twin Peaks with floor-to-ceiling windows, views of the city, bridges and bays, fireplaces and a Jacuzzi tub built for two. You'll never want to leave.
WANT TO REALLY PLAY:
Hotel Tomo is a funky little hotel with anime murals and awesome gaming rooms replete with PlayStation 3, Wii, bean bag chairs and 6-foot LCD projection screens.
WANT TO BE TREATED LIKE A ROCK STAR?:
With panoramic views from all its rooms, chic XYZ Lounge and Bliss Spa (try the movie-and-manicure stations!), the W offers the full rock-star treatment. The four-star Westin is sleek and cosmopolitan (perfect for 24/7 activity) and the artsy Galleria Park offers a private half-acre urban park—on the 3rd floor of the hotel—with stunning city views.
WANT TO GO GREEN:
The Orchard Garden Hotel is California's first truly green hotel and what an amazing one it is. The hotel has an eco-friendly, Euro-style keycard energy control system and doesn't skimp on luxury (LCD with DVD), surprises (a huge balcony patio) or location (right at the gates of Chinatown).
WANT TO STAY WET ALL WEEKEND:
The Handlery is steps from Pride and has a great little heated pool, while in the quieter Marina district, the kid-friendly Hotel Del Sol feels like SoCal (think palm trees and sparkling water).
WANT TO SEE PRIDE FROM YOUR WINDOW:
With a $30-million renovation in the works, Parc 55 is looking sexy and modern (plasmas, built-in charger docks, etc.) and has a private "workout" themed rooms aimed at girljocks like us. Parc's Pride package offers awesome balcony rooms that look out over Market Street's parade route—and partial proceeds go to charity. Meanwhile, the landmark Renoir Hotel offers a view of pride from its renovated, Euro-style, turn-of-the-century rooms.