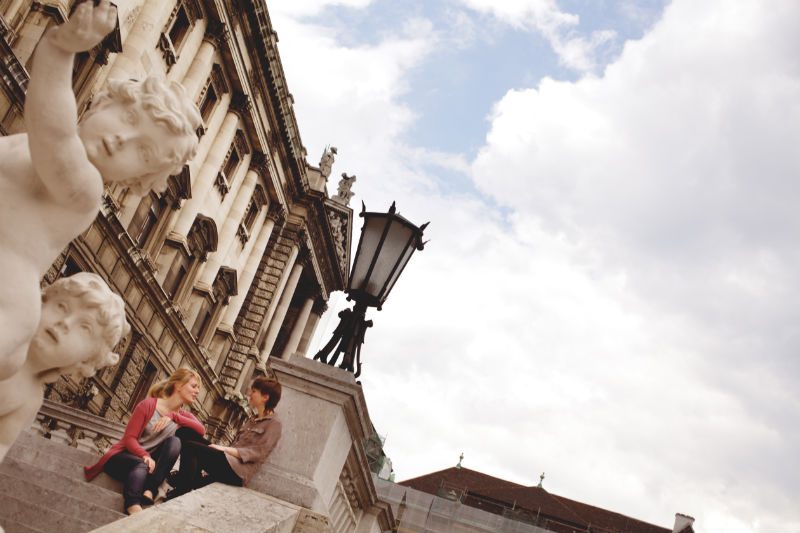 Vienna is deliciously rich in history, culture, and (to die for!) cuisine.
Austria's capital has a character and a history as opulent, attractive, diverting, and delicious as one of its iconic cakes or infamous inhabitants—from Wolfgang Amadeus Mozart to Sigmund Freud.
A city with a past, which is to say a very rich history, Vienna offers tales of imperial intrigue, artistic achievements, more statuary than you can shake a stick at, and a culinary and café culture worth sinking your teeth into—especially in the summer when the city celebrates Pride and enjoys refined outdoor leisure in its manicured parks and along the Danube.
This cultured and tolerant city saw civil unions for same-sex couples pass into law in 2010 and is a lovely destination to visit at any time of the year.
Bedding Down
I stayed at the 25hours Hotel, and its very name indicates that this is a fun choice, a good foil for the Habsburg aesthetic, which permeates much of the city. 25hours is not stuffy or historic, but a hip, chic, relaxed choice of accommodation with compact rooms decorated charmingly if a little eccentrically. It also has common spaces in which you can spread out: the lobby, a great restaurant with an outdoor terrace, and a lovely rooftop bar with views of the more antiquarian Vienna. The hotel's restaurant, 1500 Foodmakers, does a fresh and fantastic breakfast, lunch, and dinner with efficient and engaging servers. (25hours-hotels.com)
Where to Eat
You are spoiled for choice in this city famous for its hospitality, but here are a few gems that are most certainly not tourist traps: Glacis Beisl is historic and elegant casual dining, with a lovely old garden and pergola for summer and a cozy tavern-style interior for cooler months (glacisbeisl.at).
Motto (motto.at) is a very trendy place popular with gays, not least because it was where Helmut Lang waited tables before his ascent in the fashion world. If you like contemporary dining with a nightclub ambience (DJs after 8:30), Motto is where to get your night off to a good start.
To experience the latest in new Viennese cuisine, a special dinner at Medusa is in order. This lovely design-centric restaurant on three floors is world-class, with a wide variety of dishes and even a good place to stop for a cocktail (medusarestaurant.at).
It would be remiss of you not to try the famous Wiener Schnitzel, a classic dish that originated in the 19th century: Legend has it that Count Joseph Radetzky brought the recipe—a deliciously breaded veal cutlet fried in clarified butter and served with a wedge of lemon—back to Vienna from the Italian territories under Habsburg rule. Many restaurants in Vienna do this dish well, but the best is Plachutta's Gasthaus zur Oper (plachutta.at). Try it with a glass of Gemischter Satz, a traditional Viennese blended white wine.
Coffeehouses abound in Vienna and are associated with the city's rich artistic and intellectual history. For dessert or a pick-me-up, don't miss coffee and cake at Café Landtmann (landtmann.at), a gorgeous and historic place popular with locals as well as tourists. (Franz Landtmann's patrons have included Sigmund Freud, Marlene Dietrich, and Hillary Clinton.) It offers an authentic Viennese coffee-tasting experience in a classic and tasteful coffee salon that has been operating since 1873. Try the world-famous Vienna coffee (topped with whipped cream) and choose from a decadent selection of beautifully decorated desserts and pastries (the apple strudel is to die for!).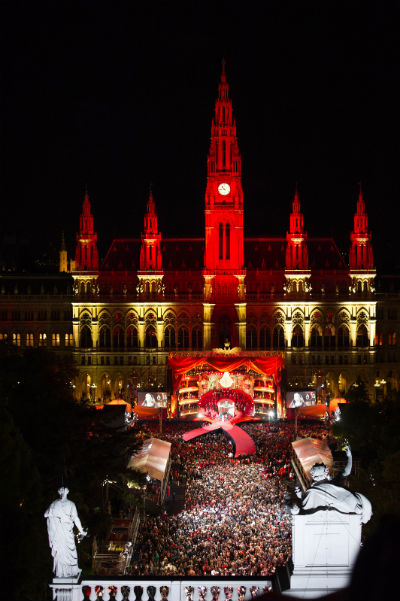 Talk of the Town
The best way to work off calories and get from one cultural attraction to the next is to bike or walk. Vienna is an easy city to navigate, thanks to the Ringstrasse, a three-mile boulevard, which loops around the city and connects most of its major attractions. A visit to the Kunstkammer at the Kunsthistorisches Museum is a must. (khm.at) This is quite literally a chamber of art and wonders, reopened in 2013 after a decade of renovations. If you love tchotchkes, this is the place for you: Feast your eyes on 2,200 items in 20 rooms: a solid gold saltcellar by Benvenuto Cellini, the Krumlov Madonna, beautiful bronze figurines, intricate clocks, curios, and scientific instruments. The Viennese are a people with intelligence, aesthetics, and ambition to have assembled such prized collections.
The Belvedere (belvedere.at) boasts 500 years of art history, from the Middle Ages to the 20th century, including The Kiss, an immensely popular painting by Gustav Klimt. Much sightseeing can revolve around rather magnificent monuments to musical, military, architectural, and religious history, but for something quintessentially feminine and intimate, visit the Sisi Museum in the Hofburg Palace (hofburg-wien-at). The Imperial Apartments are worth wandering through to acquaint yourself with the lifestyle of the Habsburg dynasty, including the 19 state and private rooms of Emperor Franz Joseph and Empress Elisabeth. The royal couple did indeed live in splendour and luxury: He had an audience chamber; she had a gym in her bedroom, which no doubt contributed to her legendary beauty. Elisabeth, referred to by the Viennese as "Sisi," is an adored figure (portrayed on film by Romy Schneider and Ava Gardner) whose ravishing looks, charm, and flair for drama was matched only by her colourful and tragic life. She embodies the perfectionist yearning for achievement and self-expression that when not gained in life is hoped for in immortality—a very Viennese sentiment. Consider taking a tour with the likes of guide Nikolaus König, who can regale you with tales of everyone from Mozart to certain ladies of leisure, or Alexandra Brauner (alexabrauner.at), who will show you the best places to dine, shop, or take in a show. (For Alexa's recommendations, see the sidebar below.)
Finding the Fräuleins
Vienna is home to an estimated 170,000 lesbians and gay men and, unlike many European cities, does not attempt to conceal the contributions made to public life by this visible minority. After all, the legendary warrior Prince Eugene of Savoy (17th century) was known to prefer intimate relations with his own sex; Franz Schubert (18th century) is rumoured to have had no interest in women; a gay male architect couple designed the Vienna State Opera, and Emperor Franz Joseph himself had a gay brother. Unfortunately, prominent Viennese lesbians have not made it onto the pages of history—lesbian rumours about Marie Antoinette, who was born an archduchess of Austria, notwithstanding.
Today, the LGBT center is the "Villa," or the Rosa Lila Villa on Linke Wienzeile. The Rainbow Parade (regenbogenparade.at) along the Ringstrasse, attracts over 100,000 visitors each June and is one of the largest Pride parades in the German-speaking world. The lovely and central Heldenplatz becomes a Pride Village of food stalls, arts and crafts tents, and stage shows, perfect for mingling and people-watching. The other big gay calendar event is the Life Ball (lifeball.org), an impossibly glamorous AIDS fundraiser that has the city's elected officials and hoi polloi turning out in their most outré evening wear to support the cause.
Viennese women are attractive, tend to speak English, and think dancing is de rigueur—so there's no excuse not to go out and meet the girls. For politically minded women, the Frauencafé (frauencafe.com), founded in 1977 as a feminist collective and still going strong today, is worth a visit. The Frauenzentrum Bar—commonly called FZ—regularly hosts women-only parties and events. The G.Spot parties on the first Friday of the month (pinked.at) are very popular, as are the Las Chicas women's nights now held at S-Club Vienna. I dropped into one on my visit and found the women diverse in age and style, welcoming, and very friendly to talk to. If you're not into clubbing but want a more intimate bar atmosphere with food, Café Willendorf inside the "Villa" is a solid choice, and in summer the courtyard garden is open for dining, but it gets very busy, so you may need to make a reservation. Labris Bar & Lounge is the place to go for happy hour chill-outs, the latest lesbian DJs, and karaoke night (labris.at).
---
Top 5 Things to Do in Vienna:
Visit a museum, especially the Kunsthistorische Museum (khm.at) to see the imperial art collection! Must sees: Brueghel, Velazques, Rubens, Titian.
Try Vienna's delights: coffee and cake, wine, Schnitzel. For the coffee house I recommend Prückel, Landtmann, Café Sperl. Sample a Schnitzel or Tafelspitz at Plachutta Gasthaus zur Oper. Go to a Heuriger (wine tavern) for dinner and have a glass of Viennese wine (e.g. Wiener Gemischter Satz or Grüner Veltliner). My favorites are Mayer am Pfarrplatz, Wieninger and Christ.
Check out Vienna's 2015's Highlight: Ringstraße, (Ring Boulevard), which will celebrate 150 years in 2015. You can walk it or do it with a city bike for free. There you find lots of interesting palaces, coffee houses, museums, and theatres.
Go to a top club for good live music and people watching, such as at the dinner club Albertina Passage, a cool place to go! It's the best music in a nice ambience. (albertinapassage.at)
Go to a Concert at Musikverein or Konzerthaus (classical music) or to the Staatsoper for classical opera. If you like jazz, go to Porgy & Bess (porgy.at).