Lesbian beer aficionados will tell you, one must worship all things Belgian.
The little country has a big business with its 125 breweries, over 800 types of beer and approximately 8700 one-offs to choose from. This is no passing fancy as Belgians drink on average 93 litres of beer a year. Safe to say with all that field experience, they know a thing or two about the brew. They should. They've been making the frothy beauty since 9,000 BC.
Austrian glassmakers, Reidel make specific and expensive glassware for each wine and spirit designed to enhance aromatics and pleasure to the palette. The same approach is adhered to here as each brewery chooses specifically shaped glassware for each beer from various goblets to curvaceous tulips and tall pilsner styled glassware.
The Belgians take it even further giving each beer, not just type, but each beer and brand home of its own with its own individualized branded glassware. Holy hops! Choose the wide mouth goblet if you want to double your pleasure. You can experience it on the nose and in the mouth simultaneously.
Beer babes
When in Belgium, aficionados and ambitious visitors together attempt to try as many Belgian beers as they can, then get in heated debates with beer buddies, beer babes and random strangers about which is best and why. Even if you're lezzie who is new to the brew, the conversion to beer dyke is quick, committed and competitive. Trust!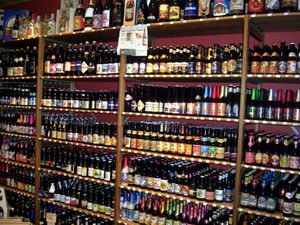 Regardless of your level and love, everyone wants to try the high alcohol and highly esteemed Trappists beers. No two Trappist's are alike, other than the fact that monks make them all. There are seven in total, six Belgian; Achel, Chimay, Koningshoeven (Netherlands) Orval, Rochefort, Westmalle and the coveted Westvleteren, which is not sold commercially. It can only be bought at the gate, and then you have to pinky swear to a beer-making monk that you won't resell it. Needless to say, spiritual swears are quickly forgotten as Westvleteren manages to pop up in highly coveted spots.
There are many Belgian beers worthy of a pinky swear swindle. A Lambic is a draught, rarely bottled and available only in its area of production. Gueuze, a sparkling beer, known as Brussels Champagne is produced combining young Lambic with mature vintages to cause a second fermentation. Like wine, it matures beautifully over time.
Fruit beers, made by adding fruit to Lambic are big in Belgium; the most common is Kriek not to be confused with craic a bit of Irish fun or the artisanal and unsweetened Oude Kriek beer in Belgium.
It's a spiritual thing
Don't forget the Abbey beers, not be confused with monk made Trappists. The difference between the two is that Abbey beers are made in or near a monastery, yet they don't meet Trappist's strict criteria. A few of the well known brews are Inbev's Leffe Affligem, Grimbergen, Tripel Karmeliet, Maredsous, St. Bernardus, Saint Feuillien, Floreffe and Val-Dieu.
Annie get your beer!
Start your Belgian beer exploring in Bruges, a city-based on tolerance, so much so if you are even so much as overheard speaking in a sexist, demeaning or homophobic manner you will be arrested and or risk losing your job. Our local palace, the new 5 star Kempinski Hotel in Bruges has a chapel that as of last spring had only conducted same-sex weddings.
So, whether you are in town for the big I Do or merely In Bruges to express your love of the local brew, you need to head to their local brewery, the De Halve Maan brewery for a tour and a glass of their Brugse Zot. Then pop by Bier Temple where many a beer buzzing tourists pops in to honour the hop Gods. In this Haute hops shop, you can buy every beer imaginable with their 800 beers and matching glassware.
Nearby Cambrinus is an institution filled with local lively characters and a beautiful selection of Krieks with fancy glassware to match. My brew buddies, two guys, perhaps because it was beer-based, were not afraid of the Krieks, hints of pink and all.
We were a committed three, I the newest in the conversion camp. The other two fully and faithfully committed led me, quite nicely through our hoppy hour. The local rule of thumb (rules were made up a moment to moment between beers) was that if my two mates, who had completely opposing palettes, agreed on a beer with equal measures of enthusiasm, then it was award-winning. If we, all three experienced a communal weakening of the bees nees, clearly, it was liquid gold and we better start brewing…or head home as perhaps our enthusiasm was a result of our ambition and overindulgence of the local culture.
Froth and Fork
Now if you're looking to throw a sophisticated twist into the mix, combing fork with froth, head to Den Dyver, a sophisticated spot where they pair your meals with flights of beers. As is the case with wines, the matches are very specific and the chef and beer sommelier work meticulously to create perfect pairings from plate to pour.
If you're simply in search of reaching inner nirvana while In Bruges, head to the Garre, the oldest bar in all of Bruges. It's a small and wildly inspired spot in the tiniest alleyway in town. If you can't find it, perhaps it's not your time.
Their 300 beers and their house brew, which is available only on-site is believed by many to be the best beer in all of Belgium. One committed sip three times over and in an immediate monk-like fashion, we three left our bodies if only for a minute and chanted Ommmm. (visitflanders.us)
Liquid lovers
When finished with your committed beer crawl across the country, you just might want to take a long and leisurely dip into lake genever, their indigenous spirit. Once a medicinal tonic in the 16th century, this sexy juniper flavoured liquor, the precursor to gin is a traditional liquor of Belgium, The Netherlands and two provinces in the North of France. It may not heal that which ills you, but I can promise, it will certainly ease the pains.
Genever also known as Jenever and Jeniever was eventually shortened into the English version, gin. Dutch chemist Sylviius de Bouve, who originally produced it by distilling malt wine, a blend of distilled grains, invented this spirit. The aromatic herb Juniper along with other botanicals was added to mask the then unpleasant flavour and taste.
There are two types of Genever, also known as kopstoot (which means headbutt), that differ due to the distillation. Oude is the more expensive and elegant while Jonge remains the cheaper of the two.
If you're looking to swim in the deeper end of the gin pool and learn all there is to know about The Flemish wonder, head to Hasselt in the Flemish province of Limburg, where Genever is traditionally produced. You can sip the spirit and savour the knowledge gleaned from a day spent in Hasselt's Genever museum.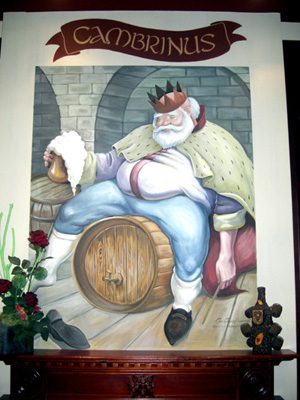 If you're more experiential when it comes to spirits or if you find you retain knowledge better from field experience, then there are two can't miss in the country. Hightail it to Ghent and to Antwerp to T Dreupelkot and De Vegant, respectively. After a few days and several sips in, you'll be a genever genius. That is if you remember anything.
De Vagant
First things first, head to Antwerp, called the other Paris of late. Gay-friendly Antwerp is working hard to lure the global travel-savvy gay travellers from Amsterdam and Paris. If visiting the other seductive cities, you must make it a point to pop over to Antwerp for the day or the weekend. The culture, cocktails and couture are quite alluring. It's but a quick train rides away from either city. Once you arrive, it is well worth the trip in as the station alone is a work of European art. YouTube dance videos anyone?
Once out of the station, slip into De Vagant. De Vagant in Antwerp has committed itself to all things genever and has played an impassioned role in genever's recent renaissance since their opening in 1985. De Vagant, a family run business includes a bar, a traditional Belgian restaurant and a quaint shop, which is chock a block with every imaginable genver that's ever been bottled.
An evocative spot, on a seductive side street in Antwerp's busy city centre, feels like an old Hemingway haunts or a spot Kerouac would have called his own if it crossed his path. You can feel the poetry, prose and artistic angst rippling through the air as you assess your new soul searching spot.
The bar offers more than 200 different kinds of genever varied in taste, aroma and potency with an alcohol percentage between 30 and 54 per cent. Their fruity genevers are a chapter unto themselves of which there are 29 varieties.
Try one of their homemade plates and pours as they cook with a flavorful spirit, which adds an exquisite flavour to their rich Belgian dishes. Slowly sip on the spirit and indulge in the cuisine and atmosphere steeped in local, low-key hipness and richness. If I lived in Antwerp, often called the other Paris, by fashion-forward folk, this would be my definitive local.
Swim sister swim
The spot is one-stop shopping for all things Belgian. The good news is that you can take it with you. Pop into their shop across the alley for an even larger selection of genevers. Their 400 flavours of genever and a large selection of Belgian liquors should have all of your spirit savvy scenesters spinning with envy, drowning in their drool in their barstools back home. (devagant.be; antwerpen.be)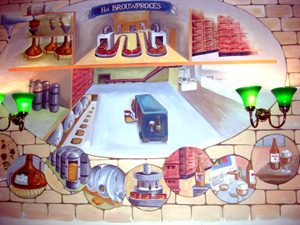 T Dreupelkot
Slip into edgy Ghent, once the Manhattan of the Middle Ages, now a thriving college and artist-driven town, where the overly tatted gather to smoke and seduce. Anything goes in Ghent. T Dreupelkot is no different, a tiny ambient spot on the city's busy riverfront. If you meet anyone from Ghent or anyone in Belgium for that matter, no matter their age or affiliation, they all oddly know the proprietor of T Dreupelkot, Pol Rysenaer, the Santa of the spirits world. The white-bearded one is as much of a draw to as the spirit itself. He holds court nightly behind the tiny bohemian bar serving over 200 flavours of the home-distilled spirit.
You can go sweet or savoury or both as we so decadently did, a few times over. If you want to experience the spirit on the front and back of our palette, spice it up with a herb-infused red hot pepper jenever or go for the more dessert driven vanillas, chocolates and bananas or perhaps the apple and other fruit flavoured beauties.
Yes, may I have another?

At approximately $2 a pop, it's no wonder the place is chock a block every night of the week into the wee hours of the night. It's a mad mix of punters popping in and out throughout the evening. It's a grand place to meet locals, travellers, poets, business execs, lost souls and the wildly inspired from all corners of the globe. There's a flirty vibe in the air that is easily heightened after a few pops of the local spirit.
If you want to take a bit of the magic back, pop across the opposite side of the river to Pol's own expansive beer & gin shop. It's a beautiful old, loft-like spot with river views.
If you didn't know Pol was a big man in this medieval town, his own label with his iconic image wildly displayed on the countless bottles filling the floor to ceiling cases and the larger than life Warhol inspired artwork adorning the walls with Pols mug, just may convince you that he's the big man on campus. He'd never tell you. He doesn't have to.
(waterhuisaandebierkant.be/e7.htm; visit ghent.be; visitflanders.com)