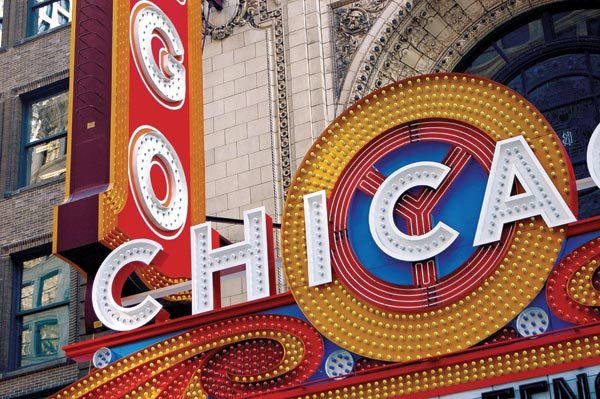 The Midwestern culinary capital promises foodie lesbians a variety of tasty treats.
It is a delicious city, Chicago: Just ask anyone which food the Windy City is most celebrated for and they'll come up with deep-dish pizza and hot dogs. Never mind that the pizza came from Italy and hot dogs from Coney Island—it is the mighty appetite of Chicagoans that brought them both to the next level of decadence. And this town has many more scrumptious dishes to tempt the willing traveller.
One of the top culinary destinations of late belongs to Top Chef Season 4 winner (and cutie pie) Stephanie Izard. Open since 2010, Girl and the Goat (girlandthegoat.com) is part of a vibrant restaurant scene situated in and among the converted warehouses of the West Loop. Izard's lovely, preserved-industrial vibe creates a luscious space where diners come to be dazzled by her innovative fare. Like most of today's top restaurants, the Goat uses simple, fresh, seasonal ingredients, and magically transforms them into many-flavoured explosions—think roasted cauliflower with pickled peppers, pine nuts, and mint, or Squash Blossom Rangoon: crab, chive yogurt, and almonds. Although getting a table may take a spell, sipping on the Goat's outstanding cocktails will inspire patience.

Pictured: Chef Stephanie Izard
If serious barbeque appeals, drift a bit northward to Barn & Company (barnandcompany.com) in Lakeview. The theme here is "slow and low," and the flavour-packed pulled pork, the smoky ribs with a sauce sampler, and the crisp-yet-juicy chicken all showcase that succulent style. Features include an outdoor patio and daily fire-pit specials.
Of course, you can't leave Chicago without some deep-dish. Local chains such as Lou Malnati's or Giordano's will satisfy, but an evening at Lincoln Park's Chicago Pizza and Oven Grinder (chicagopizzaandovengrinder.com) will have you proclaiming, "It is a far, far better thing that I do." The place often has a line out the door, and for good reason: Its famous Pizza Pot Pie has no rival. Visualize if you will a dough-lined bowl filled with cheese, sauce, and other toppings, and capped with a baked-dough blanket—which then somersaults onto your plate as a stuffed pizza that the server cuts into wedges. This place is legendary.

Pictured: Wood oven-roasted pig face
Speaking of classics, take your appetite to breakfast at Lou Mitchell's (loumitchellsrestaurant.com), a restaurant and bakery in the Loop. The cure for any hangover is waiting for you at this 1923 Chi-town institution; consider the sour cream and tomato "fluffy jumbo omelette," served in a frying pan half-filled with crispy hash browns. (Don't forget the homemade biscuit.)
Boystown has long been a conveniently named gayborhood not far from downtown. It's a great area to stroll, shop, and of course, dine as the locals do. But in recent years, Andersonville has emerged as the premier queer stomping ground, thanks to its many gay-owned and -operated establishments. After you shop at Women & Children First (womenandchildrenfirst.com) and the nonprofit secondhand shop The Brown Elephant (howardbrown.org), wet your whistle at one of many lesbian-friendly cafés and lounges along North Clark Street, like Parlour (parlouronclark.com). Further down on Clark is T's Bar & Restaurant (tsbarchicago.com), where you can enjoy a meal on the outdoor patio. You can get a great burger, or try something with more flair—maybe the pretzel-encrusted chicken or pumpkin seed pesto over fusilli.

Pictured: hot dog Chicago-style, Photo credit: Choose Chicago
Drop by gay-owned A Taste of Heaven bakery-restaurant (atasteofheavenchicago.com) for a yummy brunch or light dinner, or just to grab a fresh-baked cupcake. The gay restaurant chain Hamburger Mary's (hamburgermarys.com/chicago), across Clark Street, has fun events at Mary's Attic and the sports-bar-style Mary's Rec Room, with satisfying pub fare to boot.
It is joyful and fulfilling just to sample what's cooking in Chicago—especially if you remember to pace yourself.