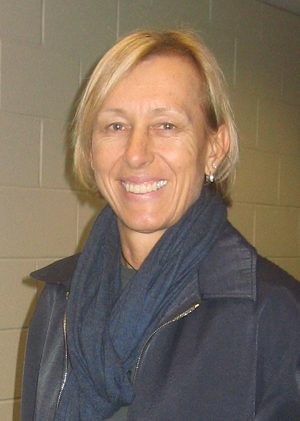 Tennis star Martina Navratilova has arguably done more for gay visibility (aka "mainstreaming") than any other athlete or celebrity — and did so at a time when it was particularly inconvenient.
So how come she's suddenly become one of the community's biggest problems?
Billie Jean King has called Navratilova "the greatest singles, doubles and mixed doubles player who's ever lived." She "won 18 Grand Slam singles titles, 31 Grand Slam women's doubles titles (an all-time record), and 10 Grand Slam mixed doubles titles. She reached the Wimbledon singles final 12 times, including 9 consecutive years from 1982 through 1990, and won the women's singles title at Wimbledon a record 9 times." And most of that came after, in 1981, she came out publicly. Since then, she's been a champion for gay rights, even filing a lawsuit in 1992 in Colorado to fight Amendment 2, which would've granted any town, city, or county from enacting anti-discrimination rules for gays.
So how come Navratilova might just be Public Enemy No. 1 to GLBTs right now?
Because she's exploiting the current status of same-sex marriage for her own personal advantage.
Navratilova is in the middle of a messy (and growing even more so) divorce from Toni Layton. But in order to keep Layton's hands-off Navratilova's fortune, the tennis star's attorneys are arguing that their relationship doesn't qualify as a marriage by heterosexual terms, and thus Layton shouldn't be entitled to her share of things. Layton, naturally, sees things differently and is filing a domestic partnership lawsuit in Florida, which Salon notes is a "deeply inhospitable legal climate" for gay-anything.
Close watchers of Navratilova will know this isn't a new tactic: Back in 1991, ex-lover Judy Nelson sued her for $7.5 million and even had videotapes of two of their wedding ceremonies to show a court. The pair settled out of court, reportedly for around $3 million.
For Navratilova, the issue is a personal and financial one, and she's using any means necessary to get her way in court. This includes trivializing her relationship with Layton as being "sub-par" compared to "true, traditional marriage," even though the two were together for nearly eight years. Layton maintains she was, out of the blue, kicked out of Navratilova's life and even locked out of their homes — and insists the pair agreed to a 50/50 split of everything, which is why Layton wants parts of the four multimillion-dollar estates, cars, and jewellery they purchased while together.
But for someone who proclaims to be such an advocate of gay rights, Navratilova is throwing the fight for same-sex marriage under the bus. By trying to hang on to her millions, she has (what we're guessing is) the unintended effect of magnifying the triteness of gay relationships. That same-sex relationship are lesser than male-female relationships is Navratilova's entire talking point.
As the pair wage war with legalese, it's interesting to note Navratilova's Wikipedia page has been scrubbed of any mention of Layton. The paragraphs about her commitment to gay rights, however, remain.
 Article Provided Courtesy of Queerty.com