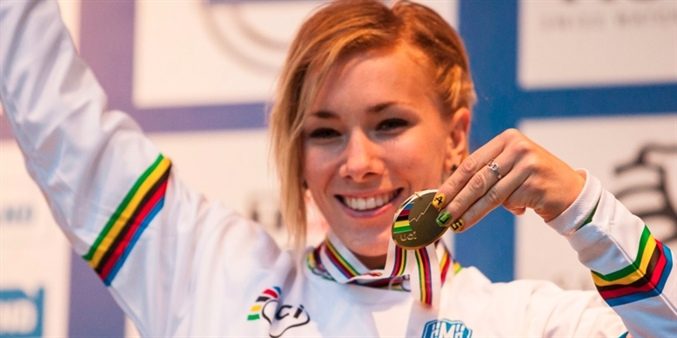 Australia's Queen of the Dirt Caroline Buchanan captured her second cycling world championship title in less than two months with an emphatic victory at the 2013 UCI Mountain Bike World Championships in Leogang, Austria
Canberra's Buchanan set her sights on a unique cycling world championships 'triple crown' in 2013, with the 23-year-old kick-starting her campaign in perfect fashion by winning the BMX world title in New Zealand in August.
Less than four weeks later, Buchanan was in South Africa contesting the Downhill event at the MTB & Trials World Championship where she finished a credible fifth in the final, mere seconds off the podium.
In Leogang this weekend, Buchanan proved her season's goals weren't just a pipe dream, with a dominating performance throughout all the rounds over the weekend guiding her to a third 4X world crown.
"This is my fifth career world championship title and it was one of the hardest to win," said Buchanan who added a third career 4X world title to her glittering resume after claiming the crowns in 2009 and 2010 respectively. Buchanan also claimed the 2012 BMX time trial world title.
"This year has been a huge challenge. I set myself big goals three world championships in two months," she said. "BMX world champion, Downhill fifth in the world and now 4X world champion for the third time. "It's not easy but the hard work is worth it. Time to breath and take stock." "I'm so grateful for my support network," Buchanan added.
In her run through to the final in Leogang, Buchanan duplicated her 2010 victory tactics by shooting out of the starting gate and dominating from the outset jumping the prolines to win both by a large margin.
In the final, a relaxed Buchanan once again bolted from the gates to establish an early gap, and with her creativity and speed, she powered her way to an easy win.  Katy Curd (GBR) and 2012 World Champion Annekke Beerten (NED) were left to battle it out for second and third before Beerten crashed allowing Celene Gros (FRA) to take third.
Tony Scott, EO of Mountain Bike Australia marveled at Buchanan's performance. "It is hard enough to be a single world champion in one year; the pressure is just so intense," said Scott.  "So the win in Leogang to now possess both the BMX and 4X world champion rainbow jersey is one of legend.
"The nature of Caroline's personality is possibly informed by her campaign in South Africa for the DH World Championships and where, when I asked her about the disappointment in finishing in 5th spot said 'Yes but how many BMX riders could have done that." "Congratulations Caroline; Australia's only dual world champion in two different cycling disciplines." MTBA President Russell Baker echoed Scott's words.
"MTBA would like to extend their congratulations to Caroline on her excellent achievements," Baker said. "Not only winning 4X in 2009 and 2010 but to complete three world championships and a top-five performance in downhill in South Africa, its an outstanding accomplishment."
Racing continues in Austria this weekend with the final Shimano World Cup Downhill also being contested in Leogang. Cairns local Mick Hannah has qualified through to the final round in second behind Steve Smith and Gee Atherton.