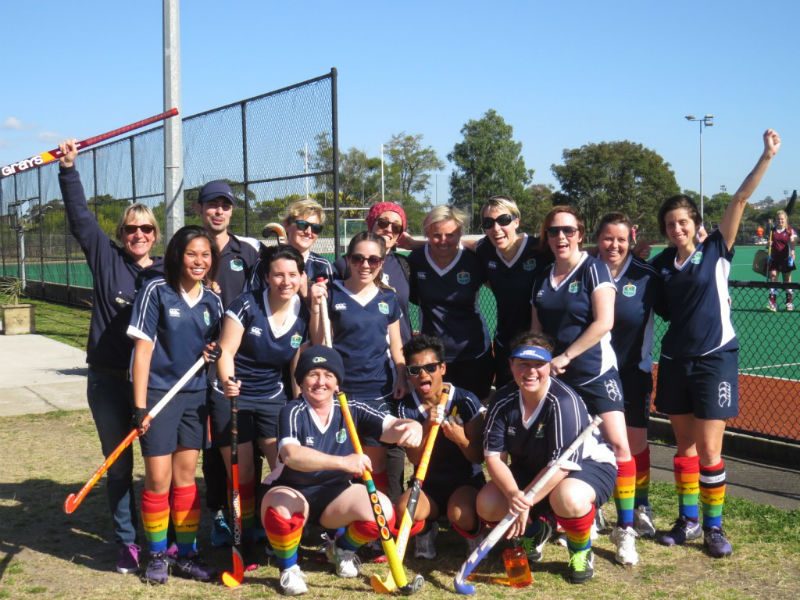 And so ends another fantastic hockey season for the Women of Bentstix.
So how did we go? After growing to two teams in 2014, we kicked off the season back in April, keen and smiling. Throughout the season we played our hockey hard – with passion, drive – and never gave up. Division 4, under coach Pete, missed out on making finals by one goal, but wow what a season! The girls had lots of fun and improved out of sight. 
Division 3 coached by Luke played some spectacular, fluid hockey. The girls 
succeeded in bringing home both the Minor Premiership and the Grand Final
in style. This is an incredible achievement for a club that has only had
women's teams for three years. 
Two of our players also won fair play awards from Eastern Districts Hockey  
Association.
Nat Stewart took out best on the field in the Grand Final. Woot!
Gemma Hartmann won both the best and fairest of Division 3 and the most
prestigious award, The Pheonix Medal, which is given to the player who is
considered the best and fairest for the whole competition.
Bentstix
is very proud of Nat, Gemma and all of our players for always
playing in the spirit of sport.
So why has Bentstix been so successful?
That's easy to answer – its
members, coaches and supporters. In our club, the measure of success is
not in the trophies we win (although it feels soooo good), but in the fun we
have, the skills we learn, the constant improvement as players, the positive
support we give each other, the friends we make and in the competitive, fair
nature in which we play hockey. We play not as individuals or for ourselves,  
but as a team and for each other. The Women of Bentstix bond on the 
training pitch, on the field and out and about with our many social events
throughout the year.
Here is what some of our new players this year have
said about Bentstix Hockey Club.
"Bentstix, fun, friendly, driven, social, awesome, amazing, love you all thx for  fabulous yr x." – Tanya

"Fun, family, social, learning, supportive, working together, team spirit,  

awesome people, great year." – Michelle

"A group in which you feel accepted, raises your standard of hockey, make  awesome friends all the while having a blast." – Kat

"Bentstix has become more than a hockey club, the people within it are  supportive, generous and treat each other like family." – Yanina
Our coaches, Luke and Pete have taught us so much, under them every
player has improved and the team succeed.
Then there are the WAGS, friends, family and boys from the Bentstix Men's
teams. They cheer us on from the sidelines and bring us home when we are
spent.
So that's how we went, that's why we succeeded and that's why we all can't
wait until the whistle blows next year to kick off the new winter season. In
fact, we're so keen we'll be fielding teams in Summer hockey competitions
too.
So if you want to be a part of an awesome club, play hockey, make new  
friends in a supportive and positive environment, look us up