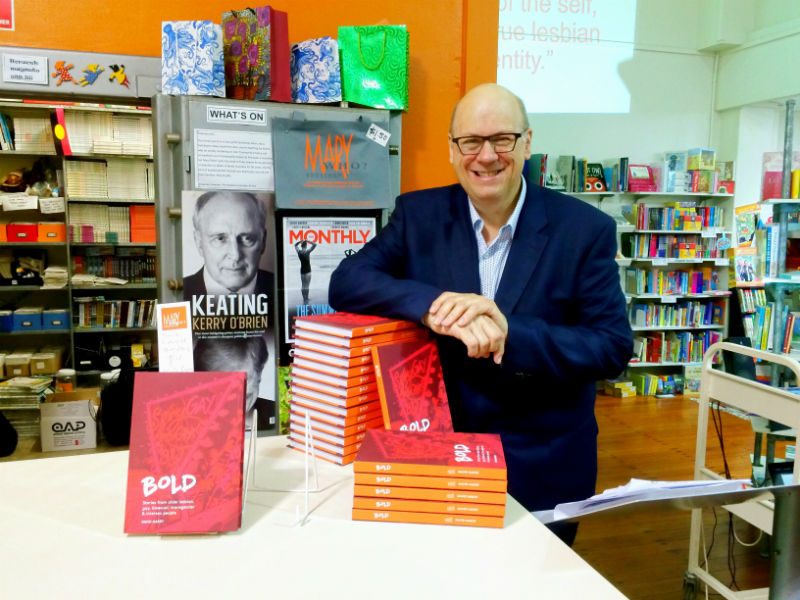 David Hardy's new book tells the stories of older LGBTI people across Australia.
In 2013, David Hardy met and interviewed Charlie Beale, the artistic director of the New York City Gay Men's Chorus, for an article he was working on. During their discussion, Mr Beale told Mr Hardy about his celebrated chorus and the outreach work they had done. This included performances at SAGE, the LGBTI Senior Citizens Centre in Manhattan.
Mr Beale discussed his Chorus's Nightingale Brigade, a group that supports the chorus's members in difficult situations such as legal issues or needing transport to the hospital.
Through these stories, Mr Hardy says he began "thinking about older people in our community and the power of telling our stories. When I looked around for a similar anthology, I discovered much had been done overseas, but not in Australia. Not then."
This inspired him to start putting together a collection of stories from older people in the LGBTI community. The finished result is his new book, BOLD.
BOLD includes 56 pieces that tell the stories of over 70 people.  It includes stories of first love, the struggle for acceptance, and occasionally the search for a hidden identity. Mr Hardy, originally from regional Queensland, wanted to include stories from across Australia, including small towns and different communities.
In BOLD, the audience will find the personal journeys of two Aboriginal women. One woman, Aunty Dawn Daylight, is in her late 60s and speaks about how she supports young Indigenous lesbians in Brisbane. Mr Hardy also includes stories from migrant Australians and highlights Garth Wong's tale of growing up gay in Papua New Guinea while keeping it a secret from his family.
The majority of BOLD is comprised of local stories, but Mr Hardy also included stories and images from abroad, including New Zealand, Northern Ireland, Poland, the UK, and the US.
Wanting to encompass a diverse set of storytellers, Mr Hardy says he was thrilled to have two significant community leaders wanting to take part in the book. Former Senator and leader of the Australian Greens, Bob Brown, shared two of his stories for BOLD, and the Hon. Michael Kirby, onetime Justice of the High Court of Australia, shared family photos and his experience of meeting his partner 46 years ago.
Although BOLD is focused on the older LGBTI community, Mr Hardy says he "wasn't too fussed about ages." He didn't have a minimum or a maximum age set, allowing the contents of BOLD to include stories by people in their late 40s to people in their early 80s.
Mr Hardy was more interested in having stories that "reflected the lived experience, then and now, of older LGBTI people."
BOLD includes an essay by Dr Jo Harrison, who attended Sydney's first Mardi Gras. It focuses on the topics of ageing, activism, and self-determination.
Graham Willett, another BOLD contributor and one of the many activists included in the book, writes, "If we want to live lives of purpose, knowing the past is as important as knowing the present."
Mr Hardy says it was a "joy and honour to put our stories in print."  He expressed hope that BOLD can be an affirmation that the lives of LGBTI people matter.