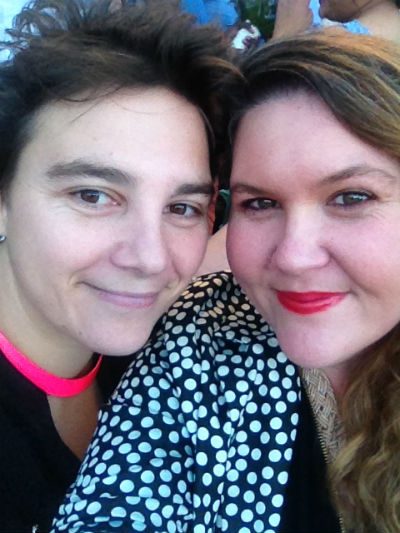 LGBTI affirming Church to bring loving thy neighbour to South Sydney.
Bec and Elizabeth, the pastors and life partners who run Spark, grew up loving God and having an active involvement in Christianity until, that is, they respectively realised they were attracted to women. They were taught that they could "pray the gay away", and they tried, really, really hard to do just that. But it didn't work. So they left their individual churches until, eventually, their paths crossed and they fell in love.
Still feeling the calling to serve God and the community, they decided to set up Spark, for all the people that have otherwise felt excluded from the Christian church, as well as those who have always been welcomed. Both Bec and Elizabeth exude the kind of warmth you'd expect from people who really do follow the commandment—Love Thy Neighbour.
They believe that "in each person is a gift" and they aim to "create a space where those sparks are acknowledged and seen as being valuable and worth something". They say that it is their job "to help love out the lies" that tell us that we are separate from God, especially, those people who have been told that they don't fit, are not worthy or not acceptable.
Spark will offer South Sydney their first welcoming and affirming Church that, quite literally, invites everybody to come and explore God in an LGBTI inclusive space. As an evangelical and charismatic Church, you can expect worship through singing, prayer and recognition of your individuality.
Having a church like Spark when they were growing up would have made a difference to Bec and Elizabeth, hopefully, it will make a difference to you.
The theme of the first service, held on Sunday 28 August at 6:00 PM, was "Saying Yes to God". If you feel like this is your time to say "Yes", or you've been looking for a way back to God in the same way as Bec and Elizabeth, or looking for a new Christian family (that is progressive and committed in theory and practice to the original tenets of Love Thy Neighbour) then Spark can offer a place for you and your family to come home to.
Services will run every fortnight from 28 August with Bec and Elizabeth leading the sermons as "out, married people who are unashamed. They're in South Sydney, they're Queer, and they want the world to know that it's possible for LGBTI couples to love God and each other, and to know that they are not alone.
Bec says, "being exclusionary in any form makes me very cranky and saying something that tears a person down just makes my blood boil. The only relationship structure we advocate for is between people and God. We believe in sexuality being part of the gift of God. Our role, and our reason to exist, is to show people they are loved by God and that judging things isn't going to be helpful. Love your neighbour as yourself. Be authentic. Know you're loved by God. People have different ways they need to be loved and that is our challenge".
Joining the Church is easy and Spark's services will be held at the local 3 Bridges Community Centre.
For more information email Bec and Elizabeth at hello@sparkchurch.com.au or give Bec a call to arrange a tea and a chat on 0498 180 331