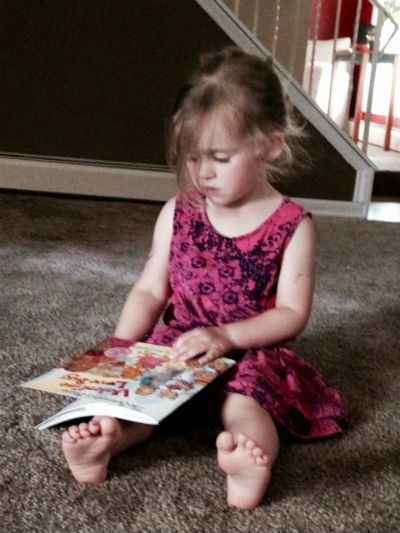 Here are few key suggestions to get you started.
Maggie loves to read. Right now, she's into The Berenstain Bears and Little Critter collections. We read a variety of other books together, and I took her to the library at the start of the summer to get her very own library card.
In addition to the mainstream children books that are widely popular, I'm always on the lookout for fun new books, searching for those hidden gems that aren't moved to the front of the shelf at the bookstore. I also try to include books on diversity because I want Maggie to grow up with an open mind. We have a couple of books by Leslea Newman including the critically-acclaimed classic, Heather Has Two Mommies.
Maggie enjoys reading books that she is able to personally identify with, which is important. But it's not that easy to find two-mommy themed books. So when I come across one, I like to share it.
Recently, I was given a copy of Rumplepimple by Suzanne DeWitt Hall. It's a cute little story about a dog named Rumplepimple with two mom owners. When Rumplepimple embarks on a mischievous adventure to the grocery store, a humorous heroic tale ensues. I read the book to Maggie before naptime the other day and she loved it.
As an author myself, I do believe it's important to share our stories with the world. Whether it's a book about two moms or two dads or being different in some way, shape or form, kids need to know that all types of families exist and that they are all perfectly normal. A dog can have two mom owners. A girl can have two moms. A boy can have a mom and a stepdad. A girl can play with trucks. A boy can love the colour pink. A black girl and a white girl can be best friends. And so on and so forth.
If you're looking for a few fun and enjoy diverse books to read to your kids this summer, Rumplepimple is one to add to your list. You can get a copy on Amazon.com.
Here are a few others worth picking up at your local bookstore:
• All Kinds of Families by Mary Ann Hoberman
• Mostly Monsterly by Tammi Sauer
• It's Okay to Be Different by Todd Parr
• My Princess Boy by Cheryl Kilodavis
• My Two Grannies by Floella Benjamin