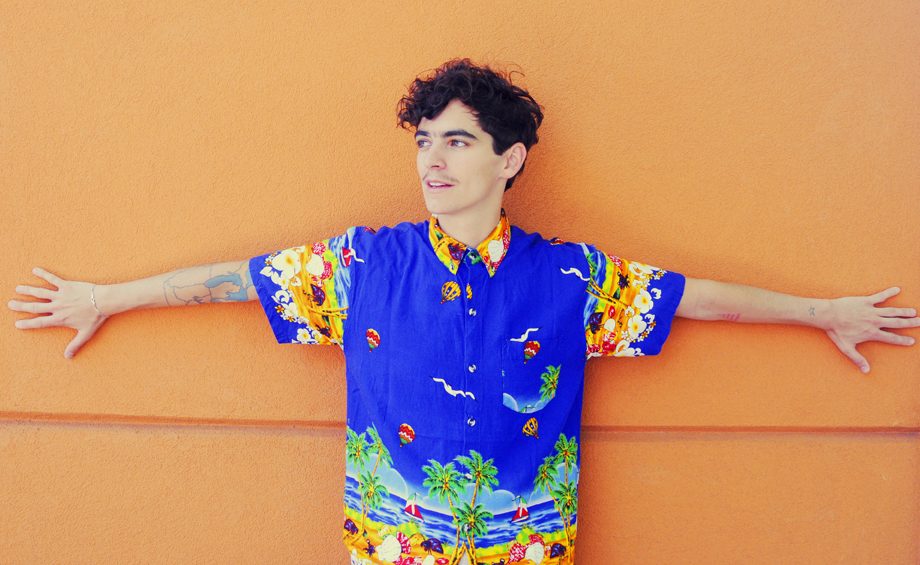 Catch up with the dapper-queer electro musician who is embarking on new journeys with the performance collective group, MEN.
At first glance, JD Samson appears to be one hip nerd in a dashing bowtie. But what you don't know about this out musician is that "Party Rock Anthem" makes Samson mysteriously happy. Samson labels get coined on the daily: queer artist, feminist icon, political voice and electro-DJ extraordinaire. Adorning a pair of big glasses, tousled locks that shimmy with every dance move, moustachioed in button-downs that make you wish you could enter a hip-to-be-square dance-doubles competition, Samson fits in and out of every label, you will ever create and consider. And we haven't even discussed their talents yet.
The one-time newbie in 2000 for Le Tigre, the electro-punk grrl band of all grrl bands, Samson became forever caught in that beautifully messy balance of having a good time and making a living—well, making money—a reality that's suddenly staring Samson in the face. So in 2007, after teaming up with true-blue Le Tigre bandmate Johanna Fateman, they merged projects, adding Michael O'Neill and Ginger Brooks Takahashi from Samson's live band Hirsute. By now, Fateman and artist Emily Roysdon handled writing and production, and eventually, Takahashi was replaced with Tami Hart. The radical Brooklyn performance band, MEN was born.
In summation, MEN is a DIY protest band. They've toured with the likes of CSS, Peaches and Gossip. Ultimately, their remixing concept has produced such reverb and chatter among fans who attend their touring shows and impromptu DJ parties, that a name-change took place. With Samson and O'Neill currently manning the group, JD Samson + MEN was fashioned, and a new chapter in dance music thrust into the spotlight: crowd-thrashing, foot-stomping DJ-ed punk shows in the LGBT community that make for one awesome time, by a self-managing band in a van. They released their first full-length album in 2011, Talk About Body, proceeding with a string of EPs like "Credit Card Babies", "Off Our Backs" and "Who Am I To Feel So Free."
Since February, they put out a three-track EP, Next, that includes "Next", "Make Him Pay" and "I Don't Care" with a few striking music videos to boot. Their full-length record will land this winter, featuring tracks they collaborated on with groups like Chains, featuring members of Cobra Starship, and Brooklyn DJ, XXXChange. Expect to see a few EP releases in the near future, too.
DJing and promoting parties has become Samson's thing. All of which led to a particular think piece in the Huffington Post, "I Love My Job But it Made Me Poorer," which sparked big conversation among music aficionados in regard to the industry. "I really had to sit down and look at my business. I had to engage with what was profiting financially and what was profiting creatively, and part of the trick was to see how I could feel both engaged and inspired and make money," says Samson. "DJing is a lot more profitable than playing live shows as a band."
DJing came naturally to Samson after joined Le Tigre at the start of the millennium. In the summer of 2001, Ladyfest Midwest asked Samson to DJ their event. New to the process, Samson says, "I just kind of played songs I like. And the rest is herstory."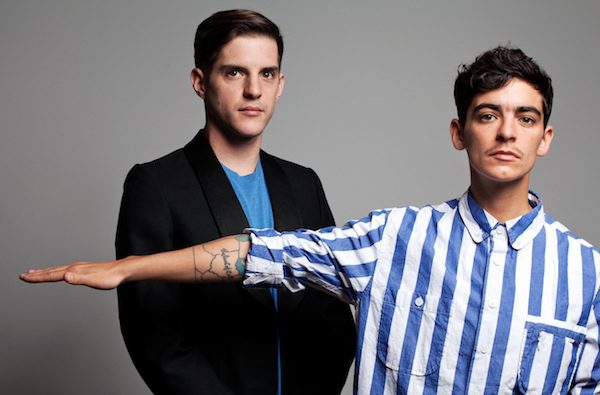 To go into any party with Samson at the DJ table is to expect the unexpected. Wherein using the descriptor 'cool' has nearly run its course, Samson is so cool, it is impossible for this artist not to slake our raucous dance-music thirst. Samson plays off the assembly of partygoers, their vibe and the way the night unfolds, explaining, "It always shifts once I see what the crowd reacts to and what makes them dance. I am a people-pleaser DJ, which means I read the crowd from the beginning to the end." And this summer, the big dance floor hit, "212" by lesbian rapper Azealia Banks, is a major crowd-pleaser at Samson's resident spot, The Rusty Knot in N.Y.C. Samson DJs at their "Scissor Sundays" nights, that according to Samson, typically involve "a little bit of grinding on furniture and shaking asses." The perfect way to spend your Sunday.
Samson's queer-positive perspective stands at the helm of many queer DJs paving a collective movement on the dance floor. "There is definitely solidarity with the lesbian DJs and promoters. As well as the female and queer DJs. We are still the underdog in a lot of ways. So we must stick together," Samson insists. With that in mind, Samson vehicles all DJ sets to elicit that communal sentiment. "Creating moments of feminism, pride and politics, in general, is always a real intention of mine."
Samson confesses they've played sets with only women's voices or queer voices though perhaps not everyone caught on, since "more often than not, people are too drunk to notice."
Samson's roles are often at play in a game of seesaw for the 34-year-old who claimed to have put all those proverbial "eggs in one basket" back in October circa the Huffington Post piece business-end of production, and assuring it reflects Samson's art. Is it giving and taking the best of what it can? Samson retreats to that simple place one can only feel when spinning—home.
"I love spinning and I love helping people smile, hug, sweat, dance and enjoy themselves. It's part of who I am—to try to create a feeling of togetherness, and when I'm successful at that, I feel really proud," says Samson. And sweat, sweat the ladies will do. Is there anything better than a full-on dyke dance party where all of those elements combine, inhibitions freed, the sound pumping and the energy thriving?
Ever since Samson created the performance art group, Dykes Can Dance in 2003, it seems that's all Samson's been seeing. "Thank the goddess for dykes that can dance. I was in Brighton the other day, and there was this amazing rave/breakdancer person and I was beyond thrilled." Perhaps thrilled because of the cultural stigma that still exists that lesbians are not shaking their stuff in the dance club as much as gay men. "Lesbians have historically been known to stay in on the weekends and drink cocktails with friends on the couch. Maybe play Scrabble," mocks Samson, "Whereas gay men have been known to throw down and party all night long," a stereotype this jack of all trades is working hard to break down and knock out.
On and off the floor, electro music has been hitting partygoers' ears now more and more, becoming mainstream, infiltrating into Top 40 pop songs on the radio, and in some ways, the idea of a 'lesbian dance scene' is a piece of modern culture that hasn't been fully seen since the dance-techno days of the '90s in gay night clubs. If you've ever been to any of the balmy dyke dance parties across the nation, you know exactly how capable the lez team is when it comes to getting down.
"This is a really cool time for the dance music industry," says Samson, adding an afterthought reminiscent of disco, "We'll see how long it lasts though."
As for the future, the fun-time gigs at Rusty Knot will continue to bring out all the right moves. Big on Samson's agenda is, "getting Pussy Riot out of jail," an all-girl punk band that was incarcerated for a three-year jail term after storming a Moscow cathedral and singing a "protest prayer." Samson would love to play their 'Get out of Jail' party, a vision that lends itself exactly to who Samson is: an architect of queer consciousness; but simply, one fearless contributor we constantly have our eyes and ears on.