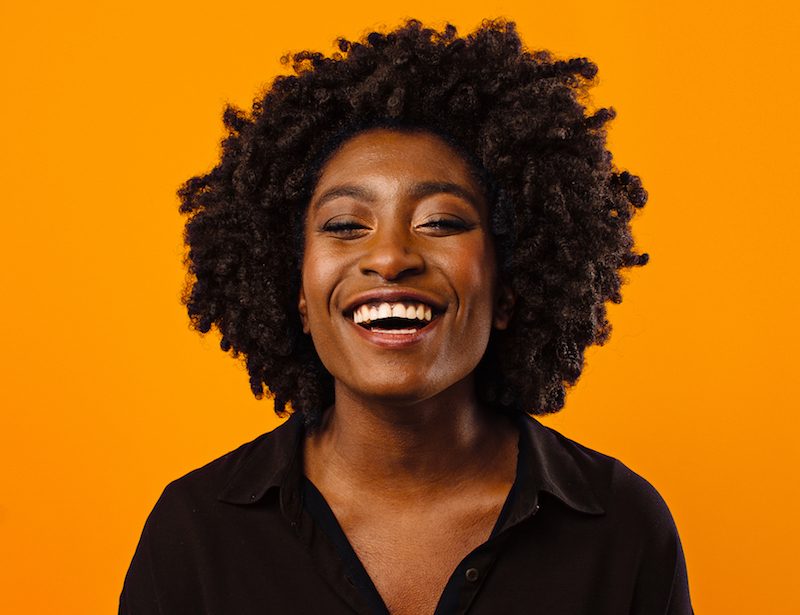 As a queer woman of colour, it's still so rare to see or hear me either onstage or in the audience
Happy August! I'm freezing my tits off at the Edinburgh Fringe Festival, and what's rapidly becoming clear to me here is that I'm a triple threat…
Not because of my debatable talents in singing (Pierce Brosnan in Mamma Mia standard), dancing (lit, why would I lie) or acting (last night I did a Scouse accent so terrible the audience politely pretended not to hear it) but because I'm a triple threat minority – a black bi babe in a white man world.
And I'm working in the whitest malest region of that world – stand-up comedy.
WACKY RACISTS tech this morning & I've already cried twice at how beautiful+ bizarre this little weirdo show is going to be under the bright lights of @bedlamtheatre. BUY YOUR TICKETS, over a third already sold and we ain't even started flyering! https://t.co/FyY2sdli6Q

— Sophie Duker (@sophiedukebox) August 16, 2018
I've always known that while fortune favours the brave, mainstream comedy favours the white, straight cis, male and middle class. Still, this year at Edinburgh Fringe it's really hit home how homogenous audiences are, and how acts who fall under the boogeyman banners of QUEER or BAME get disregarded.
However much this sucks, it seems difficult to change.
Even I know that the reality is that a lot of the people who can afford a spell of seeing comedy shows in Scotland are people with a decent whack of privilege – so it tends to be the straight whitey middle class, the middle-aged crowd that buy tickets. And even though they don't normally want to run the risk of being reduced to their identity, it's natural for comics to capitalise on their difference – issa USP!
But, be the change you want to see and all that. It's the first Fringe I've performed at where I've been properly out (i.e. both onstage and to my mum) and it feels exciting to be able to trumpet my difference despite not being, ya know, a comic, that really talks about themselves.
I talk more about the world, but it's sassy and funny and I promise not depressing! (Oh god, please come to my show and also have sex with me?)
I apologise for the digression, at this point in the Fringe (over the halfway hump, but the end is not nearly in sight), it's easy to get distracted. I feel like a twisted mixture of Sleeping Beauty's Seven Dwarves – Sneezy, Sleepy, Hangry, and Horny.
I'm rundown, stressed, sick but still loving every minute, whether it's performing dodgy drag as an African American pastor as part of an ill-advised adaptation of the iTunes Terms and Conditions, or guesting with one of my fave queer comedy crews The LOL Word.
It's getting easier to find pockets of magic, but as a queer woman of colour it's still so rare to see or hear myself either onstage or in the audience.
At this point in the Fringe I don't just want the acts who feel a little bit like me to settle for borrowed time in mainstream mixed bills, I want to make a home for the acts who are othered, and I want them to strut their stuff like the headliners they deserve to be.
So that's why in two terrifyingly short nights I'm putting on the first Edinburgh iteration of WACKY RACISTS, a celebration of comic creativity that's not in the straight-white-guy mould.
It's going to feature queer comedy queen (and sometime king) Kemah Bob doing bad-boy drag, proper public apologies from predators who think it's OK to prey on women (sadly, dramatized and fictional) and the transformation of at least one straight white man per show into human gammon.
In order to seem legit I've billed it as the show where, "Comedians crush bigotry with funnies!" but really I want funny-as-hell acts to be cheered onto a stage where they have permission to be as silly as shit on a platform that's as progressive as my own privilege will let me build.
SATURDAY RIDDLE: how come the only two posters anyone's even *attempted* to vandalise outside @bedlamtheatre this #edfringe are the two with my face on them? pic.twitter.com/LXwnQ961Bl

— Sophie Duker (@sophiedukebox) August 11, 2018
As a human, I'm not perfect or politically correct, so this show won't be. But it will be WEIRD and WONDERFUL and always aim to punch in the right direction (UP not down).
Acts will be caffeinated and melanated and queer af.
And despite the overwhelming likelihood that the majority of the audience will be straight, white, and middle class allies, there's always an off chance, an off chance that because of WACKY, a little weirdo who doesn't see themselves anywhere else gets to experience a set that changes their mind about comedy forever.
And despite Edinburgh's cold winds, chaos and commitment to crazy, that's what's currently warming the cockles of my black bi heart.