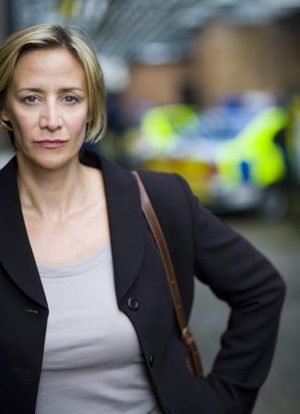 Janet McTeer, the Albert Nobbs co-star plays gay again and sets lesbian hearts a-flutter.
I first caught sight of Janet McTeer in the 1991 BBC mini-series, Portrait of a Marriage and I have been an ardent admirer of the award-winning actor ever since. The spectacle of this statuesque British thespian striding around in jodhpurs as Vita Sackville-West, the legendary literary figure and lover of both landmark literary icon Virginia Woolf  as well as the actress Violet Trefusis was groundbreaking and awe-inspiring, and one not likely to grace American TV screens.
Which is why so few Americans have heard of Janet McTeer, even 20 years later with numerous stunning performances to her credit. Some of her credentials should help back up my case for including her in the list of greatest living female actors with undying lesbian appeal: Her role as Helen Hewitt, the first woman in charge of a maximum security prison in UK TV series The Governor; An Oscar nomination for the film Tumbleweeds (she won the Golden Globe); and winner of the Sundance Special Jury Prize for Songcatcher.
Then there are her theatrical turns: winning the Laurence Olivier Theatre Award and Critics' Circle Theatre Award for her performance as Nora in A Doll's House; and a Tony Award nomination for Mary Stuart (she won the Drama Desk Award).
The 50-year-old, 6'1" beauty is a standout in any other number of subtler, less acclaimed ways, including her wit, intelligence, grace and demand for privacy. Not to mention her femininity, which she both celebrates and abandons at will—take, for example, her high femme and glamorous portrayal of the queer English actress and singer Gertrude Lawrence in Daphne; or the swarthy, handsome, catnip-to-the-ladies Hubert Page in the upcoming film Albert Nobbs.
I caught up with McTeer in Los Angeles prior to the much-anticipated release of Albert Nobbs—and tried to keep my nerves and my 20-year-old crush to myself. I needn't have worried—her cheerfulness, politeness and exceedingly pleasant demeanor discussing her finest genderqueer character to date put me at ease at once—but guarantees that my crush might run another 20 years.
I saw Albert Nobbs last night and loved it!
So you liked the film?
I did. It's a very quiet, moving film with a lot of good acting.
It's a small story with a very big heart.
You've played gender-bending roles before. How do you create a male character? What were some of the things you did to get inside Hubert Page?
I started in both directions, from the inside out and the outside in, but mostly, I started from the point that I felt Hubert was an incredibly, warm, generous, confident, relatively uncomplicated character. A person who is very happy inside Hubert's skin, very happy with the choices Hubert's made. Just a happy person with a great sense of humor and great warmth. I felt that Hubert had a great combination of yin and yang: very nurturing and female, a warm, empathetic and friendly nature; and also I could imagine Hubert being quite aggressive. Hubert would fight for something Hubert believed in, and would have no qualms about going into a bar after a few drinks and having a bar brawl…and I thought that Hubert would really enjoy that combination.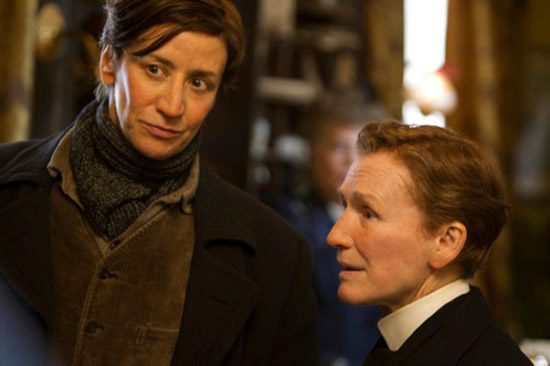 You said you play the qualities of the character, not the gender.
Yes. I also thought it was very important—what I loved about this script and film is that it takes place in a time before labels. And labels drive me, Janet, mad: that people get boxed into their job, their sexuality, their role in life. This is a film about people who didn't judge each other because of their labels. There weren't any labels. They were just themselves. Hubert's just Hubert. If somebody said to me, "Is Hubert cross-gender, is Hubert transgender?" I'd just go, "I dunno, Hubert's just Hubert."
What do you think about groups who may want to claim the film as part of their story—lesbians, cross dressers, transgender, genderqueer…Some lesbians feel that Albert and Hubert are lesbians because they are women-born and desire female partners—even though at this time the word "lesbian" wasn't in use in 1860s Dublin.
Exactly. By labeling Hubert cross-gender or lesbian, you're putting a label on somebody who hasn't given themselves a label, who doesn't consider themselves having a label. And I think Hubert is probably is all of those things but isn't going to be defined by them. I think what I like about it is, even the fact that we're having this conversation is about trying to define Hubert by Hubert's sexuality and by Hubert's gender, and I don't think Hubert should be defined like that: Hubert is all of those things, but Hubert is essentially a fantastically warm, generous gorgeous human being that everybody would want to have as their friend and that's my point. In my real life, I could care less about anybody's gender, sexuality, style of house, make of car. Are they a nice person? Do they believe in certain things I hold to be of value? And unless you want to sleep with them yourself, frankly, it's nobody's business but theirs.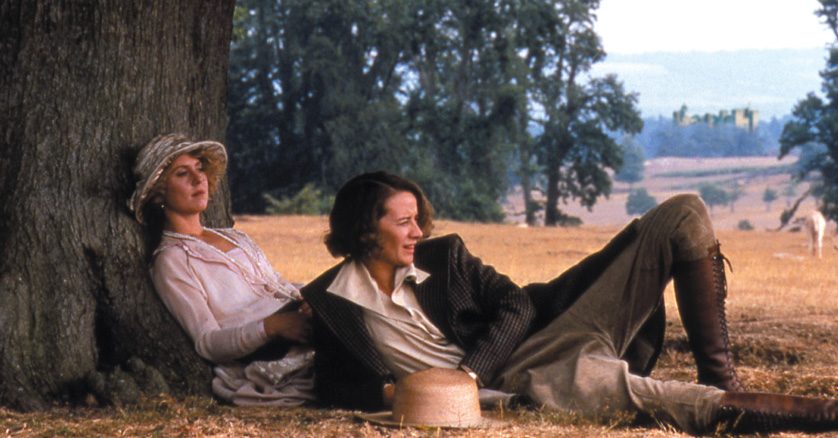 Janet McTeer (right) and Cathryn Harrison in Portrait of Marriage
The film does make a statement on gender roles at that time. People respond to Hubert as a tall, good-looking man, whereas the women who present as women are treated far less well.
One of the main themes of the film is poverty, and what these poor women have to put up with. All kinds of women from all across the board: how hard they have to work, how little power they have and how some people dealt with that…Mia [Wasikowska's] character is yet another person who is at the bottom of the heap, being up the duff from some guy.
She is the only character who believes in romantic heterosexual love and becomes a victim of it. Whereas Hubert finds another woman to love and makes a success of it because they are, after all, two women.
I think absolutely.  His wife is the love of his life, definitely. Without a shadow of a doubt.
I have been a fan of your since 1991 but many people are still discovering you, even after your many nominations and awards for Tumbleweeds, Songcatcher, Mary Stuart…etc. Where do you see yourself fitting into the Hollywood stardom machine?
What a funny question and yet a totally pertinent question! I have always thought of myself as somebody—it's a well-worn phrase, but I think most actors think of themselves as working actors. That their criteria is to be as good as they possibly can be in as many really good roles in as many pieces of work that tell the stories that they would like to be a part of. I've never thought of myself as particularly mainstream. I've always thought, well as long as people keep offering me work then I'm very happy with that. And I'm always slightly shocked when people stop me with a shopping trolley and say, "Hello! I saw you in such and such and you were great…" Where do I see myself fitting in? I guess the same as I always have done: I'll probably fade away again and come back in 10 years' time and they'll go, "Have you seen this actress that no-one has ever heard of?" [Laughs].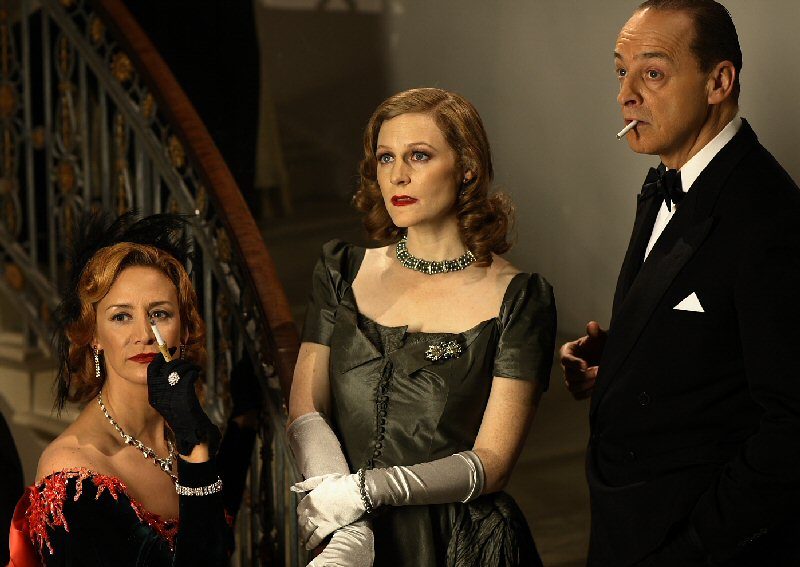 Janet McTeer (left), Geraldine Somerville in Daphne
But people will know you again after this film because most people I speak to say they would like more of Hubert; they want a sequel all about Hubert! You obviously love the character. How did you get involved in the project?
Glenn [Close] came to see me in Mary Stuart actually and she came backstage and we had a chat and she said, "I've got this script and I'd love you to read it." And I said, Great! So she sent the script the following day and I read it and I just thought it was the most charming, in the very deep sense of the word; it charmed me, I found it touching and moving. My favorite thing about it is that it's a sort of unjudgmental film…People are judged by who they are and they all fit into these so-called brackets and they all prove themselves to be different to what their little box is supposed to be. And I just thought it was great, a really lovely part to do something with. I wanted to make Hubert warm and wonderful and someone you'd want to have a drink with, a fight with, a hug with.
You're perfect for the role physically. At 6'1″ you make a convincing bloke. But in female roles, has your height ever been a problem, especially Stateside?
No, never. It's only ever been an asset. It really has. I think partly I'm lucky that my height suits my personality. I'm quite forceful, forthright and I like those kind of roles. I think this industry likes people who are slightly different, anyway. It's very, very useful onstage. Someone said to me before that [I was] obviously physically very right for this role and I thought, I'm not sure why really, just because I'm very tall, do you know what I mean? But actually I'm very tall, I'm very womanly, I'm very female. My physicality is nothing like Hubert's.
Speaking of womanly, I do have to mention that one scene, the scene which I would say involves the best use of nudity in a historical film.
[Laughs].
Did it take a bit of courage to bare your breasts like that?
Nah. No, that was absolutely fine, I'm far to old to care about that shit. [Laughs]
Hubert during that unveiling of his womanhood has such an interesting expression.
Yeah.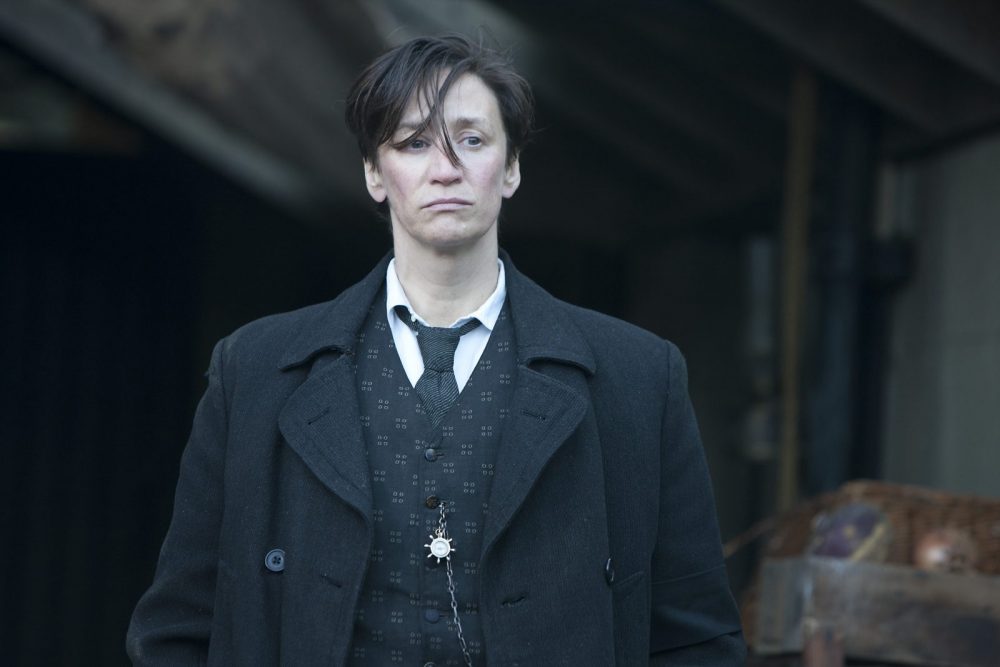 What is he thinking at that moment?
I think what was absolutely key to me for that moment was to not take it too seriously… Because I think Hubert finds everything funny: so the idea of smoking a cigarette and being as male and as cheeky as I possibly could be while at the same time exposing my tits seems like a really funny combination to me. So that's why that was that.
Is this one of your favorite roles?
Definitely. I have several favorites and this is one of them.
You must've had fun playing opposite Glenn Close, you're both such powerful actors.
You don't get to play opposite other great women very often. There's usually only one great part for a woman. There's not usually two. Glenn is absolutely fantastic. I'm filming Damages now—we're in each other's contracts now, basically. She's hugely collaborative, right there, a very real performer, an absolute pleasure to work with.
What role have you yet to play that you most would like to play?
Oh, there's quite a few…In my career, I guess what I've tried to do is explore all kinds of facets of being a woman, I guess—whatever that is. The wonderful thing about the kind of actor I am is that I never limit myself. So I've got all these roles yet to come as I get older. Stories that I can't tell yet because I'm not there yet.
Which character have you played that is most like Janet McTeer?
Truthfully, a little bit of all of them. I always involve a little bit of my own heart.
You strike me as a very private person. Is that right?
Yes.
Is there one thing about you that you'd be happy for everyone to know, but nobody tends to ask you about?
I think people have always wondered about my private life and it's not that I don't want people to know about my private life; it's more to do with the fact that if you don't know a performer terribly well you can only see the character in front of you. You're not thinking, "Ooh, I happen to know that person just got divorced…" You're just seeing the person as they are and I think that helps a performance be better, because people can't project something onto you that they think they know.
---
Support your LGBTQI Media