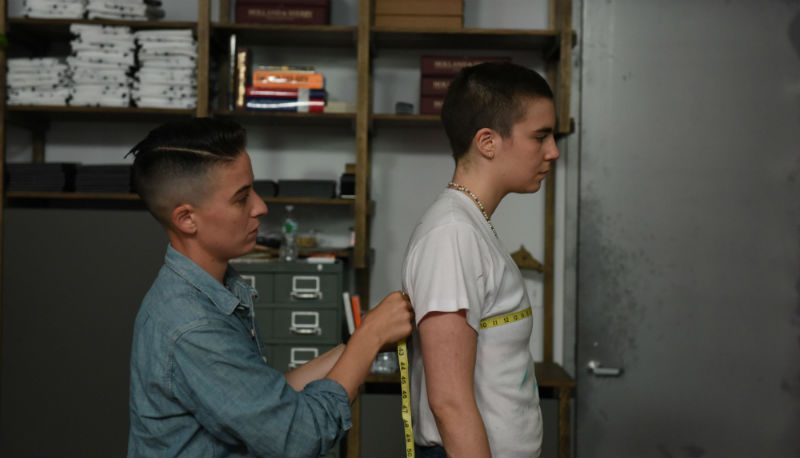 This year's festival will feature three films that focus on the stories of LGBTQI people.
The 27th Human Rights Watch Film Festival will present 18 topical and provocative feature films and three special interactive programs that grapple with the challenge of defending human rights around the world.
Festival creative director John Biaggi said, "This year's Human Rights Watch Film Festival presents an array of women's rights issues through inspirational and personal stories of remarkable women.  From a tenacious women's rights activist in China to a teenage Afghan rapper fighting child marriage to a courageous director of a women's health clinic in Mississippi, the festival spotlights women and amplifies their voices in society through film. It's especially noteworthy that over half of the films in the 2016 program are directed or co-directed by women.
This year, the festival will showcase three films that focus on the stories about the rights of LGBT people.
Check out three of the films below!
GROWING UP COY
Growing Up Coy follows a landmark transgender rights case in Colorado where a 6-year-old transgender girl named Coy has been banned from the girls' bathroom at her school. Coy's parents hire a lawyer to pursue a civil rights case of discrimination, and the family is thrust into the international media spotlight, causing their lives to change forever. A timely topic as states across the US battle with this particular civil rights issue. The film also asks a universal question that every parent may face: How far would you go to fight for your child's rights?
Thursday, June 16, 7:00 pm – IFC Center
Friday, June 17, 6:30 pm – Film Society of Lincoln Center
INSIDE THE CHINESE CLOSET
In a nondescript lounge somewhere in Shanghai, men and women giggle, eyeing prospective partners, visibly nervous about making the first move. This isn't your average matchmaking event—it's a "fake-marriage fair" where gay men and lesbian women meet in an attempt to make matrimonial deals with members of the opposite sex to satisfy social and familial expectations of heterosexual marriage. And pretend marriages are just the start. Touching and troubling in equal measure, Inside the Chinese Closet exposes the difficult decisions young LGBT individuals must make when forced to balance their quest for love with parental and cultural expectations.
Friday, June 17, 9:30 pm – IFC Center
Saturday, June 18, 9:00 pm – Film Society of Lincoln Center
SUITED
Suited tells the story of Bindle & Keep, a Brooklyn tailoring company that caters to a diverse LGBTQ community. Clothier duo Rae and Daniel take a holistic approach to their work, considering each client's personal narrative, which becomes inextricable from the creation of the perfect custom-made suit. From Derek's emotional journey as he prepares for his wedding to Everett, a law student in a conservative environment, or Melissa, who simply wants to look good for a 40th birthday party—the need for well-fitting garments represents deeper issues of identity, empowerment, and the importance of feeling happy in one's body. HBO Documentary Films.
Saturday, June 18, 9:45 pm – IFC Center
For the full festival, lineup click here