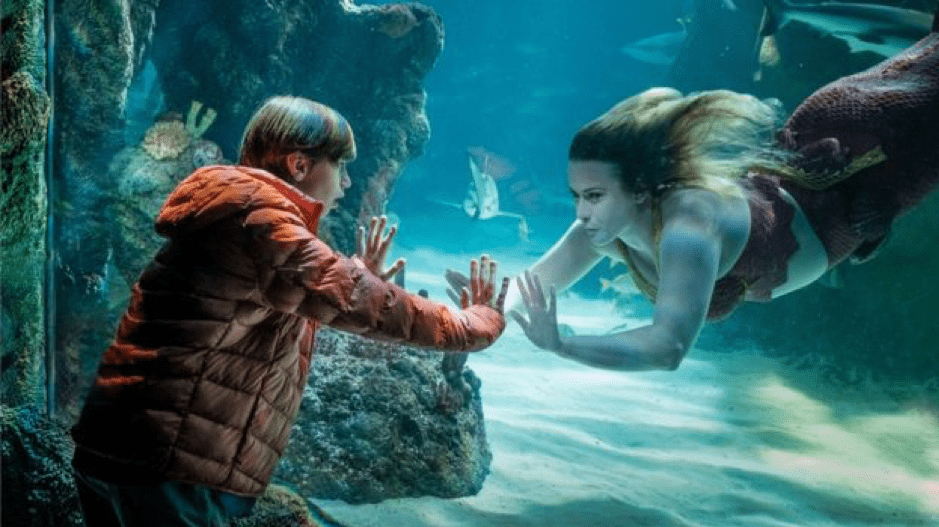 British TV's latest program focusing on LGBTQ+ women/girls.
The character Maxine is still referred to as Max and with male pronouns until the end of the episode, so my recap does reflect that.
This recap contains trigger warnings for self-harm/suicide, transphobia, and child abuse.
Pre-teen Max and teenage Lily are getting ready to leave with their dad, Stephen, for the weekend, when Stephen comments on Max's new haircut and calls him a "handsome chap", which clearly irks Max.
As the kids make the way to the car, their mother, Vicky, tells Stephen that Max only cut his hair to make Stephen happy, even though it clearly made Max unhappy; something Stephen isn't concerned about. Then she goes upstairs to tidy Max's room, which mostly involves putting jewellery, makeup, and feminine clothes into one drawer.
At lunch, Stephen asks Max what he wants to be when he grows up, to which Max says "you know" and the table slips into an uncomfortable silence for a few seconds before Max suggests that he might want to be an astronaut and his dad almost sighs in relief. At this point, I let out an exaggerated sigh at Stephen's behaviour.
Later that day, on a trip to the aquarium, Max spots a mermaid, as the rest of the family wander off; a direct nod to the British charity Mermaids that support trans youth and consulted on the show. Max follows the mermaid and his facial expression morphs from "WTF" to "Wow, I wish I could live that freely" to "But I can't" so quickly that it almost had me in tears.
"Girl's Clothes"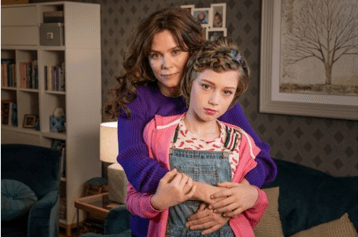 When the kids are back at Vicky's house, Max changes back into his denim skirt and pink vest top, while Lily asks Vicky if she still thinks Max's gender non-conformity is just a "phase". Disappointingly, Vicky responds that "puberty will sort him out" as if it was something that needed fixing, but at least she's letting Max express his gender identity at home.
A few days later, it's time for Max to start high school, which means uniform shopping and gendered dress codes. Max begs to be allowed to wear earrings, but Vicky reminds him that they have a rule on gender conformity outside the house.
When Max comes home from school on the first day, Vicky and her mum Barbara find out that Max has had an accident because he hasn't used the toilet all day. Max tries to persuade Vicky not to send him back, but she can't keep him off school. The next day, whilst in the boy's bathroom, Max is subjected to verbal harassment in the toilets from two older boys.
Self-harm and child abuse trigger warning:
Just before Vicky is due to leave for a date, Lily finds Max has cut his wrists and calls an ambulance.
At the hospital, Max explains that he self-harmed to make himself feel "calmer" and begs Stephen to come home, asking why he left in the first place. In a flashback montage, we learn that Stephen had actually hit Max, while Max was wearing "girl's clothes", and shaking Max, after he confesses to hating his "willy" and wishing that it would fall off. Tbh, I want Stephen arrested at this point.
Mental Health and Moving Back Home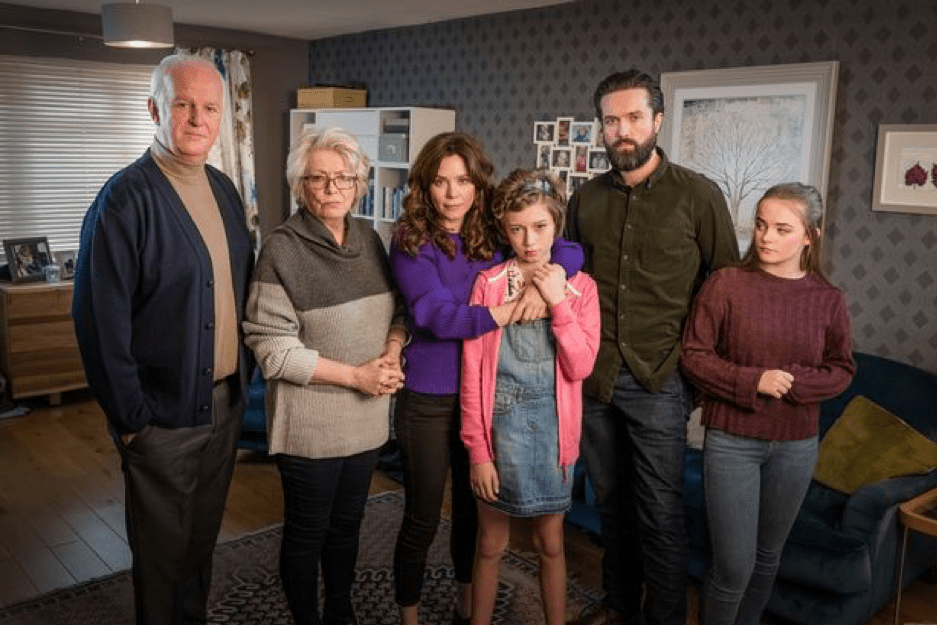 Before Max can be released, Vicky and Stephen have to talk to Rebecca, a mental health practitioner. They tell her that Max saw a psychologist at age 5 because he seemed to identify as a girl and they were advised to keep Max's gender expression "in check". Rebecca swiftly tells them that they wouldn't be told that nowadays and suggests that they talk to Max about delaying puberty. In what is a recurring theme, Vicky is somewhat receptive, whilst Stephen tries to shut down the whole conversation.
While Rebecca quickly draws the attention back to Max's wellbeing and refers them to a gender identity service, the parents continue this back and forth in the car park, until Stephen suggests that they can "fix" Max by moving back in and providing a traditionally masculine role model, which Vicky eventually agrees to. Of course, Max isn't actually broken and so doesn't need fixing.
A few days later, the whole family has gathered to talk about Max's gender expression as if he isn't there; suggesting that he's "gay",  asking why "everyone's got to be different", calling Max "confused", and his gender non-conforming a "phase"; all while Max tries to have his voice heard. He then runs off to his room to watch a YouTube video of Jazz Jennings talking about being trans.
Lily is the MVP of Max's family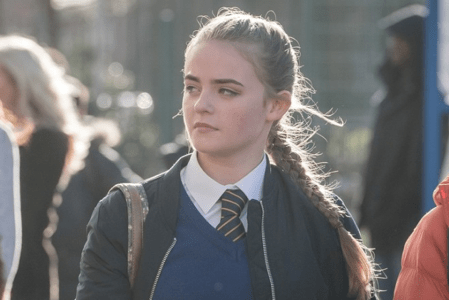 At school, Max is sitting alone in the playground, watching the boys play football and the girls dance when Lily encourages him to join in. He asks "with who?" and she lovingly responds, "whoever you want to". When he rejects the notion, she goes straight up to the girls to ask if Max can dance with them and they say yes. He loves it.
After school, while walking home, Max is approached again by the toilet boys – it seems like the appropriate name for them – who call him "gay" for dancing, but thankfully, Lily rocks up and goes all fierce older sister on them, although she denies that Max is her brother. She literally asks if they're on their period and throws a tampon at them.
Then she has a proper heart-to-heart with Max, noting that he flinches whenever anyone uses male pronouns to describe him, saying "it's like you want to contradict them, but you just can't. Maybe you should". She explains that she wasn't trying to disown Max when she said he wasn't her brother, but that she thinks of Max as a sister.
Coming Out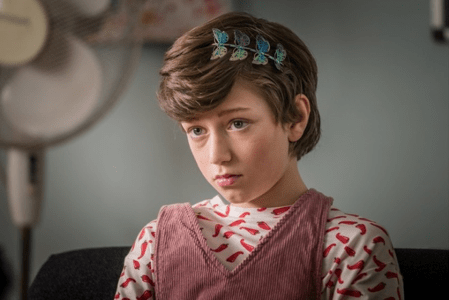 That night, Lily helps Max to come out to their parents as Maxine, explaining that they've already been out to buy Maxine the female version of the school uniform and that Maxine will now be using feminine pronouns. Vicky voices concerns about bullying but admits that Maxine looks lovely.
Stephen predictably tries to dissuade Maxine, asking "why can't you just stop this?", which makes Maxine realize that her dad left the family because of her, so she tells him, powerfully for an 11-year-old, to "leave".
While Maxine will ultimately face challenges for living her truth in the upcoming episodes, I believe that she will be able to face them with her sister and mother by her side, so I can't wait until next week.
While this drama would be important at any time, it's especially relevant in the UK at the moment as the government is consulting public opinion on the Gender Recognition Act, something that you can read more about here.