We sat down with the creators of this fabulous  lesbian series that's coming to you straight out of Amsterdam.
The concept behind ANNE+ is simple, yet stirring. It explores the idea that who we are changes depending on who we are with. We follow Anne through different relationships in six episodes, witnessing the different parts of her that are drawn out with each girl.
The series comes from new talents- creator and writer Maud Wiemeijer, director Valerie Bisscheroux, and lead actress Hanna van Vliet, who came together with the vision of creating authentic media for queer women.
And if the trailer is anything to go by, boy oh boy have they achieved that. The use of looks and silences and hesitations just absolutely envelopes you in that new relationship jitter, something that mainstream media so often fails to do.
The brain behind the series, Maud, and Anne herself, Hanna, took a break from filming to chat to us about putting the project together.
The wonderful thing about webseries' is that they are very much a grassroots form of TV, so we tend to get more raw perspectives expressed through them. What is it about ANNE+ that reflects that?
Maud: I think firstly because we started this web series on our own initiative and from our own experience it gives a good perspective on identity, sexuality and relationships of people our age. There hasn't (yet) been a production house or broadcast company been involved (though there are several production companies interested at this point) that would maybe want to change scenes and storylines. It is straight from our hearts and our perspective.
The fact that it is mostly about relationships and how the people you are with form who you are, regardless of sexuality, makes it relatable. It's about the mess that comes with being a student and making relationships work. It will be relatable for anyone who's ever liked someone, also because there will be all these different types of girls in the series.
Hanna: I very much agree with Maud. Also a lot of cool actors are joining our group so I hope there will be certain rawness in the style of acting. That is also what we're looking for in the casting.
Besides that, I think that there aren't so many gay series that just reflect the love life of some one that happens to be gay, without emphasising on coming out or struggling a lot with being 'different'. In general that are the kind of scenario's that get subsidies to make their film, so it's great that we took the opportunity of making something different, something a bit more beyond all the struggles of puberty, thanks to the existence of webseries.
Maud and Hanna, you are both members of the LGBT community; are there any personal anecdotes that wormed their way into Anne's story?
Maud: For me, yes, absolutely. I use some of my personal experience as inspiration. Who doesn't, right? I think people will be able to identify with a lot of things I endured myself in relationships. But the beautiful thing about writing fiction is that you can write it anyway you want. I could take something that really happened but give it a different twist or ending, just to see how that would play out. Or because that is how I would have liked it to play out. So yes, some things I wrote into the script really happened, but in a different context. Though I must say I've put in a direct quote from girls or friends here and there. We'll see who in my life recognizes themselves in the characters.
Hanna: We talked a lot about our personal experiences, of course. It is funny that a lot of experiences, though with different people (at least, I hope so), are similar. We all know the 'straight girl falls in love with you but then actually all of the sudden doesn't anymore'-story, right?
Besides that, of course acting is a very personal thing to do. By definition, as an actor you use your own body and emotions to play a role. I've even had moments that I saw myself back on big screen and it suddenly felt too private and I wished people didn't watch. So, all though it may not be literally in the storyline, there will absolutely be a lot of personal moments in the series.
Maud, where did the inspiration for ANNE+ come from? What was your journey in getting it off the ground?
Maud: I came up with the idea while I was in Indonesia with my family. We spent a lot of time on the road which gave me room to think. I knew I really wanted to make something about a lesbian girl, because by far there aren't enough stories about that. Before ANNE+, I wrote and directed a play with LGBTQ characters.
Now, I wanted something different. I am very intrigued about the idea that you're a different person with different people, you know? Every person brings out something different in you. So I wanted to show the story of a girl in different relationships and see how each girl she was with developed the personality of Anne. I wanted everybody to be able to see it, like even (or especially) in a tiny Christian village in America, so I thought of the form of a webseries. So I immediately pitched my idea to the director Valerie Bisscheroux, who I knew from the gay scene back then. She loved the idea and we immediately started working.
That was over 1.5 years ago. The process of making something like this on your own isn't always easy. It's a lot of hard work and a long process. Finding money is a challenge, interestingly. We are working our asses off, and it's worth it. It's amazing to see this idea come to life. We are very lucky though to work with a group of very enthusiastic and passionate people, a big part of them being LGBTQ+. A lot of us work other (film/writing) jobs fulltime so we are sleep deprived, but thriving.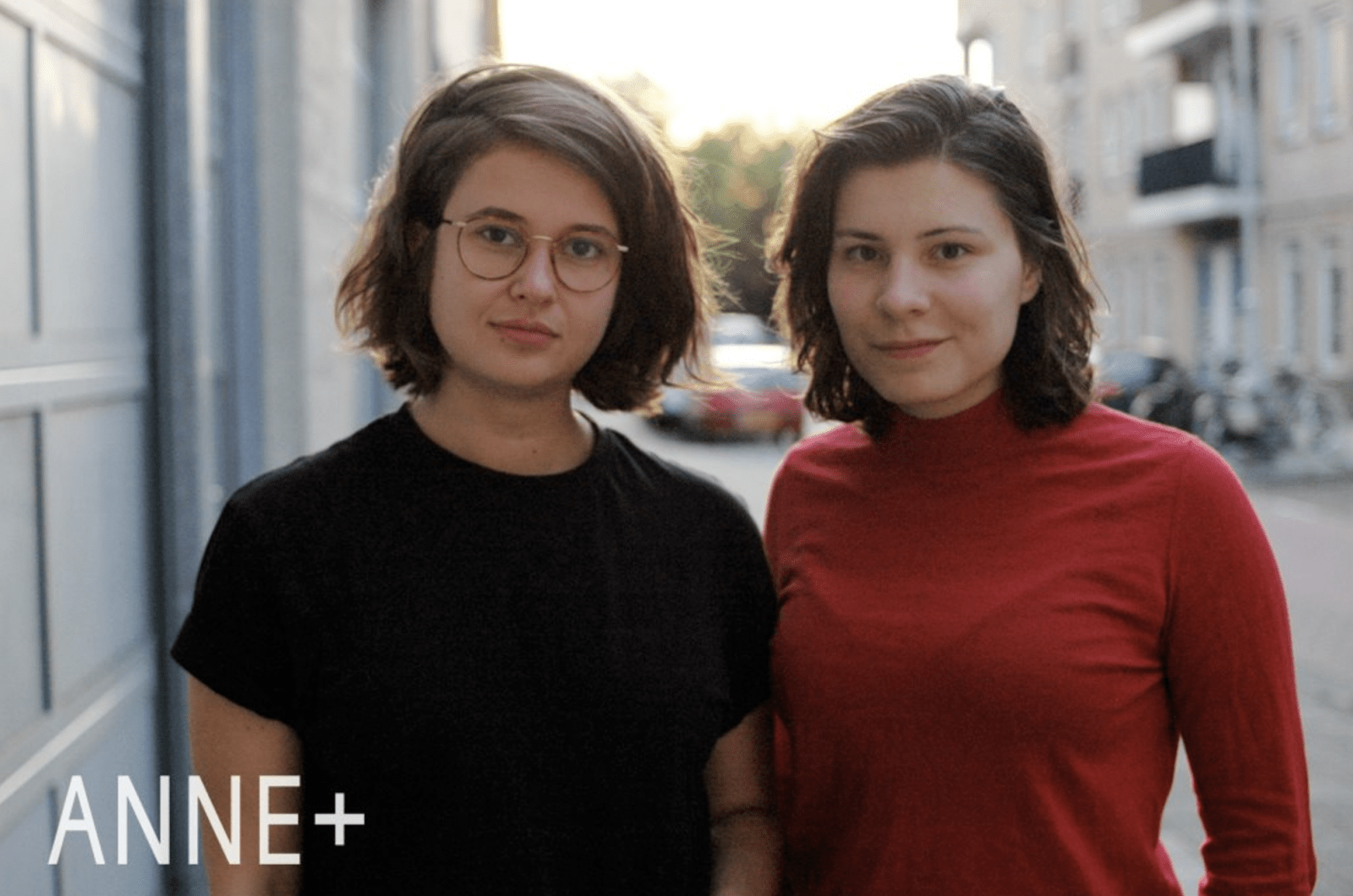 creator and writer Maud WIEMEIJER and director Valerie Bisscheroux
Hanna, how did you come to be cast as Anne?
Hanna: I believe they saw some footage of me, as I did a project with people of the Amsterdam Film School, and after that saw a bit more maybe? And I bet they also knew I was gay, which I can imagine was a big motivation to ask me to play the part.
Often in films or tv series about a "lesbian" girl they cast an actress that to me is so very straight that I don't believe that she is gay in the story. Missed chance, if you ask me. So, then Valerie the director asked me to have lunch with Maud and herself, and I was immediately very enthusiastic about the idea of making a webseries about a girl who falls in love, and accidentally happens to be gay, without too much emphasis on dealing with being gay or coming out.
She just is. Also, they're letting me be part of the whole process more than an actor would normally be, so for me that is interesting. It really feels like our project, instead of me playing in 'their' series.
Maud: I remember when I had that first meeting with Valerie I asked her after telling her about Anne, who she saw playing the part. She asked me the same and basically at the same time we said Hanna. So that was that. We got in touch with her and set up a meeting. She was playing in a musical back then and there were posters everywhere and I spotted her in De Trut (a gay bar) before. We also watched some footage.
What we love about Hanna is her singularity. She's a unique and bubbly person, but also very down to earth and authentic. She has a lot of good ideas when we talk about the series. And her being gay too is a very positive thing in her playing the role of Anne. So many times, gay characters are being played by straight actors which can be very disappointing. Being gay is very much imbedded in a person and this helps in acting a gay part in a film. Gay, or LGBTQ+, actors have that life experience, that queerness that's in their being, that they can use in their acting. Also, representation is important. Give gay/LGBTQ+ actors roles!!!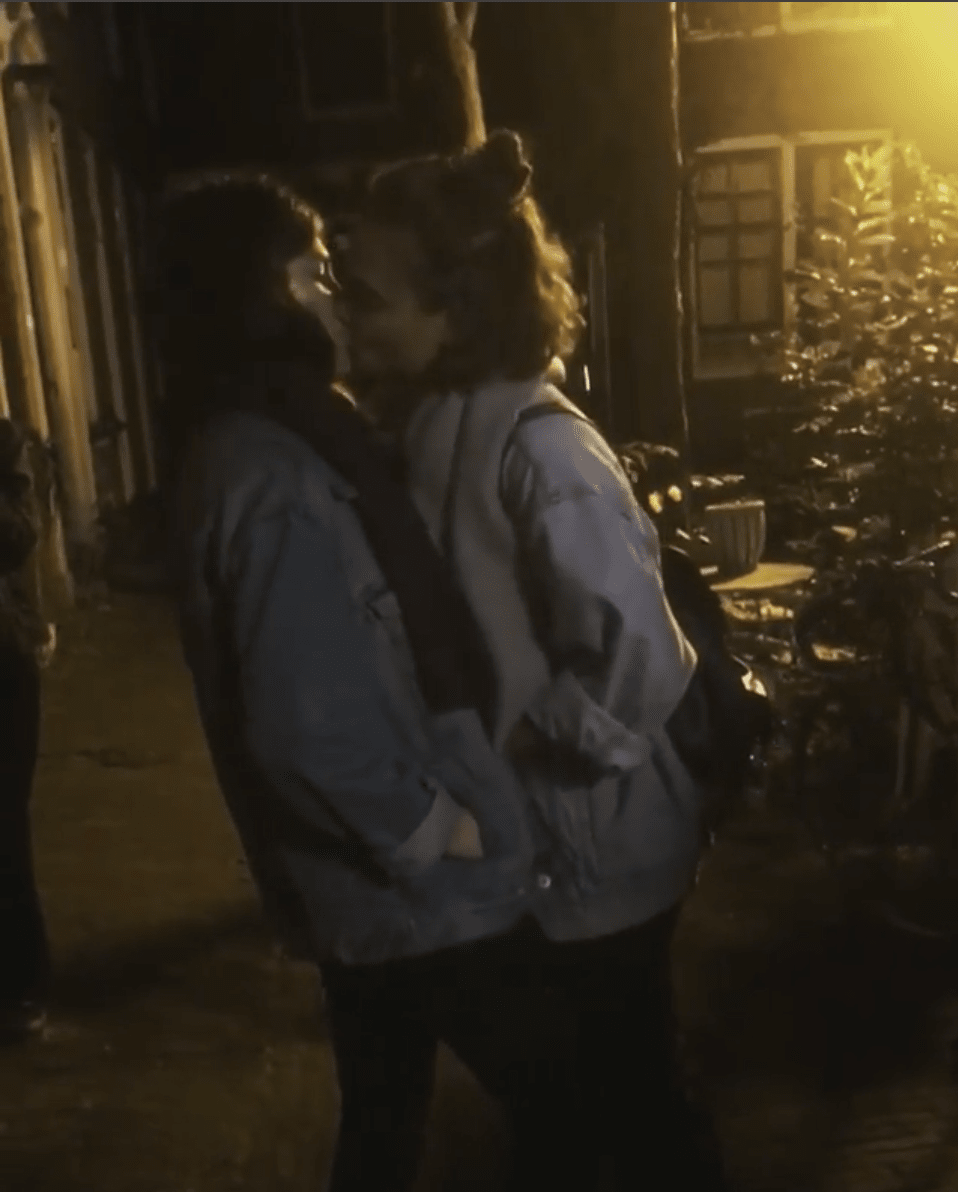 What kinds of antics went on behind the scenes in filming the trailer?
Maud: We filmed the teaser in one day, filming in different parts of Amsterdam. The original idea was to make a teaser with 4 different girls, but after shooting we decided to just stick to the one scene you see in the teaser. We went from location to location by bike and put all the equipment in a cargo bike. The whole thing was very Dutch.
Hanna: Oh, absolutely the 800 locations in one day! (Great that in the final teaser we used only one). It was crazy. Even the DOP was biked around by a little girl sweating her ass off on a grip bike. Also, somebody forgot to arrange dinner and in the last scene (around 9 pm) we filmed a party, and "my character" was drinking beer and smoking cigarettes (which I don't do that often) on an empty stomach so in the last shots we did I was drunk.
---