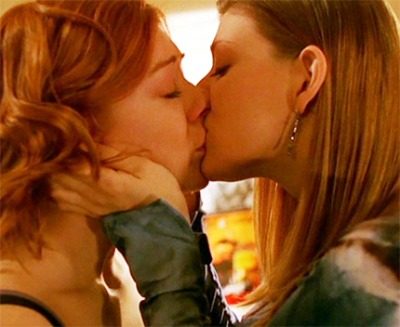 Can you believe it's 20 years since Buffy The Vampire Slayer left our screens?
To celebrate this anniversary, Entertainment Weekly organised an epic cast reunion, giving the whole vampire-slaying family a chance to catch up and reflect on the lasting legacy of their hit show.
Actresses Alyson Hannigan and Amber Benson, who played Willow and Tara, our favourite onscreen lesbian witchy couple, spoke about their characters' relationship.
Alyson called it "groundbreaking", saying, "The fact it was a non-issue is so great, and that's how it should be."
Amber, aka Tara, agreed wholeheartedly:
"It was a beautiful relationship, and it wasn't gratuitous, it wasn't about two girls making out, it was about two people who both happen to identify as female who fall in love. They were good to each other. It was a normal relationship. You normalise it, and make it okay, because it is okay."
She also opened up about the fan reactions to the storyline:
"We got a lot of young letters… there were a lot of young people who felt very isolated, and to see two characters on a television show be accepted by a group of peers changed the game. It's saying, if you find somebody to love, you're just lucky – it doesn't matter the gender, the sex or whatever – if you find somebody who gets you and you get them, you're so lucky."
We couldn't agree more.