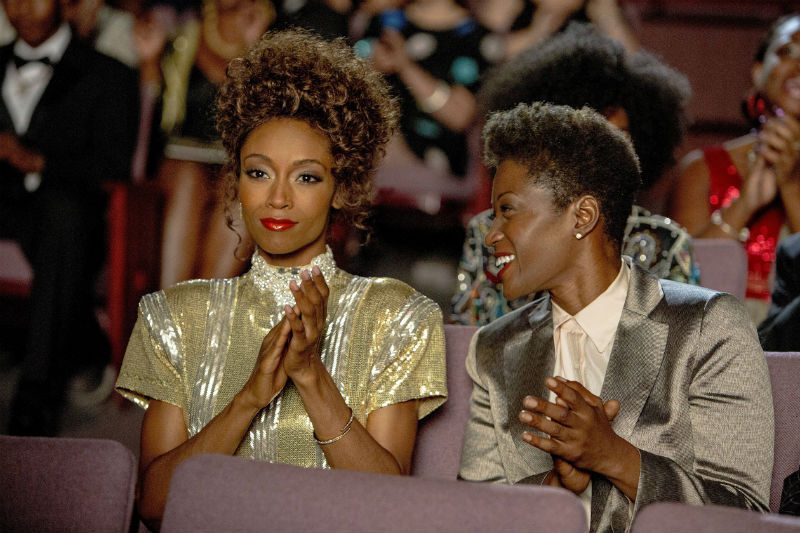 Whitney, directed by Oscar nominee Angela Bassett, focuses on the meteoric rise of Houston, her relationship with Bobby Brown, and the beginning of her fall.
Since this is a Lifetime movie, the plot sticks to the straight and narrow, as far as Houston's sexuality is concerned, and doesn't delve into the nature of her relationship with Robyn Crawford, the longtime friend and assistant rumored to be Houston's lover prior to her meeting Bobby Brown.
There have been rumors for years about Houston and Crawford's involvement, but in a 1993 interview with Rolling Stone, Houston went on the record and denied that they were lovers, stating: "Our relationship is that we're friends…We've been friends since we were kids. She now is my employee. I'm her employer. And we're still best of friends."
In an interview with Esquire shortly after Houston's 2012 death, Crawford also stuck to the 'friend' story, although her admiration of Houston is clear, from the minute they met at a summer job in New Jersey, when Houston was 16.
"I knew right away she was special… She had peachy colored skin and she didn't look like anyone I'd ever met in East Orange, New Jersey. "She looked like an angel," she told Esquire. "And she wasn't. But she looked like one."
While Crawford (Yolonda Ross) is portrayed in the film as butch, protective, and loyal, Whitney focuses on Houston (Yaya DaCosta) and her tempestuous relationship with Bobby Brown who is portrayed so sympathetically in the film-reviews that Houston is depicted as dependent on cocaine prior to becoming involved with him.
And yet the film, directed by Angela Bassett who herself played another iconic Black recording artist, Tina Turner, is strangely compelling viewing. Ross, who played a lesbian in the film Stranger Inside, was thrilled to work with Bassett.
"She was wonderful to work with," says Ross. "Lovely, so full of energy, she knew what she wanted and she also allowed you to do your work as an actor, find the note that you're looking for in the performance and get it out. Actors have an understanding of how actors get to out emotions; there's a shorthand. She has that. And she had an understanding of Whitney and Whitney's life as a Black celebrity and all the things that come with that."
The transformation of Ross into Crawford is uncanny. She shed her long hair and donned the boxy suits typical of the era. "It was the '80s/'90s. The clothes, the hair…it's always exciting to put somebody else's skin on, feel their emotions," says Ross, who believes it was "the strength of her" that snagged her the role. "In a situation where so much was happening to Whitney, she was the rock. Robyn was Whitney's anchor."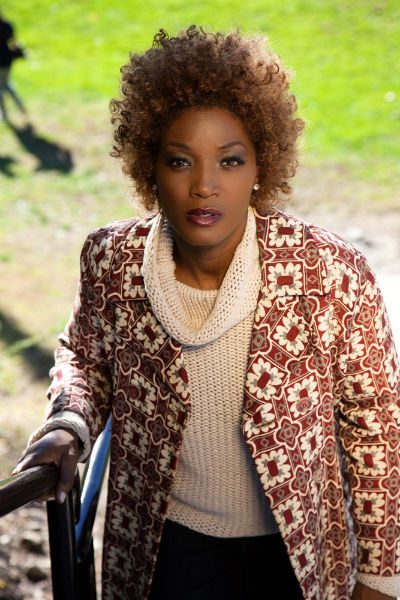 Still, it's a Lifetime movie, and Crawford has only a few—albeit pivotal—scenes with Houston.
"I felt there could've been more conflict," says Ross. "Having a new person [Bobby] come into Whitney's life, there would've been a bit more pushing back and forth, but that's as far as a Lifetime movie could take it."
Personally, Ross leans toward the idea that Crawford and Houston were romantically involved in the early days. "I was in New York during the time of Whitney's highest point, and before that, and by all accounts, they were [involved]."
But she also understands why Black women in the entertainment industry do not often come out as bisexual or lesbian. Standup comic Wanda Sykes, who came out at a marriage equality rally in 2008, is one of the few who have made a stand in public.
"I know it is a hard road to walk down, but in some ways I feel there is, for Black performers, a stigma [to come out]," says Ross. "I thought it was pretty amazing when Wanda Sykes came out. That was really huge, I felt, and I wish more people were as comfortable. But Black entertainers are kind of playing two sides," she says, speaking of the family and friends who might know the truth, but the media and fans are another matter. When casting for Crawford was announced, Ross noticed a lot of "bashing on the Internet." Speculation that Crawford would be portrayed as Houston's lover inspired online snark, "which I think is very unfair," says Ross. "They completely forget that these two were best friends and people who loved each other."
That Houston was bisexual, loving both Crawford and Brown has "always been my thoughts on it," says Ross. "How could she not? Maybe she loved Robyn for a long time and then something sparked with Bobby. I don't know any of it for fact but I can see how it can happen."
At the heart of this story is the unreasonable expectations placed on Black women in the entertainment industry —by their managers, fans, and even their families, and these pressures are portrayed in Whitney.
Ross has described trying to get ahead in Hollywood as being similar to swimming upstream while rocks are hurled at her. In spite of the struggle she is making progress, and recently worked with three of her role models. "Angela Bassett, Viola Davis, Alfre Woodard—these women are the ones I want to walk amongst and I am lucky to have been cast by all three of them!" Ross met Bassett at Woodard's pre-Oscars party, which led to her being cast in Whitney. "You never know who's watching, I am very thankful it's all come together," she says.
While 2014 was not a great year for racial justice in this country, Ross remains optimistic. "I wouldn't say we're going backwards. I would say more things are rising to our awareness. Sometimes I feel that without even being completely aware of what they're doing, white people do not see you as equal. They might see you as okay in one place, but don't come into this place." Which is why, says Ross, some Black people can fear achievement.
"When I look at who the people are who make things happen in the movie business, it's not Black people, it's not Latin people, it's white people." For Ross, the only way to deal with this is to try harder. "It's like, Alright, I just gotta do my thing, but I've got to do it well—twice as well—because it's the only way I'm going to get anywhere. It is going to be hard."
No wonder some Black artists like Raven Symone feel conflicted about labels. "I'm not from Africa, nor is anyone from my family for five generations from Africa," says Ross. "The label African American, maybe it makes other people feel more comfortable. I think people are a little scared of the word Black. I kind of understood what Raven was saying."
In the meantime, as an actor, artist, and writer-director, Ross is committed to telling the stories that have not yet been told. Having moved to New York from Nebraska, Ross's first experience with the LGBT community occurred when she attended a drag ball, and she maintains that connection, either through the characters she plays or the cast and crew she works with. She next plays a detective in the gay film noir set in West Hollywood, Kiss Me, Kill Me. "And many of the films I write have LGBT characters in them," says Ross. "It's our job, as actors, to understand all people, so that we can portray them."