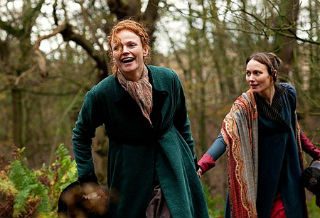 The Secret Diaries of Miss Anne Lister reveals to us the agonies and ecstasies of being a lesbian in early
19th-century society.
If Jane Austen is your thing, if Sarah Waters is, even more, your thing, then The Secret Diaries of Miss Anne Lister is definitely sure to be your thing!
Based on the true story of an early 19th century, Yorkshire landowner whose diaries lay hidden (only to be found and fully decoded 150 years later) The Secret Diaries of Miss Anne Lister reveals to us the agonies and ecstasies of being a lesbian in early 19th-century society.
The film (an adaptation of the book) opens with the excerpt; "I love and only love the fairer sex/And thus beloved by them in turn/My heart revolts from any other love than theirs." Through these words, we are immediately introduced to the inner turmoil of Miss Lister and her constant struggle to defy convention and pursue 'the fairer sex'…or what we might call these days 'the pretty ladies.'
Set in a time when women were financially dependent on men, and when securing a man's hand in marriage was considered the ultimate achievement for a young lady, the story plays out like a Jane Austen drama.
The difference is, in this period of romance, not all the women, go gaga for the Mr Darcys'. In The Secret Diaries of Miss Anne Lister, it is revealed to us that same-sex love was as alive then as it is today. Considered Britain's first modern lesbian, Anne Lister (played astonishingly well by Maxine Peake) is a passionate and headstrong gentlewoman, dead-set on following her own path in life, in spite of the 'scandalous' nature of her feelings and the risk of being cut from all society by exposing them.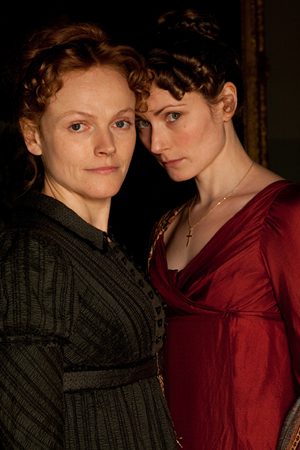 But more than anything, Anne wants to share her life with someone. "I was not born to live alone. I must have someone with me and in loving and being loved, I could be happy." Enter the beautiful and delicate Mariana (Anna Madeley)…Anne's someone. Her pursuit to be with Mariana makes for an intriguing and addictive storyline, but when Anne and Mariana's illicit love affair threatens their status in society, we see what matters most to each.
The remarkable and heartfelt performances of the two leading actresses make cause for several seriously goose-bump moments. And with all the budget of a BBC Production, the film offers us a visual feast – the costumes, lighting and the grey, rolling hills of the Yorkshire countryside adding a layer of depth to an already incredibly moving film.
If babes' bodices are as much your thing as mine, then do yourself a favour and get on your hands on a copy of this film!
Star Rating: 4.5/5