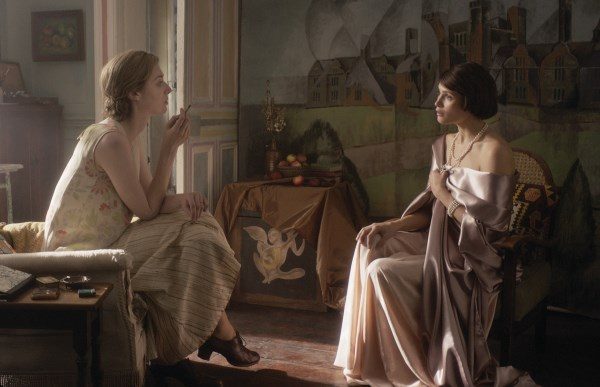 Behind the scenes of a film about the affair between literary icons Virginia Woolf and Vita Sackville-West.
Virginia Woolf, in her essay A Room of One's Own, wrote that in order for a woman to write fiction she must have two things: a room of her own and enough money to support herself.
This declaration came to be applied not just to writing but to life itself when it was taken up by a generation of feminists. But I have always wondered how Woolf would have handled it if there were two women writers in that one room; and what her practical recipe for lesbian love might have looked like—especially when there wasn't really a word for it then other than "Sapphic"—and anyone who pursued Sapphic love in Edwardian England would have been considered a social outcast, if not something worse.
"Let us admit in the privacy of our own society that these things sometimes happen. Sometimes women do like women," wrote Woolf in her characteristically delicate-yet-direct discursive voice.
But how is one to sustain this "like"— emotionally, physically, psychologically, domestically? Perhaps the carnally averse Woolf felt the same way as Marlene Dietrich, who is thought to have said, "Sex is much better with a woman, but then one can't live with a woman!" Virginia's great Sapphic love was Vita Sackville-West, but how did that work? All we really know about it comes from the letters the two women wrote to each other over a decade, and from the analysis of it by Vita's son, Nigel Nicolson. And as astute as his book Portrait of a Marriage is, he is both a man and a son. For him to get into bed with these women, figuratively speaking, was not possible. While it is assumed that Woolf was "sexually frigid," I'm not sure how this can be proven.
I spoke to writer-director Chanya Button about how her feature film Vita & Virginia originated and why she chose to modernise the relationship between these two lesbian-feminist literary icons.
As she is to many women who think and write, Virginia Woolf has always been central to Button's understanding of the world.
"Over the last few years I've wracked my brain to remember when I first discovered her, but she's sort of hard-wired into my brain because I've read all of her work; her essay 'The Cinema' is part of the reason I became a filmmaker. She came to me very early. I studied her work at university, where I learned how she rewrote literary form…she was so ambitious with how she wanted to write down her experiences and communicate them to other people."
Like many of us who had heard of or read Orlando, Button was not acquainted with the exact context of its inspiration—Virginia's breakup-makeup letter to Vita. "Discovering that was one of the great joys of making the film. Vita is an absolutely fascinating character."
But where to begin in pinning down exactly what happened between these two remarkable women? Eileen Atkins brought them to life in her play Vita & Virginia, which she performed Off-Broadway in 1994 opposite Vanessa Redgrave. More recently, Atkins has worked with Gemma Arterton, who is a friend of Button's and who first raised the notion of making a film of it. After all, Virginia has not been portrayed on the screen outside of Nicole Kidman's Oscar-winning portrayal in The Hours.
It's a treat to see another Amazonian Australian tackle the role. Elizabeth Debicki (often referred to as "the next Cate Blanchett") is 6'2", willowy and luminous. This fantastically talented actor made an immediate impression on Button. "She read the script on a Thursday and she was all signed up by the following Monday," she says. "I have never come across an actor who is as decisive and brave in displaying her integrity and her ambition as an artist: 'Yes, this sounds interesting, I'm up for it.'"
Elizabeth Debicki has earned praise for her portrayal of the hypersensitive writer, and while writers are not often dynamically portrayed on screen, Debicki's almost translucent, seafoam-coloured eyes seem to reveal all of Virginia's deepest thoughts and emotions. Vita once wrote of her first impression of Virginia: "At first you think she is plain, then a sort of spiritual beauty imposes itself on you, and you find a fascination in watching her."
The opposite is true of Debicki. At first, you think she is too beautiful, then she reveals her plainness, her spiritual beauty, and the core of her turbulence. "My first impression of the script was that it was very bold and unique in the way that it tackles Vita and Virginia's relationship," says Debicki. "I hadn't read anything else like it before. It's intelligent and sharp, the incorporation of their literary canon with the letters and how they speak to each other. It's an honouring of their work but it brings them into a human realm, and at the centre of it is this love story, which is really poignant."
"We couldn't believe it when Elizabeth agreed to do the film," says Gemma Arterton. "She's perfect, she brings so much to the part and it's not an easy role to play—there's an incredible amount of pressure, but she really has gone for it. I've watched her on the other side of the camera and then had to remind myself to act because I've been so impressed by her!" Button tells me that Debicki was "a dream to direct, as was Gemma. It did not feel like directing, in the sense of me overseeing their performances. We felt like three artists who were collaborating on a project. We shared the same goals, we really respected each other."
And those three artists had some interesting discussions and made some bold choices around key issues. Was Virginia Woolf a lesbian? Was she mentally ill? Was she a genius? Was Vita bisexual? Pansexual? Queer? Was Virginia asexual?
"Obviously, it was a big discussion, how we would approach every element of making the film, but what was wonderful was that I really had the support of everyone," says Button. "We discussed everything and we were all on the same page. When you're making an independent film, you're in total creative control. That's the forum in which you make bold choices. If you're making an independent film and you've got total creative control, and you're not making bold choices, then you're missing a golden opportunity."
And those bold choices were "very conscious ones," says Button, who hoped to dust off these two women and present them as vital, daring, sexy, fashionable, fearsome, fun. "It was very much my hope that younger audiences would feel spoken to by the film."
Button consciously cast the actors about a decade younger than they were in reality; consciously used a contemporary soundtrack as a way of underscoring the freshness of these women's legacies, which were forged between 1922 and 1928. It was one of the most prolific periods for the Woolfs' Hogarth Press, during which Virginia wrote Mrs Dalloway and Orlando, and exhausted herself through the effort.
"Both of these women were incredibly progressive and forward-thinking in the art they made, in the lives they led, and in the relationship they had with each other," says Button, who did not want to couch all of that complexity in a conventional period drama.
Another bold choice is the sex scene between Virginia and Vita. When I ask Button what her approach was to rehearsing and directing the scene, she says simply, "what you see in the film!" Which I shall refrain from describing here.
"I really wanted young audiences and LGBTQ audiences to feel like this film was for them. We don't often see ourselves reflected in films, in period films, or in history. So for one of our most iconic writers to have had an amazing lesbian relationship—regardless of her marriage, regardless of her other desires—is a really important moment on screen. It didn't feel very controversial or shocking for us to stage because it felt very natural. We didn't burden ourselves with the pressure of their legacy. Their romance was a part of their identity, which is very universal. I can't relate to being a literary genius, but I can relate to being in love."
And how we might want to label that love is misleading. The Bloomsbury set would not have used the term "queer" to describe their sexualities. (Woolf does use the word but in the sense of something odd or unpleasant, such as "a queer sensation.") They might have been seen as Bohemian and as decadent, which is certainly suggested by Vita's mother, Lady Sackville—played with withering grace and menace by Isabella Rossellini. She expresses disgust for her daughter's same-sex fling with Virginia, who she says is mad.
"It's been very interesting, especially over the past couple of years—language changes very fast and they didn't have any of the languages we have now—but that didn't stop them from having the relationship," says Button. The lack of precise terminology had partly to do with the fact that deviant sexuality was punishable by law at that time.
Another bold creative choice Button makes is to address Woolf's mental illness stylistically, vegetation and birds becoming hallucinations, and, in a distressing moment, when she is robbed of her usual eloquence by what appears to be a short-circuiting of her brain, leaving her temporarily dumbstruck. What ailed Woolf? Was it bipolar disorder, as some have guessed?
"I made a decision when making the film not to retrospectively diagnose her," says Button. "She suffered complex and profound emotional and psychological challenges. I don't think we can impose our language on her."
Those challenges are indivisible from Virginia's creative powers, and the film portrays the way Leonard Woolf understood and managed Virginia's mental health and helped structure her life so that she could function professionally, socially, and domestically.
When Vita determines to seduce Virginia, it is unknown whether she will be a blessing or a blight on the hypersensitive writer. The film's vignettes show the extent to which their relationship was multifaceted: competitive; passionate; aggravating; inspiring. Vita thinks Virginia's character, Mrs Dalloway, is "dazzling, evasive, infuriating, exactly like you."
It's a dangerous relationship. What does Vita want: A conquest? A muse?
She wants Virginia's genius, and she wants to possess her. But the tables turn and it is Vita who ends up as the muse, the object of fascination, and the inspiration for a great work of art. As Vita once wrote: "How right [Virginia] is when she says that love makes anyone a bore, but the excitement of life lies in 'the little moves' nearer to people."
And in Vita & Virginia, there are many of these little moves—including Virginia's checkmate, which contains the lusty, androgynous, globe-trotting Vita between the covers of a book, and reminds us that there were always trailblazing queer women, even before the term applied.