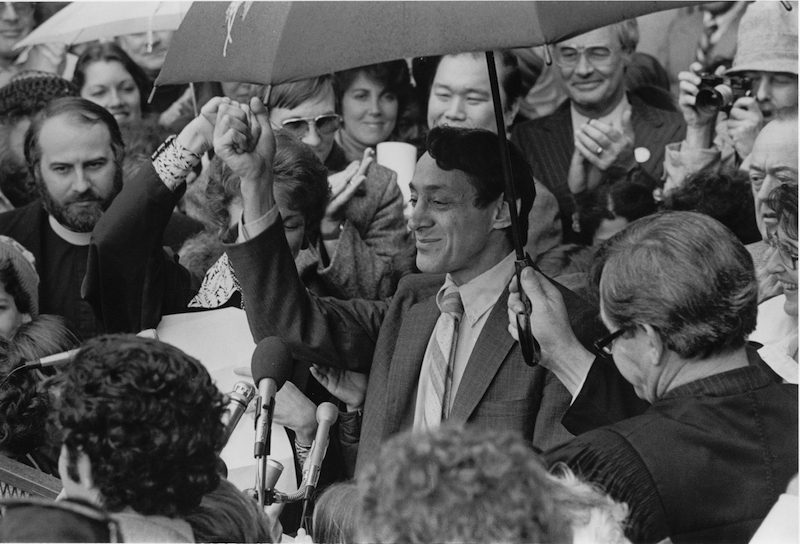 LGBTQ Organizations and City Leaders Organize Live Social Distanced Drag Show & Virtual Block Party to Remember Harvey in a "Solidarity of Hope"
Ninety years ago this May 22nd, Harvey Bernard Milk was born in Woodmere, Long Island, New York. The second son of William and Minerva Milk, he showed little indication of the pivotal role in history he would play, but before his assassination in 1978, he had changed the course of history not just for the LGBTQ community, but for the world. After coming out in midlife and opening a small business on Castro Street with his partner Scott Smith, Harvey soon recognized the need for leadership and representation for the queer community, not just for San Francisco, but for the hearts and minds of so many looking for hope in places like Altoona, Pennsylvania—where he was raised—and beyond.
Today, May 22nd is officially recognized as Harvey Milk Day in the State of California—a day of celebration and reflection on the strength of our community all the more resonant as we face COVID-19 together.
The event graphics and its theme, Heroes, was originally created for this year's Windows For Harvey initiative, presented by Castro Merchants. Using Dan Nicoletta's iconic photo, Harvey is now in medical uniform, a salute to the essential workers who are keeping our city functioning, and the medical personnel who are keeping us safe and healthy. The facemask around Harvey's neck becomes a Rainbow Flag, to represent our community's strength and resiliency that protect us. The untied strings of Harvey's mask blow in the wind as Harvey's tie does in Nicoletta's original photo, which he has shared with us that he sees as a reference to the winds of change swirling around Harvey then, just as they are swirling around us now.
San Francisco and most of the world might be sheltering in place at the moment, but that won't stop the LGTBQ community from remembering Harvey Milk – the civil rights pioneer who would have celebrated his 90th birthday on May 22nd.
To honor his legacy, LGTBQ organizations and leaders from across the city, including Supervisor Rafael Mandelman, drag legend Juanita MORE!, and Queer Nightlife Fund, are coming together to celebrate with two events:
Openhouse, SF Queer Nightlife Fund, and the Tenderloin Museum Present: Live Drag for our LGBTQ Elders
Friday, May 22, 2020; 4:30 p.m.- 5:30 p.m.
https://www.twitch.tv/sfqueernightlifefund/
A live drag show where powerhouse drag queens, Dulce De Leche, Persia, Princess
Panocha, Mary Vice, and Shane Zaldivar will perform in the courtyard of the Openhouse LGTBQ senior housing center, allowing residents to safely view the show from their windows and balconies, while it's also streamed to the general public online.
Harvey Milk's 90th Birthday Block Party
Friday, May 22, 2020; 6:00 p.m.- 9:00 p.m.
https://www.twitch.tv/sfqueernightlifefund/
https://zoom.queernightlifefund.org
A hero to many near and far, Harvey was and always will be "The Mayor of Castro Street."
For this reason, even as Castro Street shelters in place, his birthday block party will go on "virtually" in the second half of this two-part celebration. This Virtual Block Party is a collaborative effort organized by Supervisor Rafael Mandelman's office, the Castro LGBTQ Cultural District, the Harvey Milk LGBTQ Democratic Club, the Castro Community Benefit District, "Windows For Harvey" presented by the Castro Merchants Association, the Friends of Harvey Milk Plaza, Open House, the GLBT Historical Society, the Tenderloin Museum, the Golden Gate Business Association, and the SF Bay Area Queer Nightlife Fund.
Juanita MORE! will host this second installment with performances by Mercedes Munro and Bionka Simon and the evening's tracks provided by DJ's Parks, Kidd, Jim Hopkins and Paul Goodyear.
This joint celebration is not just to wish the happiest birthday to Harvey on what would have been his 90th birthday, but also an opportunity to broadcast our "Solidarity in Hope," because as he so often reminded us, "You gotta give 'em hope." This event will be something to remember in these difficult and extraordinary times, just as we will one day look back and remember how we came together even when we couldn't.
Open House E.D., Karyn Skultety describes drag as a bonding force within the LGBTQ community – a way to both connect with seniors and build an intergenerational community of support, particularly for a community that may feel isolated and invisible during the ongoing pandemic. "Drag is powerful in that way—it thrives on audience connection and interaction—and so this is us saying nothing can stop us from connecting with our seniors and we will do it in the most meaningful way," said Skultety.
The celebration also provides an opportunity to financially support drag performers who have lost income due to the crisis, as well as bring visibility and safe, in-person entertainment
to LGBTQ elders. Live Drag for our LGBTQ Elders is an opportunity to reflect upon—and unify with—intergenerational LGBTQ community members. "When we demonstrate to our community that elders matter, it makes all of us better. Younger LGBTQ [generations] live better lives when they are connected to the elders who helped create the world they live in today," continued Skultety.