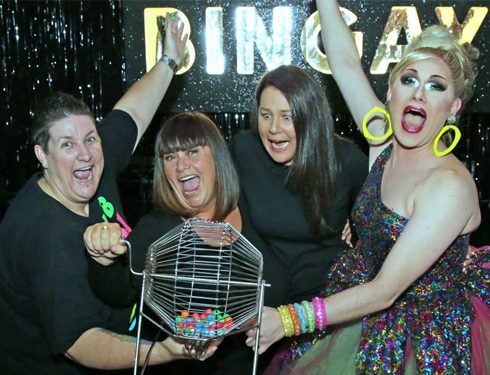 Oxford St got some celebrity talent last night when Dawn French and Julia Morris hit the infamous golden mile for some retro disco bingo
The hostess and judge of Australia's Got Talent thrilled the crowd at the Midnight Shift Hotel when they turned up for a night out at Disco Bingay, a popular weekly fundraiser for HIV and LGBTI health organisation ACON.
Disco Bingay is 'gay' bingo which means there's classic disco tunes, weird rules and penalties, outrageous antics, hilarious repartee, deliciously lewd bingo calls, and prizes that range from the silly and camp to great theatre tickets and restaurant vouchers.
The celebs picked a great night to drop in as it was a special birthday edition for hostess Charisma Belle which included performances by several of Sydney's leading drag performers.
After playing several games (Julia Morris won a free pass to gay sauna Sydney City Steam), the two stars posed for photos with guests, event volunteers, Charisma, and Bingay barrel babe Naomi Palmer – check out photos from the night on the Disco Bingay Facebook page
Also joining in the fun were City of Sydney councillor and Tony Abbott's sister Christine Forster and her partner Virginia Edwards, who were there to wish their friend Charisma many happy returns.
"Dawn, Julia and their friends had such a great time they said they'll definitely be back before Dawn heads home to the UK in November. We're actually doing a special promotion with the Lifesavers With Pride during November so maybe we can get them back for some beach blanket bingo," says ACON Events Producer David Wilkins.
So if like Dawn and Julia, you want a memorable Oxford St experience that doesn't involve taking your pants off, then Disco Bingay at the Midnight Shift is the place where you should be dancing…yeah!
And with all proceeds supporting ACON's vital work to end HIV, the feel-good factor is off the charts!