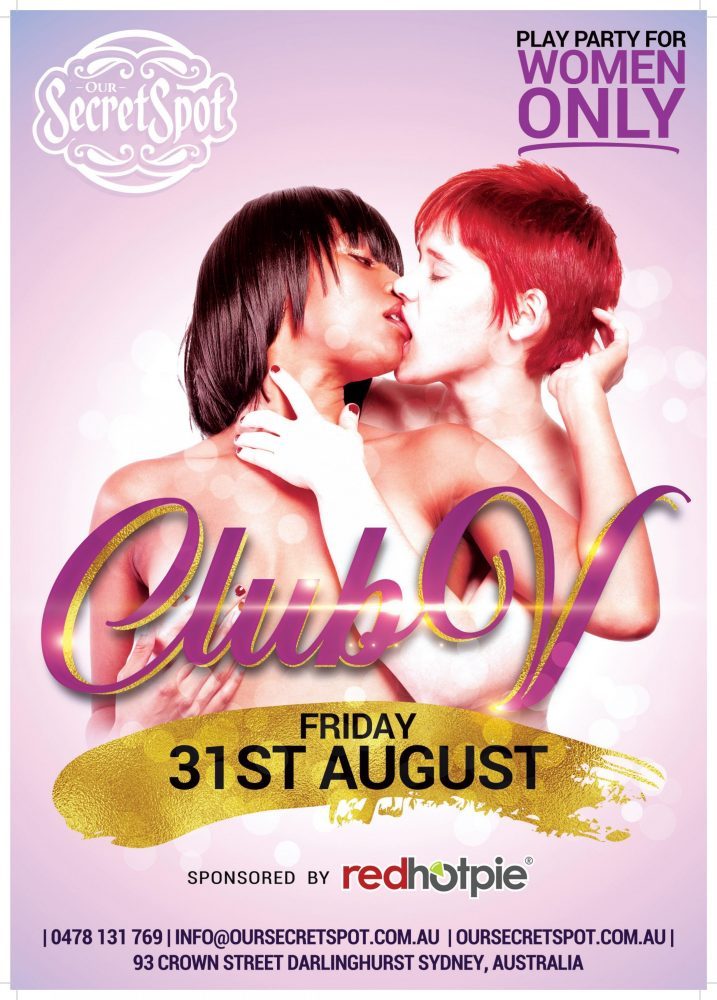 Sydney's most diverse and inclusive play party for women
All the guests will be women looking to meet & greet and potentially play. The staff will also be entirely female – no male bar staff or waiters. If you're not sure what to expect, check out the review of the last one!
We listened to the feedback from guests about the initial 'FEMME' party to make the name of the party more queer-friendly. We've also made some other changes based on guest feedback – buy your ticket to find out.
Our Secret Spot is passionate about women having a safe space for women to play and explore their sexual desires with other women.
So whatever your gender identity or your sexual orientation- heterosexual, non-binary, lesbian, bisexual, bi-curious, gender non-conforming, androgynous, gender fluid, genderqueer, butch, femme, or anything in-between – this party is for you. OSS is a consent focused, non-judgemental, welcoming space for women of all sizes, ages and experiences.
If you're in a relationship you can enjoy being a voyeur with the woman you love or you can spice up your love life by exploring consensual play with other women.
If you're single you can watch others play, have a spa, enjoy a drink and chat with other women, or explore your sexual curiosities.
The evening will also feature a crowd-pleasing performance. Sex toys are welcomed and encouraged if that's your flavour of fun.
Please read the club guidelines on the OSS site to understand more about the club.
WHEN
August 31
8:30pm-3am
WHERE
Our Secret Spot
93 Crown St, Darlinghurst
INFO/TICKETS
Tickets cost $70 and can be purchased here.