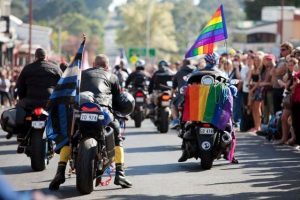 Get ready to get your country fix when the annual pride celebration ChillOut lands at Daylesford.
Only two weeks 'til ChillOut takes over the gorgeous Victorian countryside town of Daylesford and sprinkles it with colour and movement, there will be bright lights and rainbows as far as the eye can see!
ChillOut has been on the annual calendar for 15 years now, their Retrospective Exhibition celebrates all those wonderful folk that have made ChillOut fabulous over the years.
The ChillOut Family is extensive, their stories and memories of festivals gone by are not to be missed.
So make your first stop when you come to ChillOut 2013 the Retrospective Exhibition – now located in the CNR SHOP, 86 VINCENT STREET, DAYLESFORD.
The Slow Lunch is ChillOut's own major fundraising event in support of Daylesford and District Food Aid. It's your chance to mingle, sit back and take your time to enjoy a three-course feast of local seasonal produce deliciously served up by Sault Restaurant whilst contributing to the all-important worthy cause. Dolly Diamond and Luke Gallagher will make an offer you can't refuse in the silent and live auctions with all proceeds going to the much-needed soup van. Live local entertainment is all part of the fun at the Slowest Lunch!