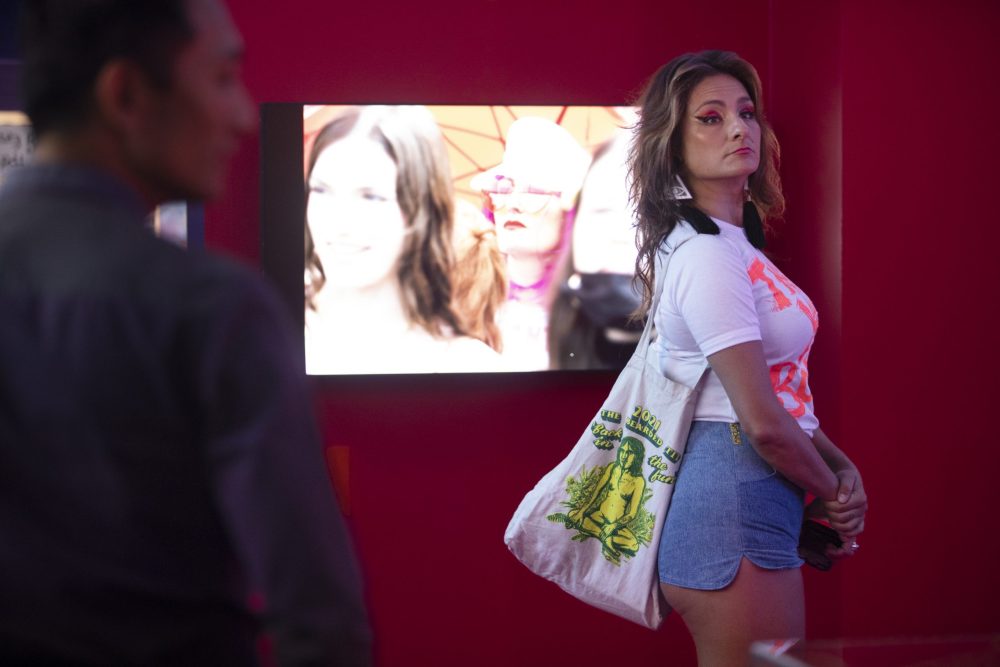 Guided tours from '78ers and queer curators, performances, talks, panels
The thing about WorldPride was it was hectic. Impressive, but wild! It was so amazing because of the sheer volume of events. There was so much programming; it was impossible to see it all with the various diary clashes.
One place with the genius idea of continuing its flagship WorldPride exhibition through to 9 July is the State Library of New South Wales.
Pride (R)evolution is one of Australia's largest-ever queer exhibitions. It takes a queer lens to the State Library's vast collection and shares more than 20 untold stories that celebrate LGBTQ+ communities.  It marks the lives, loves and works of LGBTQ people that have historically been overlooked or hidden. It features an immersive display of 250 photographs, posters, letters, scrapbooks, clothing, film and sound, and newly commissioned pieces from queer and trans writers and artists.
And now, a second genius idea has been born: the library will host an array of diverse, innovative and buzzy events throughout Pride month in June to draw attention to the groundbreaking major exhibition and further bring it to life.
Pride month of June: Heaven for lovers of LGBTQ storytelling
You can expect guided tours from curators and '78ers in addition to a special performance night, talks and ideas evenings, a forward-focused panel event, and, for the first time, popular storytelling event Queerstories – curated by the one and only Maeve Marsden – hosted in the iconic Mitchell Library Reading Room.
June at the state's beautiful, majestic library will be a month of queer storytelling in all its forms, from exciting emerging voices to outstanding, popular and established ones.

Free and low-cost events
Take a free guided tour of Pride (R)evolution with Bruce Carter, one of the exhibition's four co-curators, and Ruth Shipman, who helped to unearth some of the queer stories in the Library's collection for the show.
Lydia Tasker, Head of Public Programs at the State Library of NSW, says: "Bruce will pull out his favourite bits and pieces from the exhibition. These tours are fascinating because many attendees come forward with stories from when they were there, making it a living and breathing archive of knowledge."
Meanwhile, Ruth's tours will bring fresh and different perspectives into the exhibits, showcasing her passion for queer archiving.
The '78ers – those who marched in the first-ever Mardi Gras against police brutality of LGBTQI people – will host smaller groups in an extraordinary walk around the Library's current queer-themed exhibitions – including Pride (R)evolution and, over in the Amaze Gallery, the stunning party and gay scene captured by iconic photographer William Yang in Sydneyphiles Reimagined.
William Yang himself will give one of his lively, energetic performance slide shows on a not to be missed night, followed by a chat with one of Australia's most well-loved and good humoured journalist, Mr Benjamin Law.
"William Yang is an incredible performer," Lydia says. "He's so animated. And those images [of Sydney's gay party scene] pull you into a different world. It'll be fascinating to hear Ben and William chat about the legacy of his breakthrough exhibition Sydneyphiles and William's pictures – they've been friends for some time."
The Pride Line
The Pride (R)evolution exhibition is part of a collecting drive to ensure that the State Library's collection's contemporary voices and experiences of LGBTQI+ people and communities are available.
In March, the Library launched Pride Line, a dedicated phone number (02 9273 1212) people can call to add their stories of pride to the historical record. At the Library itself, it's a retro phone booth on a landline just outside the exhibition, where people are invited to leave a message telling their own story. The number exists for anyone to call to ensure regional voices are collected.
The State Library's Lydia Tasker says: "Archives are not some dusty old thing that you lock away and then it's done. The process of archiving is alive. It's an evolving process at all times."
The PrideLine will continue a tradition started during Sydney's WorldPride: "There were some incredible stories that we heard of people coming in," Lydia says. "It's an ongoing project that asks: where does the conversation go from here?"
From commemoration to the future
Where do we go from here will be the exact theme of the forward-focused, free panel of queer thinkers and storytellers, Our Queer Futures, on 22 June at 6 pm. Host Geraldine Fela is joined by Eloise Brook, Betty Hounslow, Ghassan Khassiseh and Liza-Mare Syron as they consider the contemporary landscape for LGBTQ people in Australia – imagining queer futures as they reflect on the past. They have backgrounds including academia, the '78ers, First Nations heritage and the trans experience.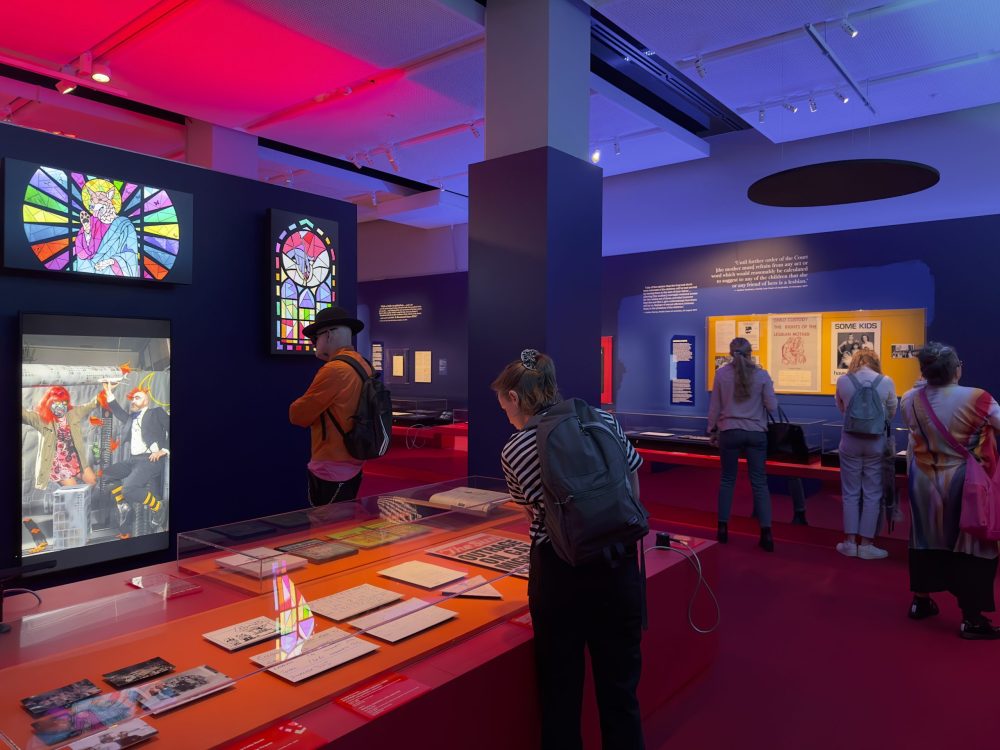 Send for Nellie on 15 June will be curated by Helpmann award-winning dramatist Alana Valentine celebrating Nellie Small – singer, entertainer and cross-dresser extraordinaire – highlighting the lived experiences of women of colour. It'll be an evening of storytelling and music.
"What we found on Nellie was a treasure trove, a goldmine," Lydia says. "And Alana's passion will shine through this event. The play she wrote about Nellie never got staged. Now, the trailblazing Nellie's story gets to be told via this event and in a different format."
Award-winning author Ellen van Neerven will also discuss their highly anticipated new book, Personal Score, with ABC's Sam Lewis on 13 June at 6 pm
General Manager of Sweatshop Literacy Movement and the editor of several critically acclaimed anthologies, Winnie Dunn, a writer of Tongan descent from Mount Druitt, will curate a memorable night of storytelling specifically from Western Sydney queer writers featuring poetry and fresh writing. "Winnie is such an incredible and thoughtful curator – that'll be a real treat," Lydia says.
The final fanfare will be the popular Queerstories on Friday, 30 June, curated by the legendary Maeve Marsden in the glorious old-school glamour that is the Mitchell Library Reading Room (if you've never been, prepare to have your breath stolen from you); featuring stories from Dr Jesse Hooley, Damien Webb, Lisa Salmon, C. Moore Hardy and more to be announced https://www.sl.nsw.gov.au/events/queerstories-library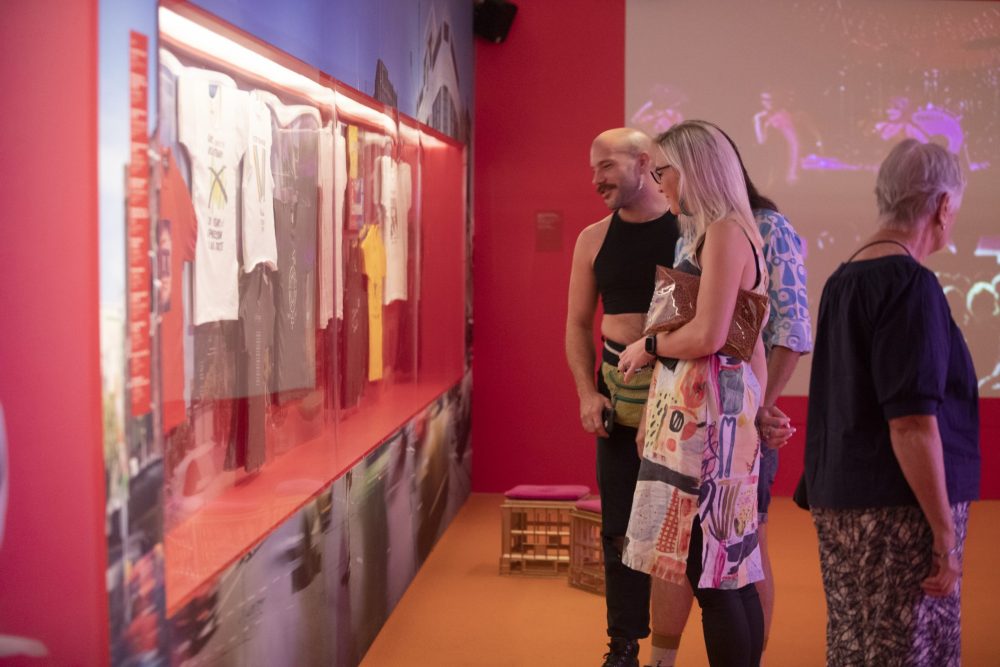 There'll be something for everyone this June.
Lydia says having hosted its second LGBTQ-themed exhibition; the State Library has set down a statement of intent on inclusivity.
"Many cultural institutions are looking back through their archives and seeing where there are gaps," she says. When the Library saw an LGBTQ-shaped gap, it set about filling it with an exhibition crafted by four queer curators and inviting in more stories, but also exploring the gap itself: "The gaps tell you a lot about what was happening at the time to queer people," she says.
June's Pride Month program – the library's most packed LGBTQ event offering ever – has something for everyone, Lydia says.
"You might be coming along to a performance or a big extravaganza event like Queerstories, or it might be coming to a curator's talk on a late Wednesday afternoon and having a bit more relaxed and intimate time."
Afterwards, of course, you could explore the vast and rapidly growing beautiful library building with its contrasting modern and old wings, the cafe for a caffeine hit and its new stunning rooftop bar, The Library Bar, overlooking the Domain for a post-event cocktail and debrief. Heaven.
Calendar of events
Tuesday 6 June, 6 pm
William Yang and Benjamin Law: Sydneyphiles Reimagined
Tuesday 13 June, 6 pm
Award-winning First Nations author Ellen van Neerven discusses their highly anticipated new book Personal Score with ABC's Sam Lewis.
Thursday 15 June, 6 pm
Send for Nellie Curated by playwright Alana Valentine, an evening celebrating Nellie Small – singer, entertainer and cross-dresser extraordinaire.
Wednesday 21 June, 5.30 pm
Pride (R)evolution Plus
Curator Bruce Carter shares recent acquisitions related to LGBTQ life in NSW sparked by the exhibition.
Thursday 22 June, 6 pm
Our queer futures.
A panel of experts consider the contemporary landscape for LGBTQ people in Australia – imagining queer futures as they reflect on the past.
Wednesday, 28 June, 6 pm
(R)evolution Readings.
Curated by Winnie Dunn, this unique event brings together Western Sydney based. LGBTQIA+ writers for a series of performances and readings from their work.
Friday 30 June, 6.30 pm
Queerstories at the Library. $30/ $20
Take a walk with a 78er – These special tours of the Library's exhibition Pride (R)evolution will pair attendees with 78ers. Only available to a maximum of 3 attendees per tour. Regularly throughout June, Thursday 8 June, 4-4.30 pm, Saturday 10 June, 11-11.30 am, Monday 12 June, 12.30-1 pm, Friday 16 June, 11-11.30 am, Saturday, 17 June, 11-11.30 am, Tuesday