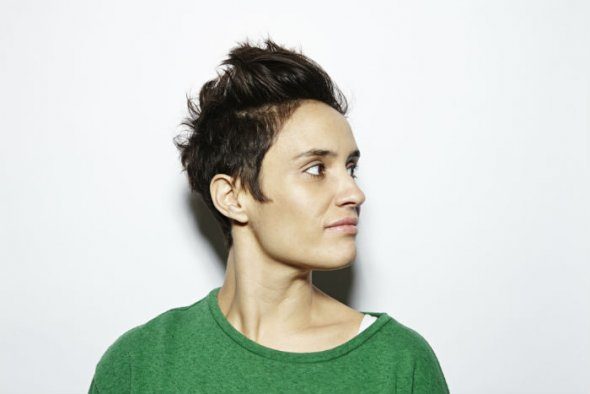 Jen Brister lacks the time to be a political super "shero".
UK's Jen Brister instructs on how to craft a revolution without a guillotine or a musket, in her latest show Wishful Thinking, at the Melbourne International Comedy Festival.
'I'd love to think I could be part of a revolution! Obviously, I don't want it to interfere too much with my daily routine. I'm wondering if someone could administer this for me? I'm pretty busy right now plus I've just signed up for this Pilates class and it's going to take up my only free evening a week. But yeah, if I can fit it around Pilates then I'm all for political insurrection.'
So goes the caffeine-charged soliloquy of this sort of political activist.
'I was supposed to attend a breakfast meeting at the House of Commons to discuss the government's awful Welfare reforms. I overslept. I mean, what kind of person does that? Yeah me…ok never mind.'
What does a woman do when she has so much passion for life, humanity and politics but no superhero outfit that goes with her yoga pants? Wanting to get immersed in the details, I focused intently on her distractions and Jen was all too happy to oblige.
'I can have three deadlines on the go but that doesn't stop me from dusting the bedroom, watching videos of cats and checking to see what's in my fridge every 10 minutes. There's only ever pesto and apricot yoghurt in there so I don't know why I bother.'
I thought to myself, if this person wants to change the world, I'd best find out what she's really like. So in the midst of a deeply philosophical discussion, Jen declared that if she could be any fictional character, it would be 'Miss Marple'. The first box ticked. Second, on a test of humility, what would she think of herself if she were her own audience? Without inhibition, she replied 'Twat'. Great. Tick.
More importantly, I asked Jen what she thinks about Aussies. 'You're a direct bunch. Plus you are the only people in the world that can get away with calling me a wog. I have no idea how you managed that, but you have. Well done you.'
Did I mention, girls, that Jen is hot? And as George Michael once said, 'I do believe that we are practising the same religion. So, in a not so smooth way, I asked Jen to name 3 things she loves about lesbians. 'Only 3? I'd have to say our ability to laugh at ourselves…haha! If only! No, but seriously, I love that lezzas are so loyal; if they like what you do they'll always come and support you. I also like that there have been a few lesbians during my lifetime that have found me attractive, cause if they hadn't that would have been a world of dickery I could not have handled. Lastly, I love that I'm not the only woman drawn to a comfortable shoes. Long live the lesbians!'
After a calculating attempt to reach a verdict as to whether or not I'd vote Jen Brister the leader of the next revolution, I decided…..what the heck, I'll go see her show and find out for myself.