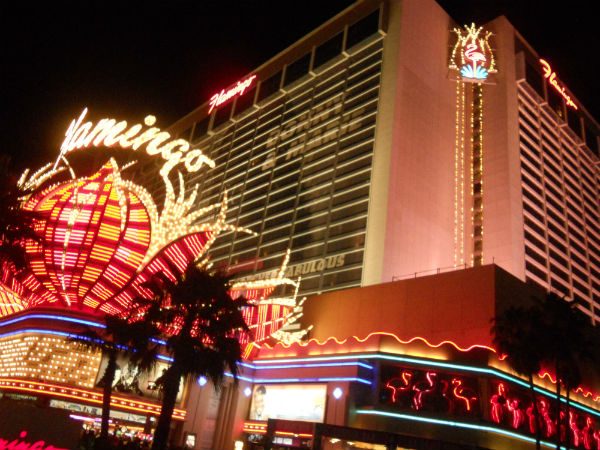 Now in its third outing to Las Vegas, Girl Bar, in association with Truck Stop Girlz and Total Rewards by Caesars Entertainment, fill the city with tens of thousands of lesbians.
Las Vegas is preparing for an onslaught of the world's hottest lesbians, April 24-27, 2014. Now in its third year in Sin City, partygoers at Dinah Vegas will be rewarded with a bigger than ever bill of entertainment, gourmet dining, gaming and sunshine in the neo-lit city that never sleeps.
Attendance has doubled each year, says producer Sandy Sachs. "We know from our patrons that we are on the right track, producing one-of-a-kind events, filled with the world's hottest women! Caesars has worked with us on a vision that is limitless in scope and as iconic as the city itself."
 Sachs thanks lesbian ally Richard Brower, director of LGBT marketing for Caesars Entertainment, who has partnered with Dinah Vegas to create an event of epic proportions. "Richard's proactive outreach was an integral part in making Dinah Vegas a 'must-attend event for the lesbian community," she says.
Brower adds, "As the only casino company that has scored 100% on the Human Rights Campaign Corporate Equality Index six years in a row, we are thrilled to serve as hosts for this iconic event and look forward to growing it even bigger in the future with its producers."
And what makes the event bigger and better than last year might just be the fact that this year, Girl Bar, in association with Fuse Events, will focus on top-drawer events created by lesbians, for lesbians, including a first at The London Club at Planet Hollywood and the one-of-a-kind Flamingo's gigantic main pool. These events are exclusive to Dinah Vegas attendees so that you will be free to relax or party like a VIP.
Here's a sneak peek of what to expect this year:
– VIP Hosted Cocktail Party and Traffic Jam Meet & Greet at The London Club, Planet Hollywood, which will get the weekend off to a rousing start.
– Funny Girlz, featuring favourite comics Dana Goldberg and Poppy Champlin will put you in a fun mood. Party afterwards at Bling 3, the epitome of Vegas glamour at the Chateau Gardens overlooking The Strip and the spectacular Bellagio fountains.
– Infinity at the Main Flamingo Pool is exclusive to Dinah Vegas all day long. Fun in the sun with your hon only gets better with cool cocktails and the friendly party vibe established by the best DJs.
– Vegas White at Paris Rooftop Nightclub under the Eiffel Tower presents a continental affair of opulent proportions: gorgeous girls, red carpet photo ops, burlesque performances, cabaret, showgirls and dancing under the stars with the nation's best DJs. This is your scene!
– Gurlesque Closing Party at Diablo's starts at noon and goes until 9. Finish off the weekend in style, with sexy dancers, hot music, and many surprises.
And if you've selected a VIP package even more Dinah Vegas delights await you. Insider tip: Specially priced Weekend Passes are great value, giving you priority admission.