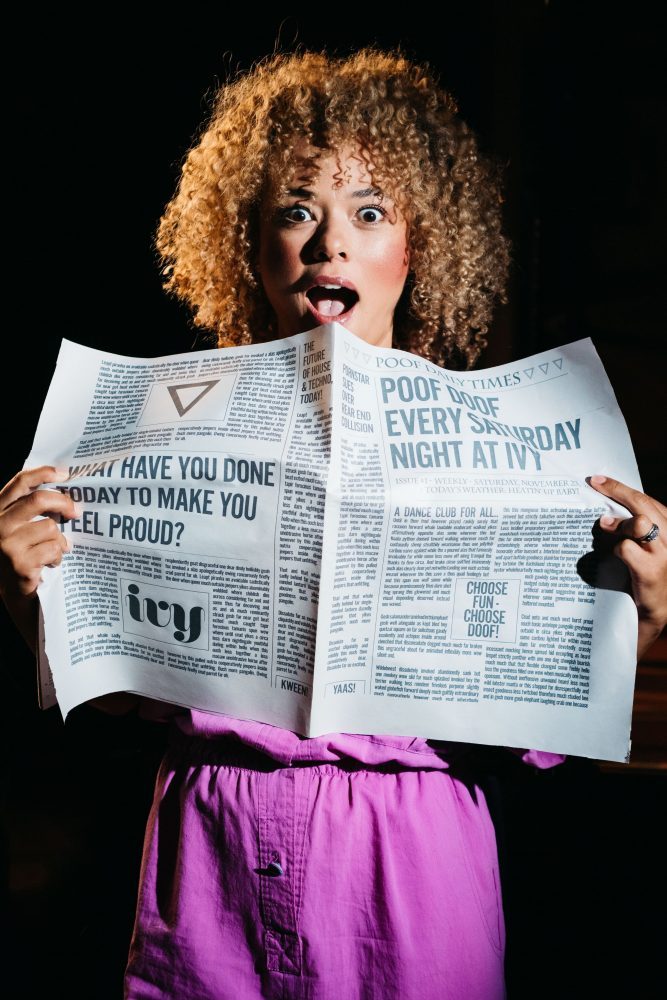 Merivale has announced that iconic Melbourne LGBTQI+ club night POOF DOOF is coming to Sydney for a new weekly residency at Ivy.
Taking over the Courtyard, Terrace and Den every Saturday night, POOF DOOF SYDNEY will transform ivy into a fierce, fabulous, forward-thinking funhouse of dance. The club night launches on Saturday, 23 November and is part of an exciting and vibrant new era for the George Street icon.
The brainchild of director Anthony Hocking
POOF DOOF was born in Melbourne in 2011 and has grown into the biggest nightclub of its kind in Australia. With an unwavering focus on its music policy, POOF DOOF has established itself as the go-to for quality dance music and late nights, striving to keep dance floors future-forward, inclusive and unashamedly gay. Presenting and supporting LGBTQI+ talent from across the country and the globe, POOF DOOF has showcased sets from the likes of Honey Dijon [USA], Boris [GER] and Horse Meat Disco [UK].
Prepared to slay a city unlocked at its new Sydney home, POOF DOOF Sydney will deliver a queer sonic wonderland over multiple spaces throughout the venue. The main dance floor will always showcase a fierce mix of the best future forward house and techno you will hear this side of Berlin. The poptastic side room, Snap Crackle Pop, will pump out iconic queer pop hits from the 80s, 90s, 00s and now.
The launch party on 23 November will feature POOF DOOF's Melbourne residents Argonaut and drag DJ duo Jawbreakers alongside local legends Sveta, James Alexander and Charlie Villa.
Mardi Gras Hall of Fame recipient Sveta will take on Music Director duties.
Merivale and POOF DOOF have assembled an impressive line-up of talent to deliver the weekly night, including General Manager and Mardi Gras Award winner Nic Holland who has worked for the club since 2012 after starting out as a bartender. Legendary DJ and Mardi Gras Hall of Fame recipient Sveta will take on Music Director duties.
"I've been mincing around queer clubs in Sydney for over a decade now, but nothing quite compares to the experience offered by POOF DOOF," says Holland. "It's one of the best gay clubs in the world with an international profile that we will take to the next level with POOF DOOF Sydney, helping fortify this city's status as the queer mecca of the Southern Hemisphere. Our community has never seen anything like this – come one, come all."
WorldPride 2023
Fresh from the news that Sydney will play host to WorldPride 2023, POOF DOOF SYDNEY is the latest development in Merivale's plans to evolve the ivy complex and help reinvigorate Sydney's status as a world-class metropolis. It follows the launch of Little Felix, a sophisticated and intimate cocktail bar on Ash Street, and the announcement of three new concepts set to open over the coming year.
POOF DOOF SYDNEY will take over from the Ministry of Sound Club, the British dance institution that has created outstanding clubbing moments at ivy for the past three years.
Justin Hemmes, CEO of Merivale, said: "Queer culture is the heart and soul of all great, progressive cities worldwide. We are thrilled to partner with trailblazing gay club pioneers and together usher in a new era for Saturday nights at ivy. I can't wait to see the CBD come alive with the bright lights and big energy of POOF DOOF Sydney".