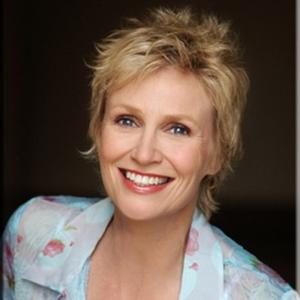 What's Jane Lynch got cooking for Thanksgiving?
"I have about 25 friends coming to my friend Jean's house, my whole family, including my niece and friends from around the neighbourhood. She just got a Viking stove [a top-of-the-line, commercial-home hybrid range] big enough to cook a turkey in."
Jane was talking turkey at the LA Gay & Lesbian Center's 39th annual Anniversary Gala & Auction, which helps fund its programs for homeless youth, seniors and people with HIV/AIDS. She was set to receive the Center's Rand Schrader Distinguished Achievement Award from none other than Glee nemesis (but real-life pal) Matthew Morrison.
"I've been coming to this gala since 1992," said Lynch, before heading into the gala in the ballroom at the Century Plaza. "I did the AIDS ride in 1996 and as soon as I got enough money to start donating, this is the first place I donated to."
The centre is a place for kids "to get food, a warm bed, comfort and counselling," Lynch said. "It's a place for them to go. That's why I give money [to the centre], they actually give support. They don't represent ideals or they're not fighting a battle, they're actually just giving comfort. Helping kids out."
"Oh there's the lovely wife," said Lynch, catching sight of Lara Embry, whom she married earlier this year, waiting patiently at the end of the red carpet. Lynch also revealed that there will be wedding bells for Sue Sylvester, her character on Glee.
"I'm not going to tell you the sex of the person, who the person is, but it's verrry unconventional," says the star playfully.
Is it someone famous? "I'm not going to say, I don't want to tell you, well, [famous] in that person's own mind," she says with a laugh.
Other LAGLC supporters attending were the D-List's Kathy Griffin, comic Julie Brown, musician Dave Koz, actress Kat Graham (Vampire Diaries) and actress-comedian and longtime LAGLC supporter Lily Tomlin.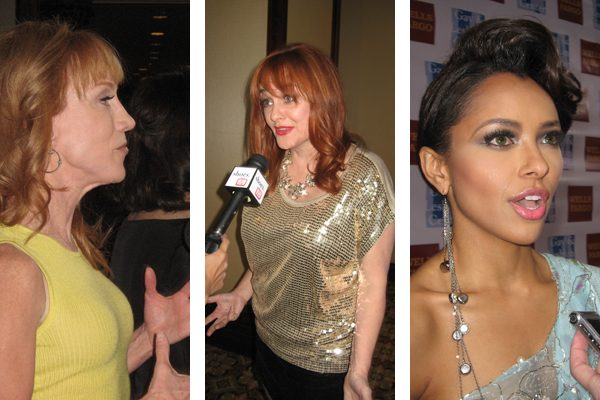 (From left: Kathy Griffin, Julie Brown, Kat Graham)
While hosting the festivities, Tomlin effortlessly transformed into one of her most famous characters, Ernestine, who shocked the audience by coming out. Who knew?
Later, Lynch leaned a little toward Sue Sylvester in accepting her award: "I am not an activist, I am too lazy and narcissistic. I am, by nature, however, a complainer. I get lots of energy from that, a lot of juice. I'm a bloated armchair warrior with many opinions, a lot of answers, no inclination to do anything about it…. We don't come to these events to hit on each other … we've got a desire to help [executive director] Lorri Jean work her magic."
"Being gay and the journey of coming to terms with it, finally embracing it, to shout it from the highest mountain, turns out to be the biggest blessing of my life, something I would never have imagined … as a frightened teenager with a dark secret. And look—I got an award for it!"
For more on the gala and the works of LAGLC:
http://www.lagaycenter.org/site/PageServer