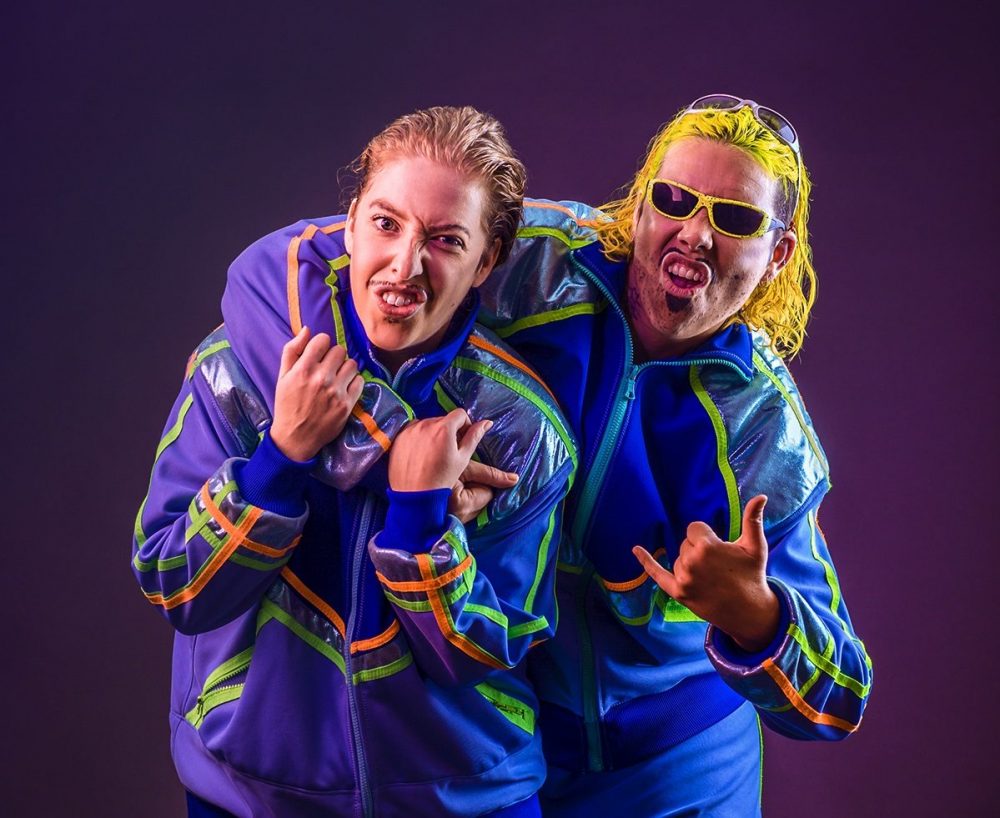 Dazza and Keif are intergalactic heroes who are gonna save the world and sh!t, starting by being the first blokes to breakdance on the moon.
Plus, they heard there are heaps of hot space chicks in the Milky Way if ya know what I mean.
Award-winning comedy duo Danni Ray and Keely Windred return to the stage as their much-lauded alter egos Dazza and Keif this Melbourne Fringe Festival. Dazza and Keif Go Viral in Space with Ya Mum is the second instalment in the Dazza and Keif Go Viral Trilogy and sees the boys embark on a quest for romance in the modern age – the space age…
Searching for some eligible extra-terrestrials, they enter a ballot to be on the first commercial trip to the moon. When things don't go to plan, they forge ahead of the only way they know how; with high-energy dances, hyper-masc homoerotic raps and a record-breaking number of jokes about pocket rockets. Their spaceship is ready. Wanna ride?
Running online only for a limited season during the 2020 Melbourne Fringe Festival if you haven't experienced the wonderment that is Dazza and Keif, you're simply not doing it right.
Tell us a bit about yourselves, what prompted you to start making this type of theatre?
KW: We met as dance teachers several years ago and always loved to perform together, whether it was club go-go dancing for a DJ set or doing very silly things onstage at the Melbourne Fringe Festival Club. We eventually realised we had a lot that we wanted to say as artists and we worked well together, so thought why not have a go at creating our own show?! Melbourne Fringe is such a fantastic and supportive environment to try something new as an artist regardless of experience, so we did our first show there in 2018 and were honestly surprised at how well it went!
DR: We wanted to create theatre that was accessible and enjoyable for all, not necessarily niche high art, but something relatable with a message. Dazza and Keif are such recognisable "Aussie bloke" characters, so we are able to have that immediate resonance with audience members before we launch into the gender and societal commentary. We like to say that once we started dressing as men people started paying attention to what we had to say, which is kind of hilariously ironic.
What was the catalyst for the creation of the Dazza and Keif characters?
KW: In Meredith 2017, we got quite lit, put on matching tracksuits, and had an impromptu breakdance battle in the supernatural amphitheatre. When we were done, we were surprised to see a large crowd had gathered around us and some guy even gave us "The Boot" (at Meredith, you hold your shoe in the air for your favourite act)! People kept talking about how much they loved that performance so we thought we'd better do some more things like that together… in matching tracksuits.
DR: To us, Dazza and Keif embody all the ways masc people are conditioned to behave and the problems that cause them, and others. Dazza is more of the alpha male, making up for insecurities with dominating and often aggressive behaviour. Keif is the underdog, trying to understand the world through his limited lens and following Dazza's lead – as that's often his only option. Together they're trying to navigate their own emotions and sense of self, their relationships, and their desperate search for fame and girlfriends. For Keely and I this has been an enlightening and cathartic process through which we've been able to embody the types of people we grew up with and ridicule the hell out of them.
This is the second instalment in the Dazza and Keif Go Viral Trilogy, have the characters evolved with each show? If so, will they continue to do so?
KW: When I first birthed Dazza from the dark depths of my psyche, I wanted to create the most feral, disgusting and toxic masc dude that I could bear to portray. As we filled in the characters' backstories over time and explored why Dazza was the way he was, we found that we actually had sympathy and pity for him, and the audience did too! We didn't expect the characters (especially Dazza) to be so loveable, but here we are, running low on sharpies due to the number of tits we sign after each show!
DR: We definitely know these characters inside out after performing and creating them for nearly two years. We've learned so much about them, which has really added depth to the stories they tell. It's extremely satisfying to feel as though Dazza and Keif exist as real people and we have so much fun imagining the sorts of shenanigans they would get into. I feel that Keif, as the younger, more naive character, is beginning to come into his own and question the things that Dazza tells him a little more. The audience will see Keif going out to bat for himself more than ever and exploring what it means to be a young man in the world. I also have massive empathy for Keif, after playing him for so long!
The show brings female drag to the fore, what about this artform do you find so appealing?
KW: I feel the answer to this question could be summed up by an overheard quote from an audience member in Adelaide; "What the fuck is going on… are they chicks?" It is still radical for women to present in a way that is not appealing to the male gaze. The fact that we are women dressing as men means we can explore feminist issues and mess with gender roles in a unique way. We are proud Drag Kings! Drag Kings and non-binary and trans drag artists are creating amazing art yet are still the underdogs in our Rupaul-centric queer spaces.
DW: It feels really empowering to have given ourselves permission to embody and cultivate a presentation of masculinity. So often when a drag queen is in the spotlight, it is a cis-man presenting his idea of femininity, which so often barely scrapes the surface of a femme experience. Although we identify as female, we both naturally slide around the gender continuum as many people do. We use Dazza and Keif as an opportunity to present nuanced and varied versions of masculinity and express some of the ways in which it traps masc people through pressure and expectation.
As queer women with that lived experience, how has this impacted the political statement the work makes? Ie. Creating hyper-masculine male characters that are on the hunt for girlfriends.
KW: We love having subtle cheeky stabs at expected heteronormativity through Dazza and Keif. In this show, Dazza gets to peel away a few of the deep dark layers of toxic masculinity to explore a little bit of his bi-curiosity, which is really satisfying for me! Will he ever admit his queerness, or will he continue to say "no homo" after every sentence that shows a hint of emotion? You'll have to come to the show to find out!
DR: I also feel like Dazza and Keif sometimes remind me of queer people going through their "second teenhood"; the phenomenon where no matter what age you come out, you recreate typical teen experiences that you missed out on, being a closeted young person. The boys are so unsure of how to go about entering into the world of love and dating, and the results are often awkward as heck.
What can audiences expect from Dazza and Keif Go Viral in Space With Ya Mum that differs from other shows during the Melbourne International Comedy Festival?
KW: Well you definitely won't see a straight, white, cis dude doing stand-up at our show!
DR: It's a real genre mongrel, you get a taste of everything! Dancing, singing, rapping, clowning, funny and serious stuff.
And finally, how would you describe the show in five words?
KW: Disgusting, touching, confusing, high-energy, bromantic.
DR: Sweaty, arousing, satisfying, earnest, mayhem.
13 – 15 November 2020
Fri – Sun at 8:30 pm
Tickets: Audience are invited to pay what they like/can afford (Full price tickets normally $25)
Bookings: www.melbournefringe.com.au/event/dazza-and-keif-go-viral-in-space-with-ya-mum Digital Foyer opens 30 minutes prior to the event.
Please note: All audiences need to be logged in to their Melbourne Fringe account to view this show. You can create an account and/or log in here www.melbournefringe.com.au/login
For more info visit www.melbournefringe.com.au/common-rooms/digital-event-info
Duration: 65 mins, no interval
Content Warnings: Frequent coarse language, strong sexual references
Suitable for ages 16+