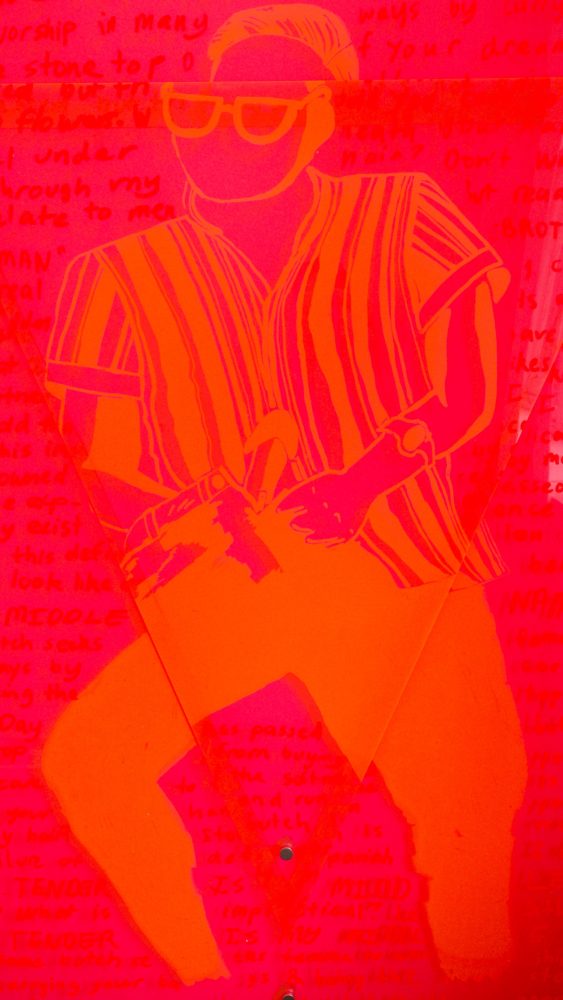 Kael is an Australian artist who uses bookmaking, screen printing and installation to create work that draws from lesbian culture and history, while also critiquing the current state of politics through a Marxist-feminist framework.
We speak to Kael about her upcoming exhibition
Tell us a bit about yourself
My discipline is printmaking, mainly in screen printing. My interest in screen printing started at TAFE when I did six-month courses in print design and textiles. I started studying fashion design next but soon realised it wasn't for me, so here I am now, an almost graduate of National Art School.
What is Kael's World (BIG PERSPEX) about?
As a butch lesbian, I've always been interested in exploring masculinity in womanhood. This work is about lesbian culture and history, specifically the butch-femme culture of the 50s to the 80s. The work explores aspects of butch-femme culture, such as eroticism, the courtship rules and just in general the lesbian imagery and aesthetics that came from that time.
I had to research what made that culture, and it was really enlightening as I and my partner are a butch-femme couple.
There's text on the work and it details different experiences I've had as a butch; being mistaken for a man, what it is to be a gender non-conforming woman, and how much butches like me value femmes.
Another area of research was the gay civil rights movement, which influenced the aesthetics of the work. The pink triangle is a part of the work, a symbol that has been appropriated by the gay civil rights movement as a symbol of liberation from homophobia.
So the work's political aspect comes from my own Marxist-feminist framework.
The powerful thing about the gay civil rights movement was an emphasis on material experiences, something that is currently and sorely absent from the Left.
This work seems personal and quite revealing as to who you are!
Absolutely, and inspiration for the personal aspect of this work came from Catherine Opie.
Her photographic portrait work during the 90s was really groundbreaking at the time. Her positive depictions of gays and lesbians were really important, given it was the height of the AIDS epidemic and the U.S. government didn't care what happened to them. It gave me the idea to appropriate images from Nothing But the Girl, a photo book edited by Susie Bright and Jill Posener.
Through this, I'm envisioning a contemporary self-portrait that creates a placeholder of me through the intersection of time and history.
And this work will be shown at a graduation show at National Art School?
Yes, this work will be shown at the show. There are some really great works from my printmaking class despite Covid so I'm really excited to see everything on display.
The opening night for the Graduation Show is from 6 pm on the 10th of February at National Art School, Darlinghurst, and entry is free.
The exhibition will run from the 11th to the 22nd of Feb 2022.