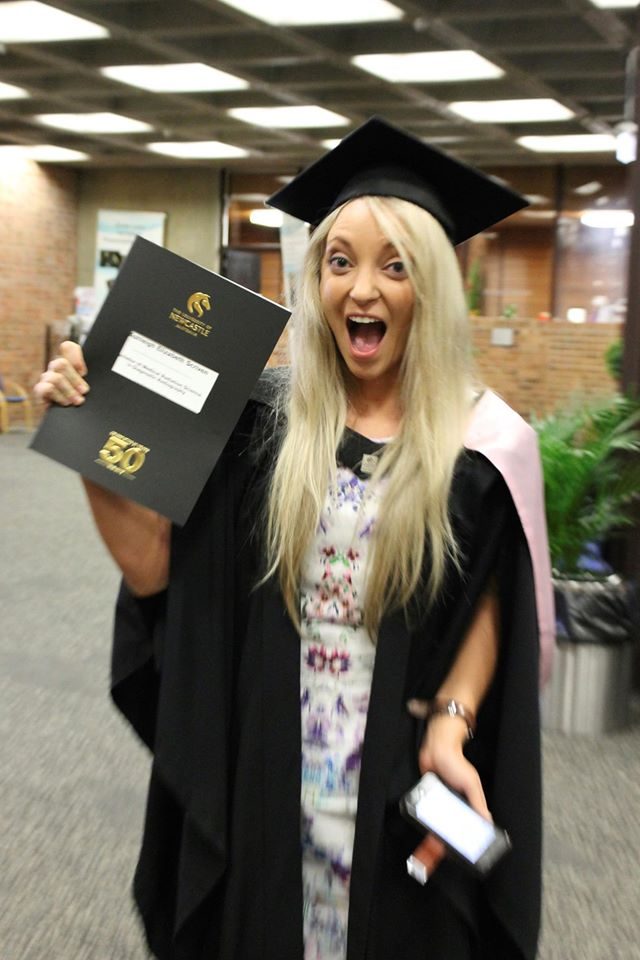 With the support of the Pinnacle Foundation, Ashleigh Mellows found success in her study and career.
She is now happy, confident, and married to the woman she loves.
We spoke to Ashleigh about her challenges
What was your living and financial situation before the scholarship?
I made the mistake of falling in love with a girl, instead of a boy. The severe family breakdown and volatile domestic arrangements that followed escalated with time, and quite quickly I found myself without a place to call home, a blatantly clear notion of what my parents thought of me, no financial or emotional support and only what could fit in my car.
I was working two jobs, waitressing at least 40 hours a week, often 16-hour days, and trying to juggle full time uni as well. I lived in a tin shed which reached over 50 degrees in the heat waves in summer, didn't have any computer or laptop for uni and barely made my classes due to having to prioritise earning over learning.
My course had 10 weeks unpaid full-time work per year, meaning that each semester I had to know I could support myself for 5 weeks without any income, so my levels of stress and anxiety were constantly through the roof.  The situation took a considerable toll on my self-esteem and confidence, and I was riddled with an abject sense of failure.
I began to question my capabilities in every area of life, but most prominently in regards to my education. My ability to maintain any level of academic success was withering away, with periods of depression becoming more common, as well as general anxiety and panic attacks.
The financial responsibility was heavy, having to support myself through day-to-day living expenses as well as supporting all my educational expenses, and left me exhausted with little time or energy to commit to my academic pursuits. I was isolated, sad, highly stressed, and had little self worth.
What was the most notable change for you when you received the scholarship?
Pinnacle gave me a laptop, paid for physics tutoring and work boots and provided me with textbooks, among other things. In the second year Pinnacle sponsored me, I was even able to afford doctor visits and to seek counselling services to try and repair the mental toll extreme family breakdown has on LGBTI youth.
This would not have been possible if Pinnacle had not sorted out my educational expenses. More important to me though, were the gifts Pinnacle gave me that most students take for granted: encouragement, support, confidence, financial stability and most importantly hope.
How did you feel when you found out you'd been awarded the scholarship?
I was in disbelief. I couldn't believe that these highly successful strangers thought I was someone worthy enough to invest their time and money in. I cried because I realised that I would be able to get through one more year of my education, and I thought that if I could get through this one, I might just get through the last one too. The scholarship gave my life direction, purpose and hope.
How did the mentoring relationship help you?
Having an openly gay adult working in the industry I aspired to be in gave me the first glimpse of my future I had seen in a very long time. Pinnacle knew that not having a visible LGBTI role model can severely increase feelings of isolation and emotional distress in LGBTI youth. I didn't have any older LGBTI role models at all, and I didn't know it at the time, but sometimes we need to see a real life example of how it gets better.
Bob Paris once said, "Every gay and lesbian person who has been lucky enough to survive the turmoil of growing up is a survivor. Survivors always have an obligation to those who will face the same challenges." My mentor was living proof that the negative thoughts constantly in my head telling me my dreams were not viable purely because I was gay, were utter crap. My mentor did damage control on my self esteem and showed me what I could become.
What are you doing now from a work/study perspective?
Now, 3 years down the track, I am a fully qualified Radiographer. I managed to score a highly competitive position and I absolutely love my job. I have recently begun postgraduate study in sonography and the difference in my approach to undertaking further education now is astounding.
There isn't a doubt that becoming a sonographer is attainable for me, whereas a few years ago I never even believed that I would finish uni. Now, I can back myself in any work or academic goal I want to obtain.
Is there anything you're doing now that you feel you wouldn't be, had you not received the scholarship and access to your mentor?
I wouldn't have been able to complete my education without them. I think the likelihood that I would be here at all is fairly slim – I was almost at breaking point and was teetering on the edge of a very dark place when Pinnacle stepped in and gave me back some hope.
I definitely wouldn't be the happy, confident person I am today. I have my dream job, a beautiful group of friends and married that very girl I fell in love with at the beginning of my story. Everything I am able to do now stems back to Pinnacle reinstating my self-worth at an extremely vulnerable time. Pinnacle gave me the means to embrace my future and become someone of value, and I will be forever grateful.