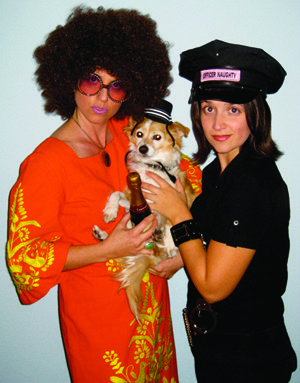 The comedy couple face off on the lesbian pet issue.
Kathryn Lounsbery and Amy Turner are best known as the hilarious comedy duo That's What She Said. So it's no wonder that this onstage—and real-life—couple know a thing or two about lesbian clichés, in fact, they have whole song dedicated to them—the aptly named "Lesbian Cliché Song."
And there's no Sapphic stereotype closer to these funny ladies' hearts than that of lesbians lovin' their pets (maybe a little too much). So, to get to the bottom of it, Lounsbery sat down with Turner—and their beloved dog Edith Piaf—to discuss their unique lesbian family of three.
I know from our relationship that you're a lesbian, Amy. I also know we're obsessed with our dog, Edith Piaf. Do you think lesbians are especially obsessed with their pets?
Turner: I think anybody who loves an animal is obsessed—gay or straight. I think that because we create our own families a lot of the time, we project things onto our pets—as children or an extension of a family. As for Edith Piaf, there's just an energy about this dog that is fun and tolerant. She is our Zen garden.
How long have we had Edith Piaf and why the name?
Turner: We've had Edith for about six years. Edith was originally Skippy, a boy rescue (is still a boy, actually). "Skippy" never quite fit—the name or the gender. When you and I got together we saw the movie La Vie en Rose about the French singer Édith Piaf. She was running in one scene and you said, "that looks like Skippy" and from that day on Skippy has been known as Edith.
I'd like you and Edith to complete this sentence. "If a picture paints a 1000 words…"
Turner: I would use 1001 to describe you, Edith.
Edith: I only need one word to describe you, mama. Love. Kibble. Turkey.
"Give my regards to…"
Turner: Broadway.
Edith: Paris!
How much time do you spend with Edith every day?
Turner: A lot. Plus, she sleeps next to me so, apparently, I have been exposed to the plague. But what's the point of living if you can't have a dog in bed with you?
Edith: [Sings] "If I can't have you, I don't want nobody baby…"
Amy, tell me about Edith's wardrobe.
Turner: Oy. I never thought we'd be those people. Apparently, we are those people. Edith has a wide range of clothing items including a dress that we bought after asking the shop owner "do you have a dress that won't cover her penis?" Other items include an Elvis jumpsuit, a banana costume, a Packers jersey, a Breakfast at Tiffany's hounds tooth cape, a red turtleneck sweater and a rainbow-striped old-time bathing suit. That's always a hit at Pride. Edith was also on Last Comic Standing wearing a top hat and a huge velvet bowtie that belonged to my dad in the 1970s.
Did she advance?
Turner: She did not. I think the pet world, just as the human world, is ageist. She's missing nine teeth. It's all about new puppies, cute puppies, "Look at me I'm sliding into a bowl of kibble, I'm hilarious, I'm doing physical comedy." She is really cerebral. And I don't know if everybody "gets" that.
I know you as a singer. But in actuality, you picked up a paintbrush before you sang your first notes. Why do you think you're an artist?
Turner: My father was an artist, a very good painter. There are pictures of me when I am very little painting and drawing. It's just been a way I have expressed myself for a long time. I feel very focused and complete when I am creating something.
How did your unique pet portraits come about?
Turner: I have a dog encyclopedia that I got when I was 12. I would study it, memorizing all the breeds. A few years ago I thought: I love dogs, I love art. I started doing acrylics of dogs and then I created this technique using wood grain paper that sparked my mind in a way that painting hadn't.
Is there one pet portrait that sticks out as a favorite?
Turner: I did a portrait for a friend in San Francisco. She has an amazing pit bull mix named Pork Chop. It was just one of those moments where the dog came to life and it was so fun to create. There is nothing better than when people say "you totally captured my dog in this portrait."
How do people find out about your artwork?
Turner: Through amyturnerstudio.com and etsy.com/shop/amyturnerstudio. I've also recently gotten into kitschy artwork using pin-up models and scrabble pieces.
And that's how I know you're the lady for me! Any Edith and That's What She Said collaborations coming up?
Turner: Edith is in our new music video. We are pumped! Check out thatswhatshesaidshow.com for that announcement and for all upcoming live shows.