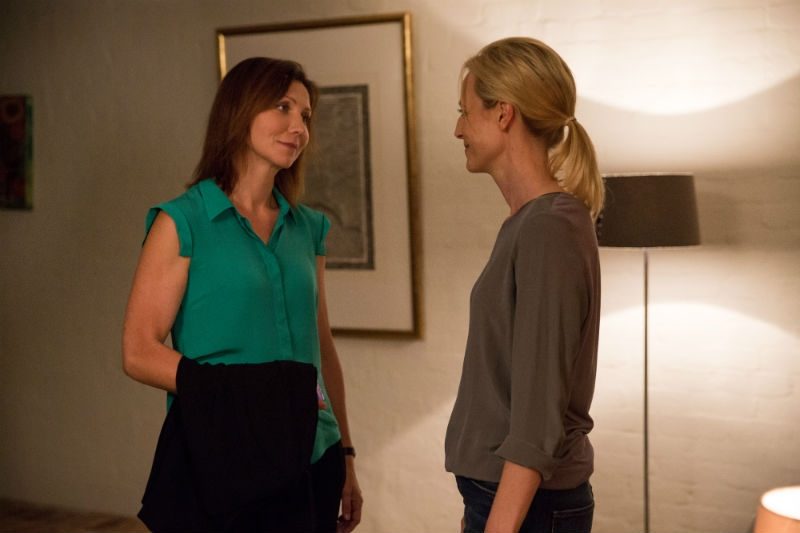 Actor Anita Hegh on playing opposite Marta Dusseldorp as Janet King's new love interest.
Despite her busy schedule, Anita Hegh is brimming with friendly enthusiasm when she squeezes me in on very short notice for what turns out to be a warm and lengthy chat. She is near the end of the run of All My Sons at Sydney Theatre Co, while by day she is deep in rehearsals for Twelfth Night at Belvoir St Theatre.
This is a woman who doesn't often rest. She is under no illusions about the discussion we are about to have: what was it like stepping into the role of AFP Sergeant Bianca Grieve, and playing opposite Marta Dusseldorp as the new love interest for Janet King, one of Australia's most prominent TV lesbians.
"Marta is pretty easy to love!" she laughs. "She's great and she's really smart. There's no bullshit, and the work's really clear. She's formidable, but she's also quite playful, so we were able to try scenes in different ways until we felt we had them right. And really, all you need to bring is yourself, and love. It's about creativity and imagination, like any role."
Hegh's Bianca is a foil to Dussedorp's Janet throughout Janet King Season 2. Janet is heading a Royal Commission and Bianca is hand-picked by her to run security and surveillance. From quite early on the chemistry between the two is palpable.
The complication, however, is Janet's ongoing trauma from having lost her long-term partner Ash some two years earlier. While we could delve into an exploration of the 'Dead Lesbian Trope' at this point, it is just as pertinent to examine Bianca's arrival, as it is this that helps Janet to move beyond her loss and trauma and reawaken her repressed sexual desire.
"Trying to work out what was the dynamic between them was interesting because I think Bianca was there to watch Janet and admire her from afar," comments Hegh. 'She had eyes on her as a protector, but also she had to go 'quietly, quietly'.
If I were to put a character in front of Janet that met her with the same energy she has, she would have probably run a mile. So I played it as 'steady'. I made sure Janet knew she had someone who was steady, who wasn't going to be someone who freaked out on her."
Hegh pauses thoughtfully. "I think that was what won her over in the end, rather than pushing for a relationship with her. Bianca had to wait for Janet to decide when the time was right."
Hegh was at first surprised to be considered for the role. "I was pretty amazed in the audition process when I read the script. I thought, surely they'll go for some hot 20 year old babe, I am not going to be the kind of actor they'll want," she laughs.
"When I got the job, I thought how fantastic that the ABC went, 'Great, these are two women over 40 having a relationship on-screen.' I mean, it's fantastic to see real relationships explored on screen!"
I suggested the dearth of television and film representation of queer women over 40 all around the world has led to her character being embraced, and that in the eight episodes of Janet King Season 2, she's become somewhat of a queer icon.
"I don't know if I've become an icon," she counters with self-deprecating amusement. "But a couple of my friends who are in same-sex relationships with women told me that one of the things they really liked was that the relationship felt authentic, that we weren't like two heterosexual women going, 'Ooh, look at us being a male fantasy', but we were honestly two people who had found something in each other. That sort of support and feedback for the work is nice, it's satisfying to know we're doing it justice, and people are getting something positive out of it."
So how did she feel having on-screen lesbian sex?
"There's never enough time when you're doing TV when things are moving so fast. It was in the second last episode, and there was a lot of action stuff going on, so there wasn't a lot of time to just lie around and make out!" she laughs. "But Marta and I had worked together in a play before where we'd had physical struggles, we'd had to get close in each other's personal space, so there was no problem with that.
And I mean, she's gorgeous, and she's a great actor and neither of us has hang-ups, so we just kind of sat down and she said, 'Let's work out what we want to do and show the director'."
There is a slight pause as Hegh searches for the right words. She is quite considerate when she says, "You know because we're both women over 40, we also talked about how we wanted it to be mature, we didn't want it to be gratuitous.
It couldn't be about girls getting their bits out. Like, what was this scene about? It was about Bianca being there for Janet, for her to release really, and we wanted it to be about the emotional connectivity not 'let's try and make it look all sexy.' It was about Janet finally having someone she could let go with."
And what of Bianca? Who is the person behind the façade of the tough cop? "That's a hard one because we don't yet know a lot about her or her past. She's a bit of a mystery figure! And with a lot of her history being in the area of undercover police work, she would have to be adaptable to different environments, and she'd keep her life very private," replies Hegh.
I jump on the slightest hint of a maybe and ask if the 'yet' means we'll see Bianca back for Season 3 of Janet King, along with some further development in the relationship between the two. "Well so far her character function has been to support Janet, so…" she let her words trail off, not giving anything away. "I don't know, we'll have to see what happens."
Oh, Janet King producers – should you be reading this, believe me when I say you'll make many a queer woman across Australia very happy if Sgt. Grieve is back cracking mysteries and sharing intimacies with Ms King for Season 3 in 2017!
In the meantime, readers can watch Seasons 1 & 2 of Janet King on Acorn TV in the USA. DVDs are available to purchase from the ABC Shop or Amazon.