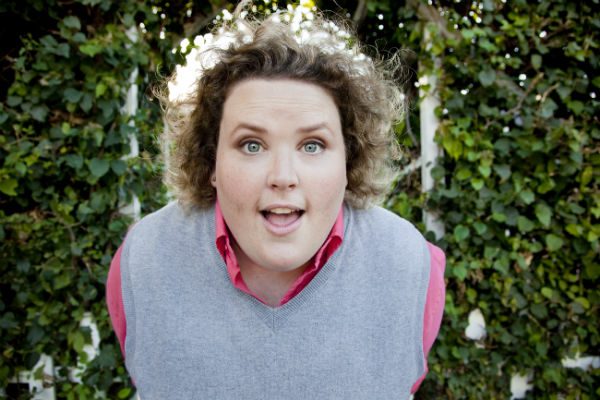 The latest from our favourite stand-up comic of the moment, Fortune Feimster.
Fortune Feimster's star is rapidly rising. To celebrate her success and to announce her June Pride tour of Indiana, Michigan and Ohio, we caught up with this fabulous, funny lady and she told us all about why she loves The Dinah, her experience of coming out, and why rainbows mean that God has given her a big thumbs up.
You recently performed as one of the headliners at The Dinah in Palm Springs. What was going through your mind knowing you were headlining the comedy portion of this vast lesbian weekend?
I was honoured. It's a really big weekend where women come from all over the world, so it's an excellent opportunity to perform in front of people I wouldn't usually get to meet. This is my third time performing at Dinah, so I'm always pleasantly surprised when Mariah [Hanson] asks me to do it.  I keep thinking she'll get sick of me but so far so good!
How did this trip to The Dinah differ from the previous year?
I was a little mellower this year.  Not that I'm a big partier or anything, but my fellow comedian, Erin Foley, and I spent the weekend watching everyone else get crazy while we laughed and took copious notes in our heads. We did bust a move during Eve's performance, though.
Were there any moments in particular when you were performing and not performing that stood out in your mind amongst the throng of women?
It seems like every year I have something bizarre happen, but this year, there was nothing.  I just had a lovely weekend, and everyone was super cool.  I wish I could say I went streaking through the pool party whilst high-fiving everyone but no such luck.
Do you think being an out lesbian impacts how you've gotten this far in your career as a comedian until now?
I think just being comfortable with who I am has had an impact on my career.  My comedy and stories are so personal that I don't think it would work if I tried to pretend to be something I'm not.  It certainly helps to have the support of the gay community behind me, so that's just a cherry on top.
Do you have a coming-out story?
I came out a little bit later. I was 25. I remember I had told my mom that I was gay, and she seemed shocked, which is still baffling.  Then I took my brothers outside to tell them, and I was nervous.
I finally just blurted it out, and they were like, "Duh. We've known you since you were like five."  I was super pissed they never let me in on this little secret, but before I could say anything else, my brother said, "Hey, look!" And all three of us look up in the sky, and there was this HUGE rainbow that had suddenly appeared behind me.  I like to think it was God's way of giving me a big thumbs up.
Do you view yourself as a role model to a specific demographic of lesbians? 
I like to think so.  One thing that I appreciate about my job is that it does allow me to be a positive influence on a more significant number of people, and I take that part of it very seriously. I've always been a very responsible person who tries to live my life in a way that I can be proud of, so I hope to make some difference to others.
You have received a lot of positive attention: over 132,000 followers on Twitter and over 72,000 likes on Facebook. But has being a lesbian comedian attracted negative attention throughout your career?
There is no way to be in the public eye and not have mean things written about you.  The one thing I've learned is that you cannot please everyone.  There will always be people who don't like you for whatever reason, and it's just not something you can ever focus on or give any attention to.
I'm lucky that I have so many positive things written about me, and people seem to appreciate what I do genuinely.  I try to keep my focus there.
Were there any iconic lesbian comics you would look up to or turn to for guidance and support through your comedic journey? Would you ever consider trying to collaborate with them in the future?
I saw Ellen's HBO unique growing up and was completely blown away. I didn't even think she was a lesbian because she was so stinkin' funny, but now I can appreciate the road she paved for comics like me.
I would love to collaborate with her one day.  In the last year or so, I have had the privilege of getting to know Wanda Sykes because she works with my good friend Page Hurwitz.
I was lucky to collaborate with them on their show, "Herlarious."  They have both been instrumental with their advice.  I'll never forget one moment I was having dinner with them and telling Wanda that I had just gotten my first Comedy Central half-hour special. She gave me some incredible advice that Chris Rock had given her, and I thought that was the coolest thing ever.
What is your favourite aspect of now being a famous lesbian?
Haha!  I bought a house.  That was pretty stinkin' cool.  And now and then, a nice gay guy buys me a drink at a bar.
Celebrity girl crush?
Nicole Pacent. I saw her on the cover of your magazine. Good work!