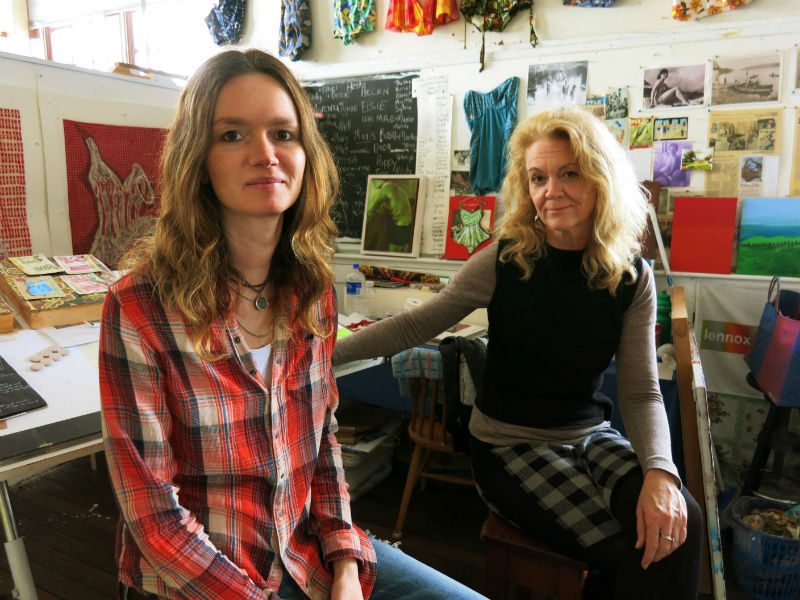 Award-winning Sydney-based artists Jennie Pry and April White will kick off the Bondi Pavilion summer art season with an exhibition of new major works from November 3 to November 16, 2014.
Two artists from Lennox Street Studios in Newtown, April White and Jennie Pry, have been successful in their bid to secure the Bondi Pavilion art gallery for two weeks leading into the summer season to mount an exhibition of new works. Their artwork incorporates themes of summer, each bringing their own edge and experience. Pry explores the nostalgic burn of suburban summers long gone through the lens of backyards, bathing suits and clotheslines. While White (who hails from much a colder climate) is fascinated with the dramatic shift in temperatures and mood in urban streets after the southerly winds have swept through.
Each artist has painted their way through memories of long, hot Aussie summers. Pry has taken the adventurous step of working on humble palings from the backyard fence – an iconic part of most suburban childhoods. Her well known vintage bathing suits make guest appearances but they are in a different context, imbued with new meanings. The work is largely a nostalgic reference to objects, stories and characters from the beach side suburb of Cronulla.
Canadian-born White brings her immediate and recent experience of the Australian summer to this body of work. Vibrant and intense paintings celebrate her encounters and experience of the seaside. White's paintings bring us closer to the natural beauty of urban coastal landscapes. She has perfected the art of painting on clay board, which has provided a perfect ground for her surreal use of colour, wash and layering techniques.
Bondi Pavilion is a seaside landmark perched right on Sydney's most famous beach, with a rich cultural history, dating back to 1928. Beach goers, tourists and locals can wander into the gallery with sand on their feet, sea salt in their hair and soak in art works throughout the year. White and Pry's exhibition is strong and delightful – resonant of summers past and present in beach side suburbs. Small and large works will be for sale with prices ranging from $75 to $1,850.