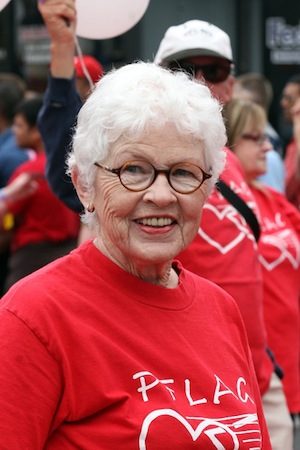 The 82-year-old mother of Ellen explains her role as spokesperson for the Care with Pride campaign against bullying and the big lessons her daughter has taught her.
When Ellen DeGeneres came out to the public in 1997, her mom Betty had already known her daughter was gay, but the mother of two and Louisiana native, found herself suddenly and happily in the media spotlight, igniting her activist spirit. Betty joined PFLAG (Parents, Families and Friends of Lesbians and Gays).
15 years later, she's their spokesperson for the Care with Pride campaign, an initiative made possible by Walgreens and Johnson & Johnson to bring education and media attention to school bullying.
Care with Pride is the drive behind PFLAG's commitment to reach out to communities and make schools safer. Coupon booklets called Safe Schools Action Packs will be stocked in Walgreens stores across the U.S. and downloadable on Walgreens.com.
They contain tips, resources and give shoppers up to $65 in savings on Johnson & Johnson products. $1 from all coupons used will go to PFLAG, and according to Betty, at least $300,000 from Johnson & Johnson will directly support PFLAG's work. Best yet, if you're attending a Gay Pride parade this summer in L.A., New York and Chicago, you will probably spot PFLAGers handing out these coveted coupon books.
Betty knows just how crucial it is to make schools safe—not just for those in the LGBT community, but for all—amid numerous teen suicides across the U.S. "I'm just so convinced that the bullies are the insecure ones, and they only do it out of their own insecurity. They only do it to try to make themselves feel big and tough and important. I think that their backgrounds at home must be very bad." While she fears bullying is human nature and may always be around, it's the visibility like PFLAG's Cultivating Respect: Safe Schools for All project, which falls under the Care with Pride umbrella, that will educate communities on safer schools.
The woman who's been called 'America's mom' has travelled all over the country on behalf of PFLAG, speaking at numerous corporate events and universities on LGBT rights, and of course, her personal journey with Ellen. "I love PFLAG. I joined right after Ellen came out 15 years ago. I couldn't go to PFLAG before that, because I'd of outed her," she laughs, a sweet Southern twang in her voice.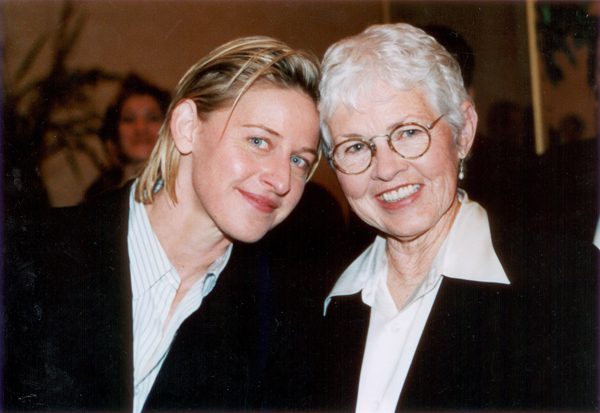 When the Human Rights Campaign approached her shortly thereafter, Betty became their first non-gay spokesperson for National Coming Out Day and flew out to Washington, D.C. where she listened to HRC interns discuss their struggles. "I just wanted to cry, they were so wonderful and beautiful. So, I was in. That was it."
Now, mom, activist and icon (recognizable by her signature eye-glasses and that certain DeGeneres smile), Betty offers wisdom and encouragement to parents who have children who they know may be gay, but haven't come out, and are perhaps struggling with acceptance at home and in the school hallways: "Sit down and talk about it, because everybody's tiptoeing around."
Betty is also a large supporter of the It Gets Better campaign, and she adds this bit of guidance for being true to who you are: "Ellen has said she never regretted [coming out to the public] for a moment. For a while there, she lost her career. She lost her show. And so it was a tough time, but she said, 'Nobody should have to live hiding a part of who they are.' Thankfully she got through it. It did get better."
For parents—even for those who accept having a gay child, but as Betty says, perhaps, "don't want to reinforce it"—it's a welcome chance to talk with other parents by checking out a local PFLAG branch. "I've seen parents who come crying at the first meeting, and they're confused and disappointed, and then by the next meeting, they come every time, every month, and they're just fine and working hard to educate other parents."
So often we assume parents will be the ones who teach us all of the rules and lessons, but Betty has Ellen to thank for teaching her the greatest lesson of all. "I love what she says at the end of every show, 'Be kind to one another.' That is so important. She's very, very honest and real and I think that's what people appreciate. They see it and they know that's not an act…So I think I've learned the importance of that—that we should all present our honest, authentic selves to the world."
To find more info on Care with Pride, download the coupon booklets, or to get involved with PFLAG visit walgreens.com/topic/promotion/wpride.jsp.