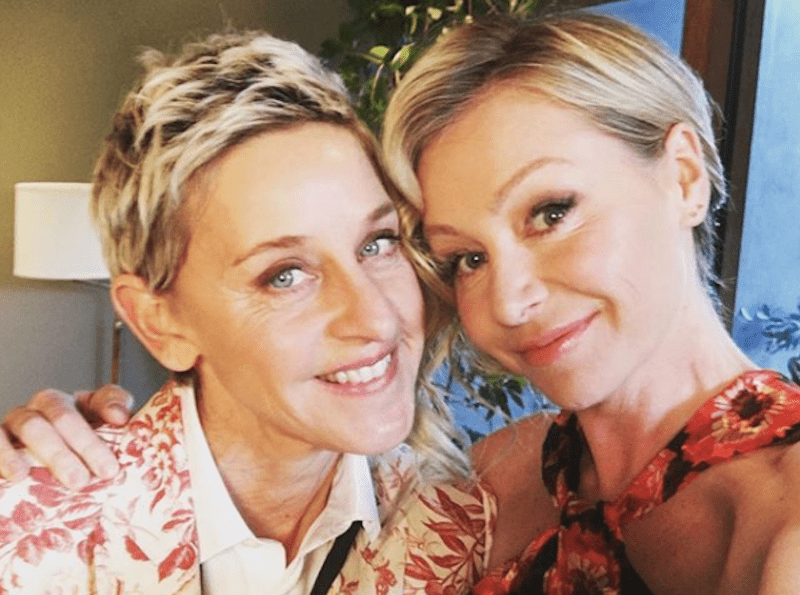 Prepare to feel all the feels
Ellen DeGeneres is loved by fans all over the world and it's not hard to understand why – she is absolutely hilarious, loves to dance and changes people's lives. One of the things we love most about Ellen is her relationship with her wife, Portia De Rossi which really is the epitome of couple goals.
So, to celebrate one of our favourite couples, we have compiled a heart-warming list of the best Ellen and Portia moments. Enjoy!
1. Ellen and Portia got married in 2008 and just after their wedding,
Ellen spoke about the happy day on her show. She couldn't stop smiling and neither could we. How stunning do all the pictures look?
2. Seven months on, in celebration of their wedding anniversary, Portia appeared on The Ellen Show for the first time.
Ellen started the appearance by confirming once and for all that, she is taller than Portia and then jokingly asked her how she is finding married life. Portia's response was heartfelt and the way Ellen looks at Portia is too much! Don't believe us? Then watch below.
3. In this video Ellen shares pictures she's taken of Portia on the sly on her show.
The photos are cute and funny and they highlight the down to earth dynamic that the couple share, making them both loveable and relatable.
4. Ellen and Portia challenged the hilarious Melissa McCarthy and Ben Falcone to the Not-So-Newly-Wed Game to see how well the couples knew one another.
They were celebrating their seventh wedding anniversary and walked away victorious when they both answered where they had their first kiss correctly. It was in the back of a limo, in case you were wondering.
5. The couple appeared on the Oprah Winfrey show together and discussed how they met, how they fell in love and how wonderful it is to be married. Jealous much!
6. Portia appeared on The Ellen Show to raise money for breast cancer research and got dunked into a water tank.
What better show of love and respect!
7. Seeing these two have fun together is infectious and this video of the two having a mock-serious interview is heart-warming.
It is so clear to see how happy they make one another.
8. And last but definitely not least, Portia surprised Ellen on her show for her 60th birthday and she revealed that she was building the Ellen DeGeneres campus for the Dian Fossey Gorilla Fund and setting up the Ellen DeGeneres Wildlife Fund.
Ellen cried and said it was the best present she has ever and could ever receive. What an extraordinary gift!
If you ever need your faith in love to be restored, spending time watching these two will always do the trick.