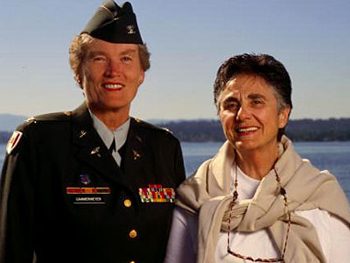 The trailblazing DADT opponent will receive the award on board Olivia's Mexican Riviera cruise, and 2,000 lesbians will help her celebrate.
It's not every day that you can rub shoulders with a hero while you're on vacation. But guests onboard the Mexican Riviera Cruise (March 26–April 2, 2011) hosted by Olivia Travel are in luck. The lesbian travel company, which has taken women on vacations for 20 years, celebrates the end of the U.S. Military's Don't Ask, Don't Tell (DADT) onboard with special honoree Colonel Grethe Cammermeyer.
Colonel Cammermeyer, whose life was portrayed by Glenn Close in the film Serving in Silence, will accept her Olivia Ovation Award at a special ceremony that will mark the third time in 38 years that someone has received the Olivia lifetime achievement award.
"For 21 years I have been working to overturn the ban against gays and lesbians serving in the military," said Colonel Cammermeyer who believes that the signing of the repeal of DADT on December 22, 2010 was the beginning of the end of discrimination in the government and military against gays and lesbians. "We can now live our truth and serve with integrity," she added.
To reinforce the theme of patriotism and serving with pride, the cruise will deliver up a fun theme night, Stars & Stripes, where guests can dress in a patriotic outfit as a tribute to the servicewomen who will soon serve freely. (The theme is sure to delight lesbians who enjoy uniforms of all stripes, too.)
"Olivia really is about everyone being out and free, and so this is a perfect party for us," said Tisha Floratos, VP of Travel for Olivia.
Joining Colonel Cammermeyer for the onboard fun will be out comedy legend Wanda Sykes, and fellow lesbian comedians Kate Clinton, Vickie Shaw, Sandra Valls and Gloria Bigelow.
"We're extremely honoured that Colonel Cammermeyer will be joining us for this historic celebration," said Judy Dlugacz, President and Founder of Olivia. "Her unflagging commitment to equality for all service members is inspiring, and we are looking forward to celebrating her contributions by presenting her with the Olivia Ovation Award."
Olivia's Mexican Riviera Cruise onboard Holland America's ms Oosterdam will carry nearly 2,000 Olivia guests from San Diego, Calif. on March 26, and call on Puerto Vallarta and Cabo San Lucas.