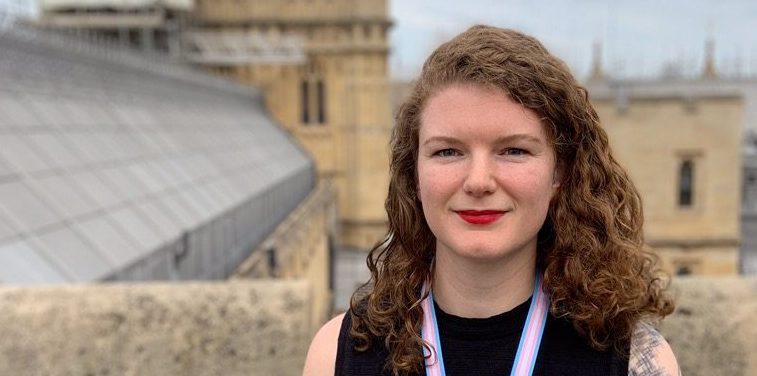 Anna Robinson a LGBT+ rights campaigner who holds an influential position in the UK's Westminster Parliament has been recognised by the University of Auckland.
Arts graduate Anna Robinson is the secretariat for the All Party Parliamentary Group on Global LGBT+ Rights, a role she says is a great privilege given her remit to advance LGBT+ rights internationally.
The group's membership includes representatives from opposing parties in the House of Commons and House of Lords, united in a common aim to improve rights for LGBT+ people globally.
Anna was named on the University's 40 Under 40 list for 2019, released this week, which celebrates exceptional alumni who are making a significant contribution to their field or community before the age of 40.
"It still feels surreal sometimes to be working in Westminster at the UK Parliament, a place that you grow up seeing on television or as a tourist when visiting London. It's a huge privilege to do what I do advocating for the rights of LGBT+ people who are all too frequently marginalised by society, particularly those who are trans or intersex. While we have made some progress in LGBT+ issues there is still so much more that needs to be done, and more solidarity that must be built. I don't see myself stopping this fight anytime soon," she says.
Anna is also a champion of youth gay rights, co-chairing the IGLYO (The International Lesbian, Gay, Bisexual, Transgender, Queer and Intersex Youth & Student Organisation), the largest LGBT+ youth and student network in the world.
Reflecting on her time at University, Anna says her studies in the History and English departments nurtured her growing interest in issues such as gender and sexuality.
After completing her bachelors degree, Anna secured a scholarship to complete a joint MA in Women's and Gender Studies from Utrecht University in the Netherlands and the Central European University in Hungary.
The Activist
Since then she has also worked for the European Roma Rights Centre in Budapest, and as policy adviser to feminist member of the European Parliament, Sweden's Soraya Post, who is active in the #MeToo movement.
The University of Auckland's 40 Under 40 list is made up of the categories of business leaders, influencers, performers, entrepreneurs, humanitarians, and disruptors and innovators.
Given the University graduates some 10,000 students each year making the list is a significant achievement.