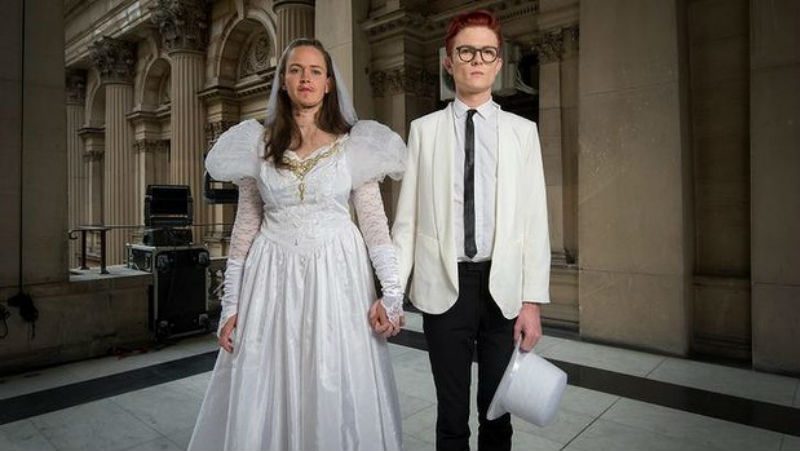 Zoe Coombs Marr and Rhys Nicholson highlighted how ridiculous the same-sex marriage ban is.
On Friday evening, the Melbourne International Comedy Festival attendees witnessed the wedding between gay comedians Zoe Coombs Marr and Rhys Nicholson.
Under current Australian law, same-sex couples are not allowed to marry. As a sign of protest, the two comedians created an elaborate ceremony that displayed the inequality faced by the LGBTI community in Australia.
Coombs Marr said, "It's a radical act, and it's not that often you get the opportunity to do that. I love weddings; it's a big event for a family, and this is serious stuff, but at the same time, we can't do it, and we're queer, and we have a history of making mockeries of shit that excludes us."
She also posted to her Twitter account, "Thrilled to announce after years of not being in love, Rhys Nicholson and I are getting married! Because we can."
The ceremony included a compelling speech about the importance of equality by comedian Hannah Gadsby. Gadsby started her address by saying, "The concept behind this wedding between Rhys and Zoe will be familiar to anybody familiar with the closet. Why be happy when you can be normal?"
As Coombs Marr's partner and Nicholson's partner looked on, Gadsby continued, "As we all know, marriage is between a man and a woman to the exclusion of all others. Although we are ALL excluded from this union between Rhys and Zoe, I would like to mention Keiran and Kate. As the long-term partners of Zoe and Rhys, I am sure this exclusion is all the more special for them. But when one is queer, one is familiar with exclusion."
Gadsby told of when Zoe and Rhys met at the Sydney Gay and Lesbian Mardi Gras as they were "flaunting their lifestyles" and noted, "Because, before they met, Zoe and Rhys were gay. And they will continue to be gay whether or not they, or anybody else, acknowledges that because that is how it works. It is not a choice."
The speech ended with Gadsby saying, "Through their union, filled with love and disrespect, from both within and without, what Rhys and Zoe would like to say to all children is that being inclusive is JUST as important as being included."
The wedding was complete with protestors causing an uproar outside as the bride and groom turned to their respected long-term partners and kissed. All the money raised at the wedding went to Minus18, Australia's largest youth-led network for LGBT teens.