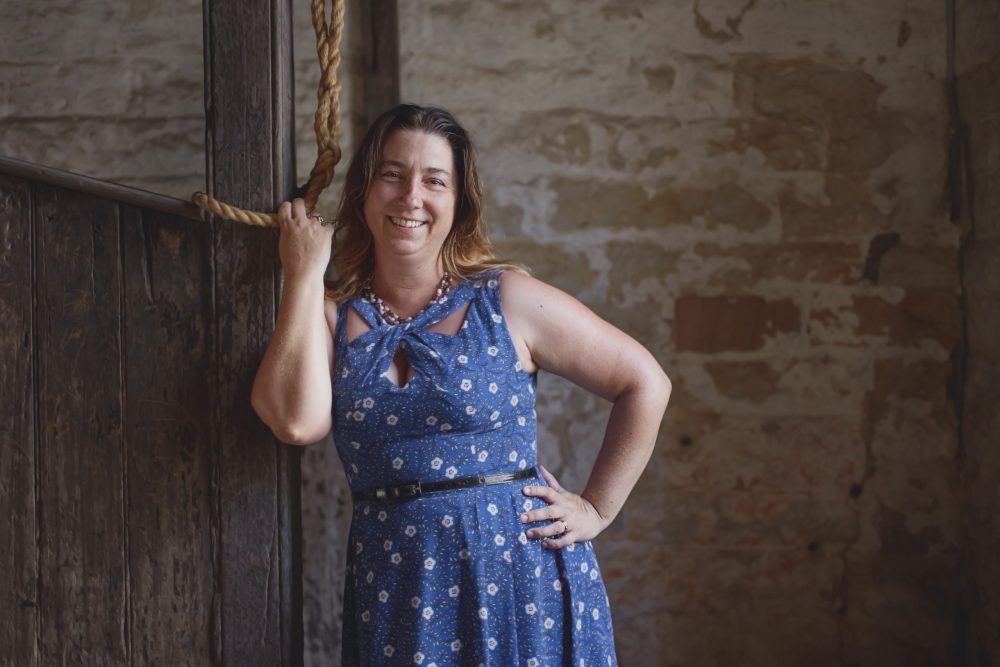 Renée Dahlia is an unabashed romance reader who loves feisty women and clever men.
Her books reflect this, with a side note of awkward humour. Renée (cis-bisexual she/her) has a science degree in physics. When not distracted by the characters fighting for attention in her brain, she works in the horse-racing industry doing data analysis and writing magazine articles. Renée spends her time with her four children when she isn't reading or writing, usually watching them play cricket.
Renee Dahlia's three-book lesbian romance series, Seraph's Burlesque Club, begins with SHOW UP. The series explores the impact of the COVID pandemic, particularly lockdowns, on hospitality businesses and the way they had to hustle to find new income streams.
We caught up with Show Up author Renee Dahlia to talk about her novel, romance, and the pandemic.

How do you describe the plot of Show Up?
Show Up is a friend to lovers romance with a dash of fake dating and a pair of messy lesbians who leap before they look, they have to figure out how to trust each other completely.
Yolande dances at Seraph's Burlesque Club at night and works as a nurse in her day job. I wanted to highlight the impressive work done by nurses during the pandemic.
Reiko is a PhD student who works as the club's "kitty" as well as helps out behind the bar. She is secretly the daughter of a media mogul.
When Yolande is invited to her ex's wedding, she asks Reiko to go as her plus one/fake date, so she doesn't have to face her ex alone. There's a fun heist at the wedding as Yolande and Reiko steal a piece of jewellery back from Yolande's ex (who stole it when they broke up).
Show Up was released on 9 December 2021.
What about the rest of the series?
SHOW OFF features Charlie, the club's MC, who caught COVID early in the pandemic and now has a very mild case of long covid (and regrets). The other main character is Elle, who runs her own interior design business. They used to hook up after burlesque shows before the pandemic, but the lockdowns faded away. Now everything is open again, and Elle has been employed to do a refit of the club.
The old sparks fly, and they both need to work out if they want 'just sex' or if they want more. This book was released on 12 February 2022.
SHOW QUEEN is the story of Beth, who owns the club. The other main character is Liz, the club's landlady. During the pandemic, they are online friends who don't know each other's real-life names. They become real-life enemies when Liz evicts Beth, and the sense of betrayal (on Beth's part) and back-pedalling (on Liz's part) when they realise they are online friends, creates tension that they have to resolve. This book releases on 12 April 2022.
All three books are available in digital, print, and audio.
Why write a book with a pandemic setting?
Plenty of people read romance to escape real life, so it probably wasn't wise from a marketing point of view. That said, during the various lockdowns, I became fascinated with the way businesses—especially hospitality—were changing their business models to adapt to the different rules. I thought it would make a good setting or backdrop for a book. Generally speaking, all my books tend to take a broad idea (like women working in WWI, or the pandemic, etc), then distil that idea down onto an individual level to see how different characters react to the same setting.
What do you love about the romance genre?
One of the oft-quoted phrases about romance is that it is "by women, for women". I actually disagree with this statement, because it erases many queer writers and readers as well as the (admittedly rare) cis-men who read and write romance.
Romance as a genre often gets dismissed as being lesser than other forms of novels, and the clunky phrasing about 'women' is part of the reason. Romance genre novels have one criteria – they must end with a Happy Ever After (HEA). Broadening this concept means that romance novels give people joy and happiness, and I think this is particularly important for all marginalised people, such as queer people.
Society's storytelling can often have a homophobic element that punishes queer people, and queer romance subverts by deliberately finding joy for queer characters. I love that.