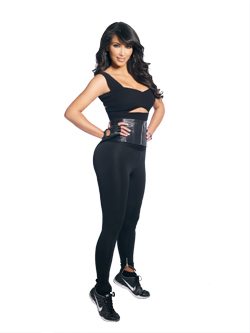 Workouts that firm without the fuss.
Celebutante, fashion entrepreneur and proud owner of that famous booty, Kim Kardashian is breaking out with a new kind of tape—several of them, in fact. And lesbian fans are lining up to see 'em.
Her new line of workout DVDs, Fit in Your Jeans by Friday, is a no-nonsense, practical way to get the curves you want without worrying about tricky moves or expensive equipment.
"Every day, I try to do squats and core work, lots of sit-ups, different stuff I can do without fitness equipment," says the curvaceous brunette.
The new DVDs are based on Kardashian's personal workout regimen, which she's tailored to her busy, jet-setting lifestyle. Between her boutique, Dash, and her E! reality show, Keeping Up With the Kardashians, this lady is on the go. She hits the treadmill and cardio at the gym when she's in town. But, she says, dieting isn't part of her fitness routine.
"I can't stick to a diet—I've tried. I just don't diet," she says. "I mean, I should diet. I'm trying to figure something out, but I just don't."
The DVDs are timely, considering that Kardashian came out earlier this year to defend her weight in the tabloids. Several gossip mags ran stories claiming that she wears plus size clothes—which says a lot about Hollywood beauty standards since Kardashian is a size 2. Her body image has been the topic of many an issue of Us Weekly, to the point that Kardashian actually posed for Life & Style Weekly in a bikini—without airbrushing—to show the world what she really looks like. Frustrated with the media for spreading false information, Kardashian released a statement on her blog taking the gossip mags to the task. Her measurements are even posted on her blog.
"I just get a little bit frustrated…when they misinform and put [out] the wrong kind of information, but I think everyone should be happy with themselves, no matter what size," she says. "And if [they aren't], they have the choice to do what they can to change it. Work out, go to the gym."
Like her famous tush, that's advice we can get behind.