What does a woman do when she's unhappy?…She goes shopping.
What does a woman do when she's unhappy? She goes shopping – but I only shop on the Internet and when I shop – do I shop?
It's a classic Mercedes with a beige soft top. It's the car of my dreams.
I can afford it.
Kat has moved out of my apartment in London and I have it rented out from next week. Money is not one of my immediate problems.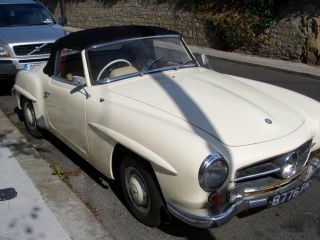 I send photos via the Web to Jenny and ask Richard for his advice. He knows about things like this. Matt and Jake tell me via Skype that they want to come and stay with me. They want to drive my new car. I promise them, that if they come over, I'll let them wash it for me.
My Dad loves the car. He's a Doctor working in a private clinic in Malaga. He tells me about my Spanish aunts and uncles and my countless cousins and then he tells me that there is someone special he wants me to meet.
"A woman?"
"Sí cariño!" He laughs.
"At last," I say, "you've been living like a monk for the past ten years."
"Hardly a monk, but she is muy especial."
"I'm pleased for you," I say truthfully.
He doesn't ask about Kat. He doesn't ask if I am happy and he doesn't ask if I have anyone muy especial.
On Sunday I drive the Mercedes up to the north Antrim coast. I stop in Ballycastle and walk up to Torr Head where the views over to the Mull of Kintyre are spectacular. The sky is clear, wall to wall pure unadulterated blue, the air is fresh and the sun is warm on my cheeks.
I try not to think about Maria. I try not to imagine her beside me in the passenger seat or holding my hand as we walk over the cliffs, or as I sit on the harbour wall gazing at the fishing boats. And I realise that I am speaking to her. I am holding imaginary conversations with her in my
head. I see her brown eyes sparkle and the way she tilts her head when she is laughing.
I am not sure if thinking about her makes me feel warm and happy or sad and depressed.
Her words still echo in my head.
There is no us.