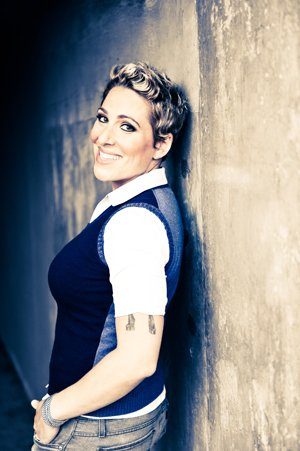 Dr Frankie Bashan is a renowned relationship coach and dating expert.
With over a decade of experience working with couples and individuals and specialized training in the field of trauma, Dr Bashan possesses a unique combination of formal training, innate emotional intelligence, and communication skills that allow her to help couples struggling with relationship issues of all kinds.
Dear Dr Frankie,
I recently had a breakdown at my doctor's office for my annual pap smear exam and she suggested I seek help. That is very difficult considering I'm in the military and the records they keep. I was abused when I was about 5 or 6, and ever since then, I find it very difficult to connect with people and express my emotions. I'm 24 and have never been in a relationship.
I can count the number of dates I've been on one hand. I find it embarrassing that at my age I've never had a physical relationship (yes I've never had sex) and that I've barely even kissed a girl. Most don't know because its embarrassing, and no one would want to date someone who has no idea what they're doing and has this much baggage. I find it impossible for me to approach someone and everyone that does approach me comes on too strong and I freak out. I feel like I'm trapped inside a box.
Every time I managed to take a step out, something happens and I retract back in even further. I'm not looking to settle down or anything but to just break out of my jail, be happy for once, and live life to its fullest. Please help. Any advice would be greatly appreciated.
Dear Trapped,
First, I thank you for your service to our country. Secondly, know that it takes bravery to step out of your comfort zone. Although I can't help but sense you feel alone in this, you certainly aren't.  Here are some staggering statistics.  In North America, approximately 15 per cent to 25 per cent of women and 5 per cent to 15 per cent of men report being sexually abused as children. And these numbers are low because the number of reported cases is much lower than the number of actual cases. Annually there are more than 2 million cases of child abuse and neglect reported in the United States. Of these 2 million cases, approximately 150,000 to 200,000 are new cases of sexual abuse.
Try to reduce your burden by remembering that we ALL have baggage to varying degrees. What makes or breaks an individual is how she chooses to treat her wounds. Many women have experienced sexual trauma and have healed; with therapy, many even report being able to address the experience in a way that prevents the painful memories from becoming a barrier to intimacy and connection. When dealing with trauma, a general rule is that the longer one waits to seek help, the worse the problem becomes until it will seem nearly insurmountable. I strongly urge you to seek professional help outside of the military. This territory is simply too much for you to take on all by yourself.
The key for you is to get to a place where you feel capable of having intimacy and a relationship with another person in a way that feels safe and nonthreatening. The only way to "unbox" yourself is to have the experience of interpersonal intimacy that you are so fearful of. In therapeutic terms, we call this a corrective emotional experience. Having a therapist to support you through this journey will give you the direction and encouragement you'll need. When choosing a therapist it is important that you feel some degree of comfort and confidence in his or her ability to help you.
Studies show, and I know from experience, that if the client-therapist connection isn't strong, the treatment will be ineffective. Therapy will help you heal and also increase your self-esteem. With treatment and time, I am hopeful you will see that although you are lacking in dating and sexual experience, you can learn how to be intimate with the right person. It's absolutely normal to be intimidated and fearful of intimacy given your early childhood experience. The negative association you have with sexual intimacy is a traumatic one; the way to see a shift in this area is to address your thoughts/feelings/beliefs through a therapeutic relationship.
Look for a therapist who has experience working with survivors of childhood sexual abuse. Depending upon where you are stationed, there may be a lot of resources available to you. Consider consulting an online resource such as Psychologytoday.com. These therapists list their areas of expertise, which will help you narrow your search. You could place an anonymous phone call to a local LGBT Center and ask for a therapist referral who specializes in working with LGBT clients. Many community mental health facilities or clinical graduate training programs have clinicians who offer therapy services on a sliding scale. Best of luck to you-you've got a challenging but exceptionally rewarding journey ahead!
Dear Dr Frankie,
When is it safe to share my life-long struggle with depression and the use of anti-depressant medication with someone I am dating?
Dear Depressed,
I do not recommend sharing such personal information too early on. On the contrary, waiting too long to tell her may feel to her like you've kept a secret from her. My suggestion would be to wait until you've dated a couple of months. You may want to work your way up to sharing your history of depression by disclosing other personal information to see how she responds. Disclosing this information too soon may scare her away, especially if she has had previous negative experiences with someone suffering from depression. Let her see first that, despite your struggle with depression, you are a balanced, high-functioning individual.
Dear Dr Frankie,
I've been dating a woman who has two children from a previous marriage. We've dated for about eight months now and I really care about her and I could see a future for us. The only reservation I'm having is that I've never really wanted children. Her kids are wonderful but I'm just wary about pursuing a relationship with her when I'm not sure I can handle being a step-mom. I feel that as time passes it's inevitable the children are going to become more attached to me. I grew up in a household with a single mom with boyfriends traipsing in and out of our lives and it was really hard on us kids. I know I would never want to be that person to my girlfriend's kids.
Dear Step Mom,
Eight months is a good amount of time to assess whether you want to take on the responsibility and commitment of becoming a stepparent. Kids are a blessing, but being a parent or stepparent is certainly not for everyone.  Kids have a keen sense of awareness and will instantly know if you're faking it.
I applaud you for giving your girlfriend's children the respect they deserve by evaluating your role in the family dynamic. You obviously understand that when you merge lives with someone who has children, you are not only committing to that person but also making a commitment to her kids. Your girlfriend is a package deal and until her children are grown and living outside of the home, you must accept that her children are her first priority.
Providing a safe, stable life for them should take precedent over just about everything else, including dating. If you move forward with the relationship, with time the family dynamic probably will shift naturally and you will find yourself in a more central role. However, until that time comes, be prepared to play the second fiddle.